Stockopedia's discussion area has a long history. We initially set up a basic blog and forum back in the financial crisis as a space for more considered, and less noisy, stock market conversations. We immediately saw an influx of contributors and the membership grew. On the back of this, we started developing the range of data & analysis services that I'd always wanted to see on the web. In 2012 we launched these as our premium subscriber service - which has become so loved by many thousands of members.
Throughout this journey,  we've kept our editorial and content free to air - sometimes completely open to the web, and sometimes behind a login. Paul Scott's prolific writing of the Small Cap Value Report joined the site, and now with Graham Neary, their commentary has become a well loved fixture for so many UK private investors. But we also have weekly publishing from the rest of our editorial & analyst team - Ben Hobson, Roland Head and Jack Brumby especially.
Naturally, the news that we will be taking all our content subscriber-only from Saturday April 13th has disgruntled some of the loyal, free readership we have on the site. Disrupting the community is not something that I'm keen to do, so I thought I'd write a piece to provide some context.
So why are we taking all our content & community subscriber only?
Dispelling some myths...
Firstly, let me dispel a couple of myths that I've read in comments.
Myth Number 1: That the community is dominated by non-subscribers. This couldn't be further from the truth. Here's the proportion of readers and commenters split by subscriber/non-subscriber in the last month. As you can see - Stockopedia's discussion area is dominated by our paying subscriber community. What's more, this is a trend that is accelerating - non subscriber readership and contribution is perpetually declining as a percentage of the total.


Myth Number 2: That the blogging content is vital to our marketing efforts. Of course the blogs are a key part of our value proposition - they are one of the reasons why many people end up subscribing after their trials. But we've found that people signing up specifically to read the blogs first, only convert to subscribers at a rate of less than 2%. There's a very high bounce rate of readership on the web.

Investing in quality...
There are a couple of key triggers to making the decision to go subscriber-only:
Investing in editorial - free-to-air content has its place on the web, but it has to be funded by something. Many think that our editorial has been free because it's a marketing expense. That's never been the case. Our editorial is funded by our subscribers, and naturally, we'd like to invest more in it. By bringing it all under the subscription service, we do hope some of the free readership choose to subscribe to help us improve the extent of our coverage. We're showing our intent for the future. I want this site to be the very best research service on the web.
No more trolls - in recent months there have been some really negative, and frankly abusive, comments by non-subscribers towards our editorial team. This kind of thing often happens when markets are in decline, or moving sideways. Paying subscribers are a lot more considerate in their comments and have the best interests of the site and our team at heart. We're raising the quality of the community.
Looking to the future ...
I genuinely don't want to lockout the broader private investor community from our content forever. It's my intention to provide some completely login-free access to all our content - including our data and tools - at some point in future. I admire the Financial Times publishing model, where you can read about 10 articles a month before you hit the paywall. This is a model used by more and more newspapers. I think we can provide this access, not just to our blogs, but also our StockReports and even Screeners at some point in the future. But given the development work required and the depth of our backlog, it's unlikely this will happen for the next 12 months.
There's a huge amount to look forward to this year if you join the subscriber community. We're in the advanced beta testing of our new mobile/responsive web application which is just fantastic and a new data system that will bring added power & coverage. All subscribers will be receiving an invitation to try out the new version of the site within months - which will give you access to our community and content on the go.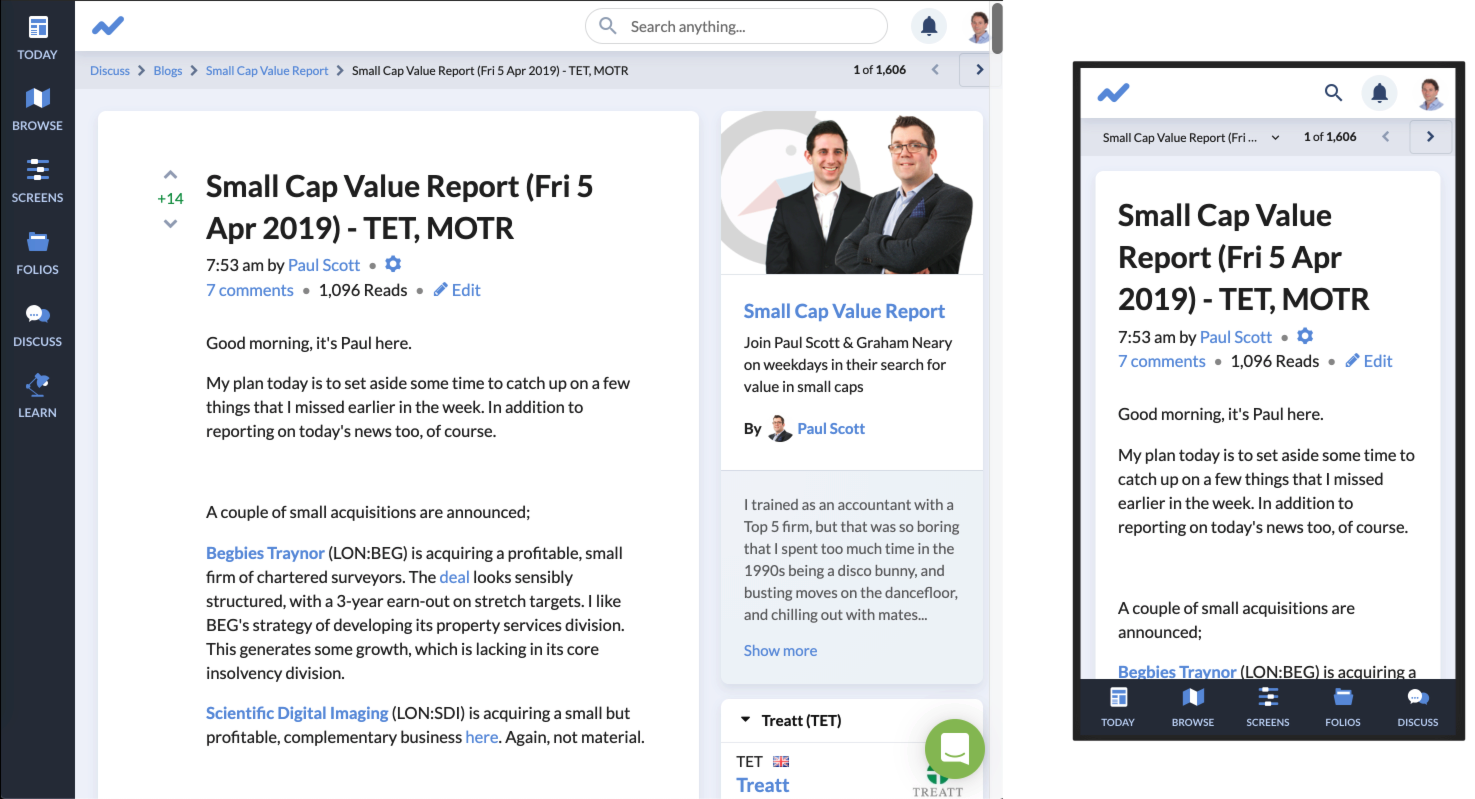 If you are on the fence, and wondering whether to subscribe - there's no risk in taking a 2 week trial. Subscribers are the majority on Stockopedia for a reason. It's a wonderful club and resource, run by passionate people. Join us.