There's just no getting around it - British stock markets have performed dismally in 2018. The black clouds of Brexit and political incompetence have hammered the indices with the FTSE All Share down more than 12% year to date at the time of writing. But there is one bright note. Savvy private investors have been beating the market handsomely.
Last year in 2017 we sent out a Performance Survey to all Stockopedia Subscribers in which subscribers reported a strong outperformance versus the indices. But there was a tailwind last year - rising stock markets, and significant strength for high StockRank shares. This year, it's been much tougher going with more moderate StockRank outperformance and a falling market. So tough that we even considered not polling subscribers on their performance. But we deftly sidestepped that possible act of cowardice and are glad to report some really excellent results from a survey of more than 1,220 subscribers.
Since subscribing to Stockopedia has your performance outperformed, matched or underperformed the market?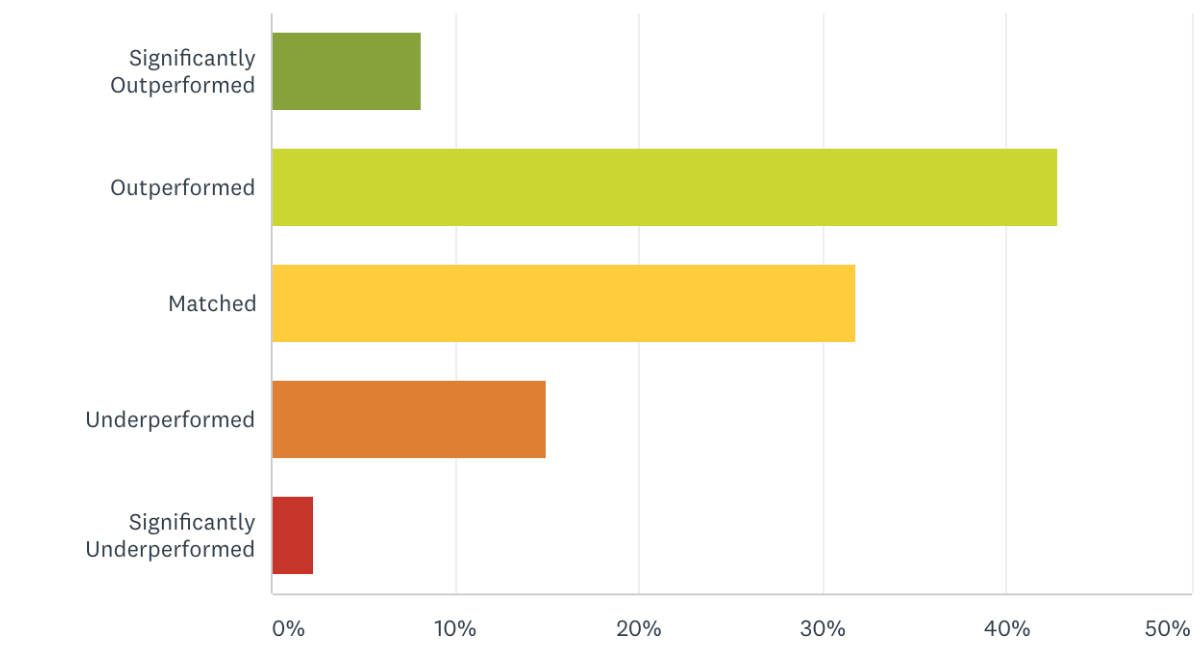 This was the same question as asked in 2017 when only 6% of subscribers reported underperforming the market since subscribing. A significant new cohort of subscribers joined in 2018 during falling markets, so there's no surprise that those numbers are up, but it's clear the majority of subscribers are still well ahead of the benchmarks.

What has your 2018 performance been as a percentage year to date?
In spite of the common StockRank & Ratings systems published on the Stockopedia website, subscribers have wildly diverging portfolios and styles. So whenever we ask this question, we discover a wide variability in the distribution of returns. As you can see below the range of outcomes has been anywhere between -50% and +50%. The outliers have most likely being in highly concentrated portfolios, with more diversified portfolios clustering between -20% and +20%.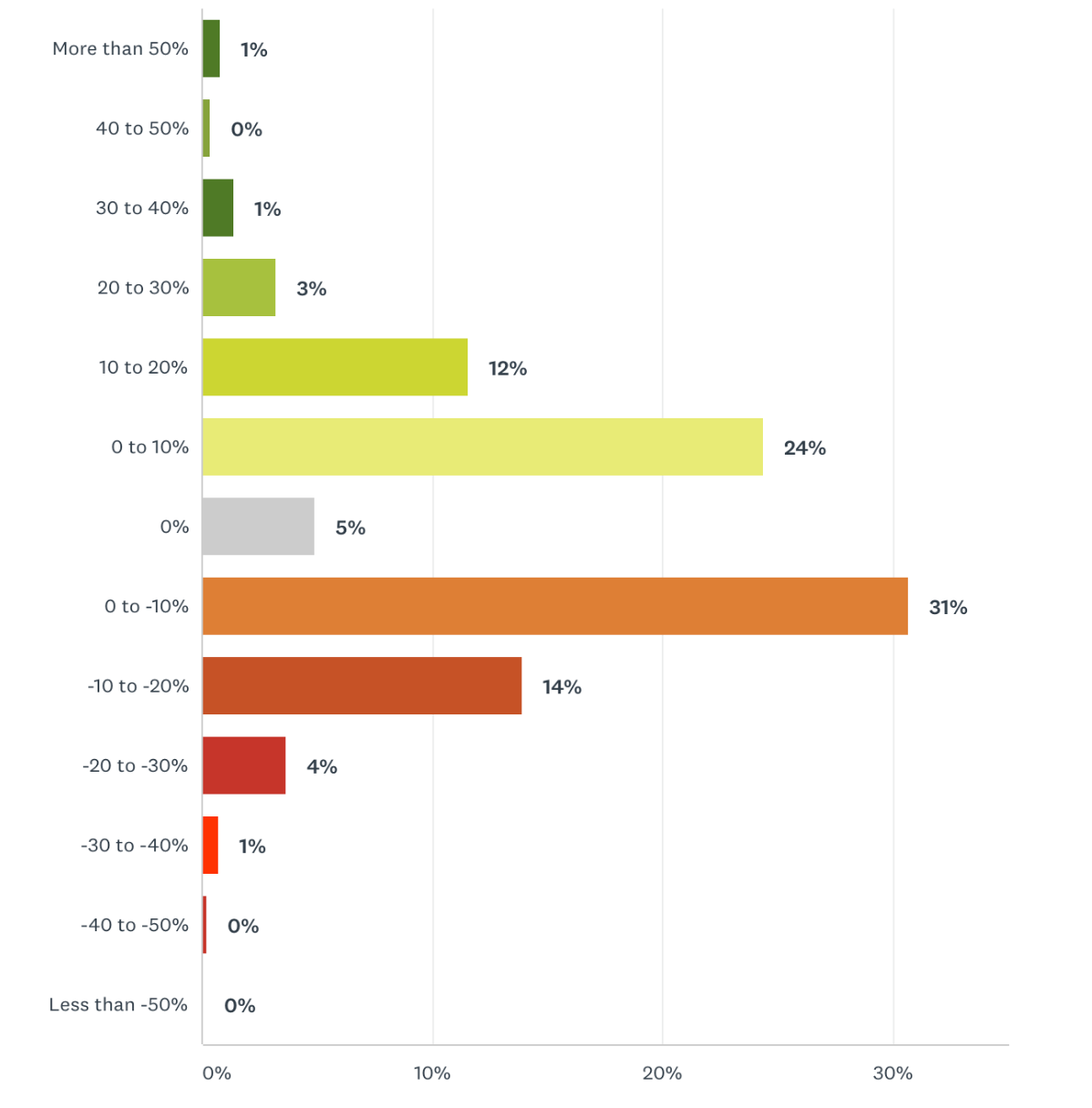 But what is most startling is the level of average outperformance versus the market averages. This survey has been open for 2 weeks during which time we've seen some big swings in the market. The FTSE All Share (the broadest UK market index ) has been down for the year between -8% and -12% over this period. So to create the next chart we calculated the weighted average FTSE All Share performance based on the survey completion dates (so that like for like is compared).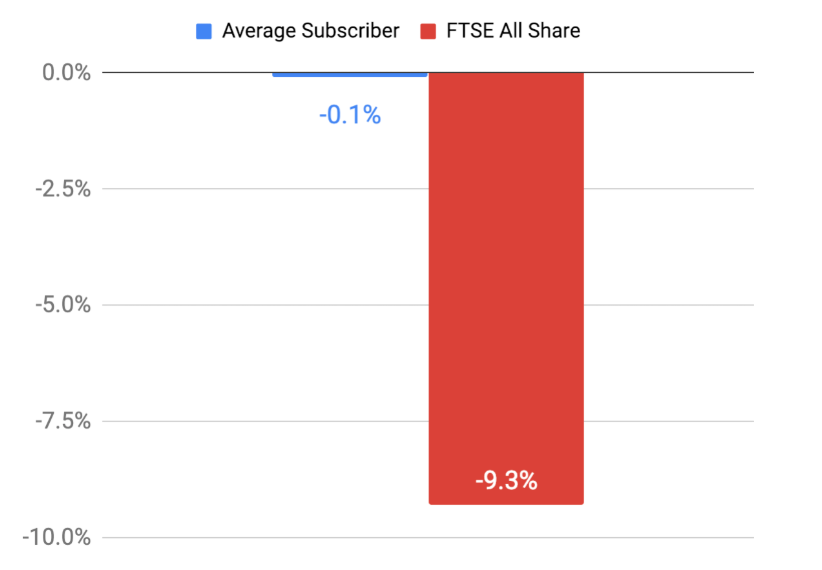 This shows a remarkable level of outperformance. It is worth considering whether investors are being over-optimistic in their performance reporting, and also whether they are including dividend returns (which aren't included in the FTSE All Share performance). But even taking both these factors into account it's likely that the average performer has significantly beaten the market.

Which features have most impacted your returns?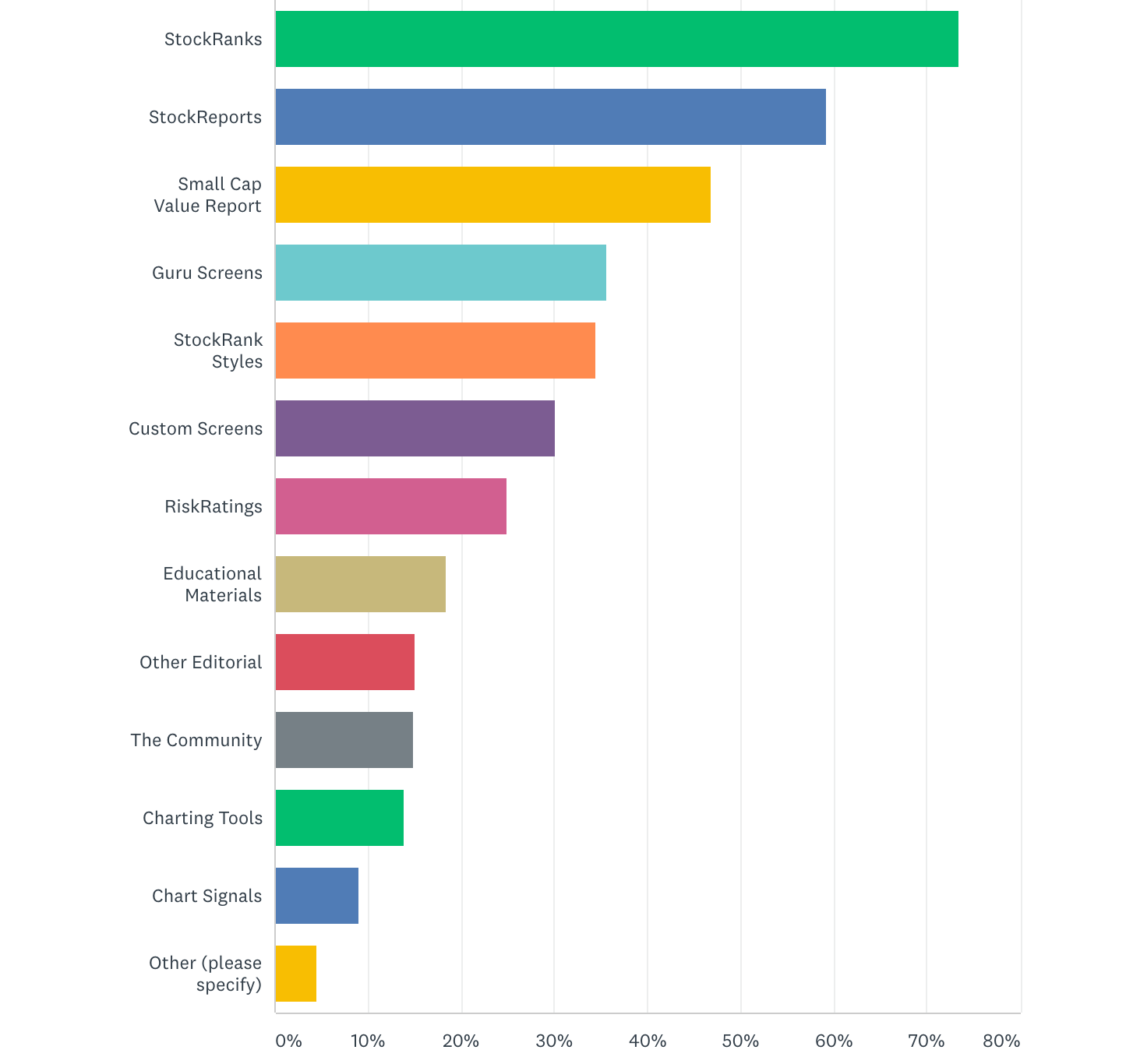 The standout feature on the site is still the StockRanks with 73% of subscribers saying it had had the highest impact on their returns. But in contrast to 2017, where the top 20% ranked stocks dramatically outperformed the index, in 2018 there has been a much more moderate outperformance. 80+ ranked stocks in the UK have sunk 8% year to date.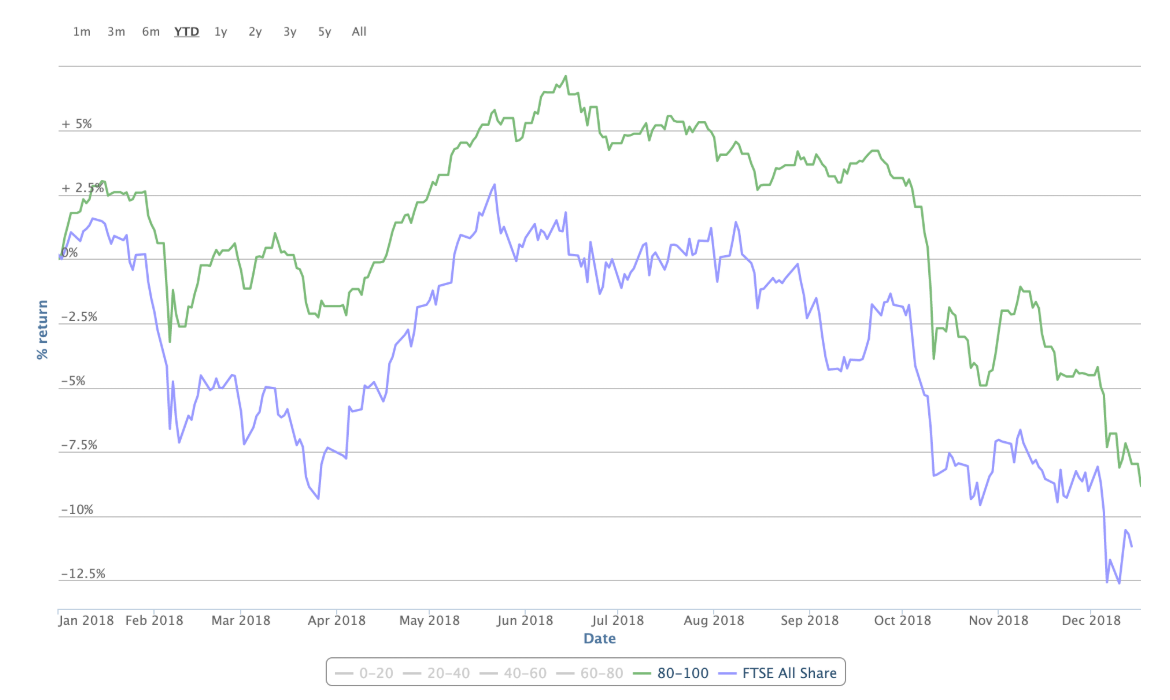 This year we've seen more adoption and interest in the RiskRatings, with a growing understanding that adding lower volatility stocks to your portfolio can help reduce drawdowns.

Meanwhile, the community around the Small Cap Value Report continue to prosper. Paul & Graham have highlighted a number of outstanding winners this year, as we'll see in the next section, as well as helping navigate & spot opportunities in treacherous waters.
What has been your biggest winner year to date?
This always fascinates me, and what a massive array of names were returned. There was far less clustering this year and the sources of people's ideas proved very diverse.
The most popular winner held was Games Workshop (GAW)… which tripled in 2017 and rose strongly again in 2018. It was well flagged both by the StockRanks and the Small Cap Value Report. 6% of subscribers named it as their biggest winner.
The second most widely held winner was Sopheon (SPE) absolutely crushing the market by rising 245%. This was picked up in particular by more systematic investors by screens and rankings. 4% of subscribers named it as their biggest winner.
Similarly the much unloved Plus500 (PLUS) rising 67% year to date was well flagged in the NAPS Portfolio at the start of the year. Many sensible investors avoided it due to a perceived suspect business model. Occasional non rational investing can pay dividends indeed. 4% of subscribers named it as their biggest winner.
But beyond these top three most widely held winners were a range of others. I've posted a table of them below. The colour coding maps to the self-professed investing style of the average holder. Systematic investors in blue, Quality Investors in yellow, and Active Stock Pickers in Red.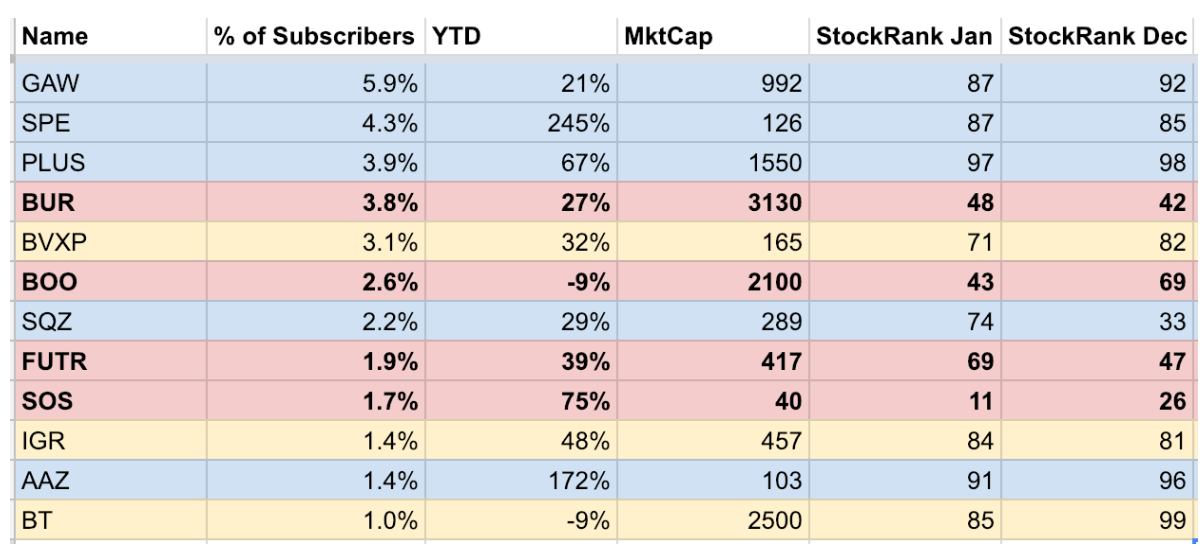 The Small Cap Value Report community have seriously profited from lower ranking names like Sosandar, Boohoo, Burford Capital and the like, while the offline Mello community have had some great success following Leon Boros into Bioventix. It just goes to show that great ideas are born from all kinds of sources.

While the following chart does show some fallers for the year, it's worth pointing out that they are multi-year winners for the holders.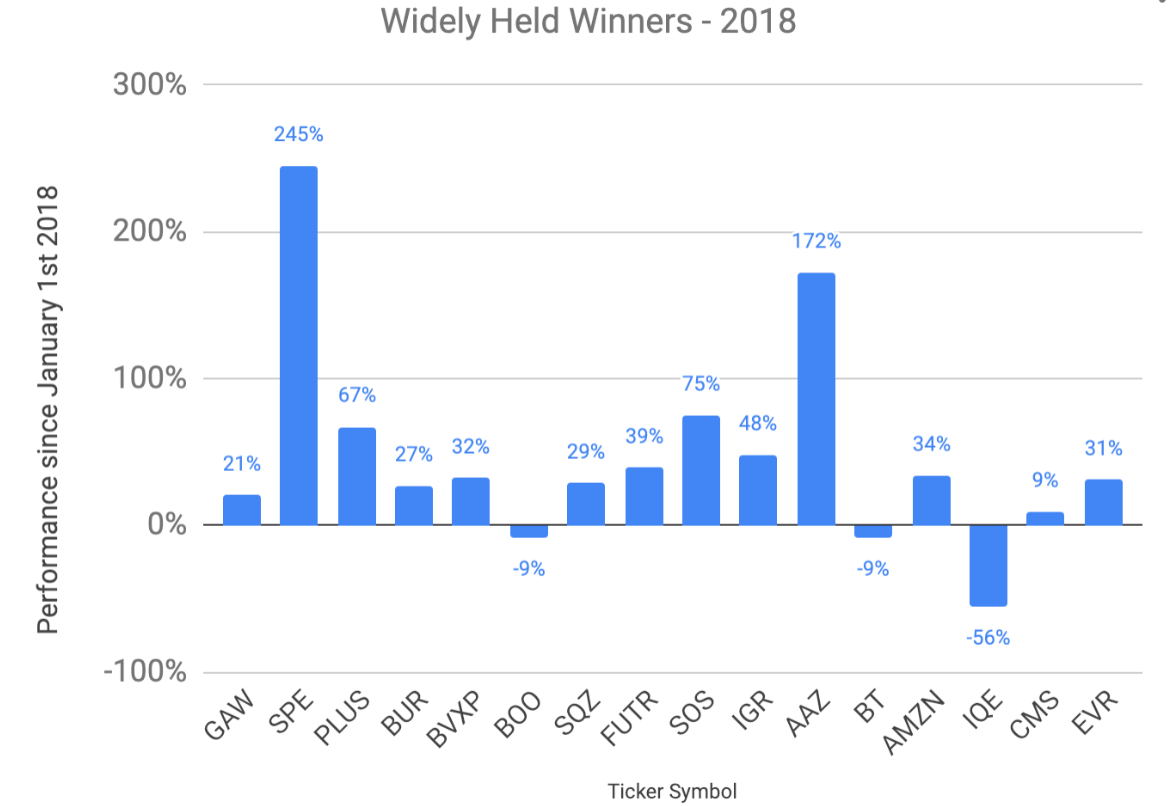 (Note - Boohoo and Sosandar have had a further tumble after the ASOS results yesterday, so please bear that in mind while reviewing the above).

What's the biggest problem right now in your investing?
No surprises here… the typical issue for most investors is not losing money, having more sell discipline, or knowing when to sell. It's emotionally very difficult to see big profits slip away from your grasp. We certainly want to improve the level of tooling to help investors with these difficult decisions. Here's a word cloud that shows the general themes we heard in response to this question.

The above was backed up in the biggest feature request named in the survey. 31% of subscribers responding asked us to publish buy/hold/sell recommendations. I'm not sure whether we'll ever do that as we are aiming for a self-advisory service, but it does show how much trouble we're all having deciding when to sell.
Do you feel more or less confident in your understanding of the stock market since using Stockopedia?
The good news is that in spite of the really bad stock markets in 2018, more than 75% of subscribers are feeling more confident in their understanding of the stock market since using the site.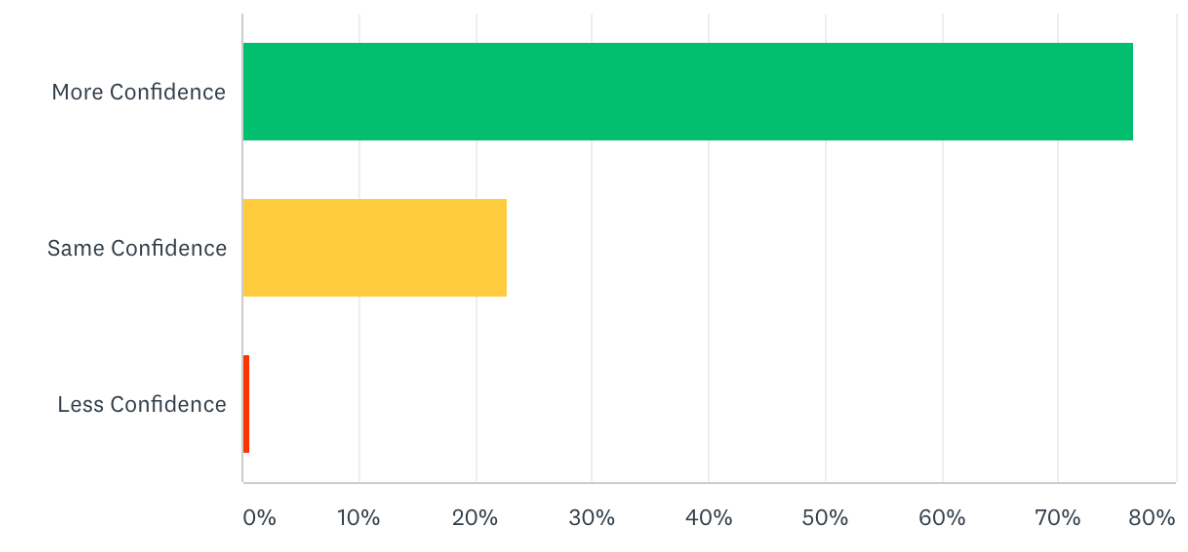 And this comes through in the aspects of our value proposition that are most appreciated by the community. It's not just about discovering new stock ideas. It's about an enhanced ability to avoid risky stocks, improved investment discipline and a reduced reliance on others.  We've just got to do a better job of helping subscribers avoid downturns.  I do have a plan for that.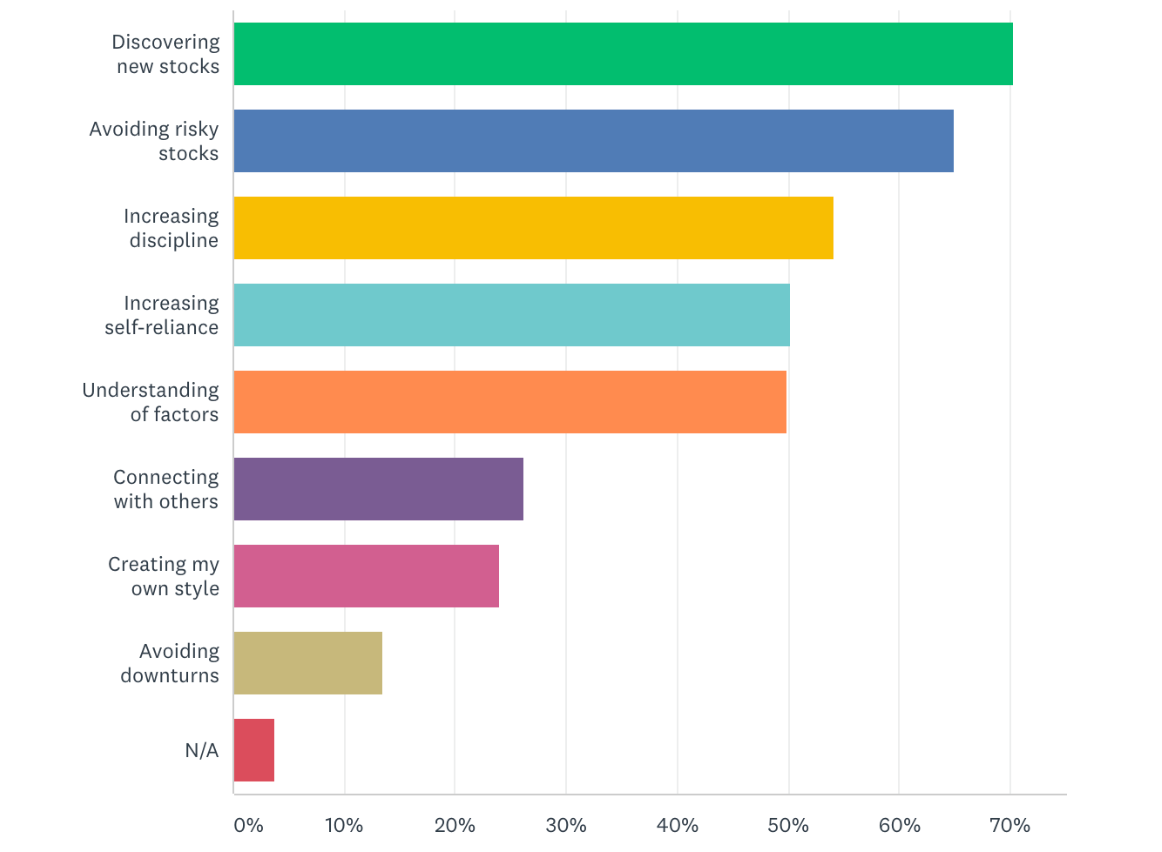 Thanks to everyone who has participated in this survey. I know everyone will be checking their own performance against these benchmarks - so your contributions are greatly appreciated. Many of you have said we can follow up and find out more about your performance in person - we'll try to make sure we get back in touch on this in the New Year.

In the meantime, I'd love to hear your thoughts on this survey in the comments below.
As ever - Safe Investing !