Tech giants Alphabet (US: GOOGL) and Microsoft (US: MSFT) - both of which have market capitalisations over $1trn - have kicked off the US earnings season on a slightly sour note. This time last year, both companies were reporting record earnings growth. In the three months to June 2022, they both missed the market's expectations at the revenue and profit level.
It's hardly surprising that things aren't as rosy as they were in 2021. This time last year the world was emerging from the Covid-19 lockdowns and businesses were bouncing back stronger than ever, reporting growth rates which are going to be almost impossible to replicate in 2022.
But still, Alphabet and Microsoft undershot what the market was expecting. Google's parent company reported revenue growth of 62% in the three months to June 2021, but this has slowed to 13% in the three months to June 2022. Microsoft has turned in the slowest quarterly revenue growth since 2020. We'll hear from Amazon (US: AMZN) and Apple (US: AAPL) - the two other $1trn companies in the US tech space - on Thursday after the US markets close.
Too expensive at over $1trn?
When Apple tip-toed towards the $1trn price tag, markets questioned whether it was a milestone that could ever be reached by a public company. By August 2018 - 42 years after the company was founded - it had managed it. Two years later, Apple stock was worth $2trn. And in that time, as the US tech sector bubbled to record highs, it was joined by Microsoft, Amazon and Alphabet.
When was the $1trn threshold breached?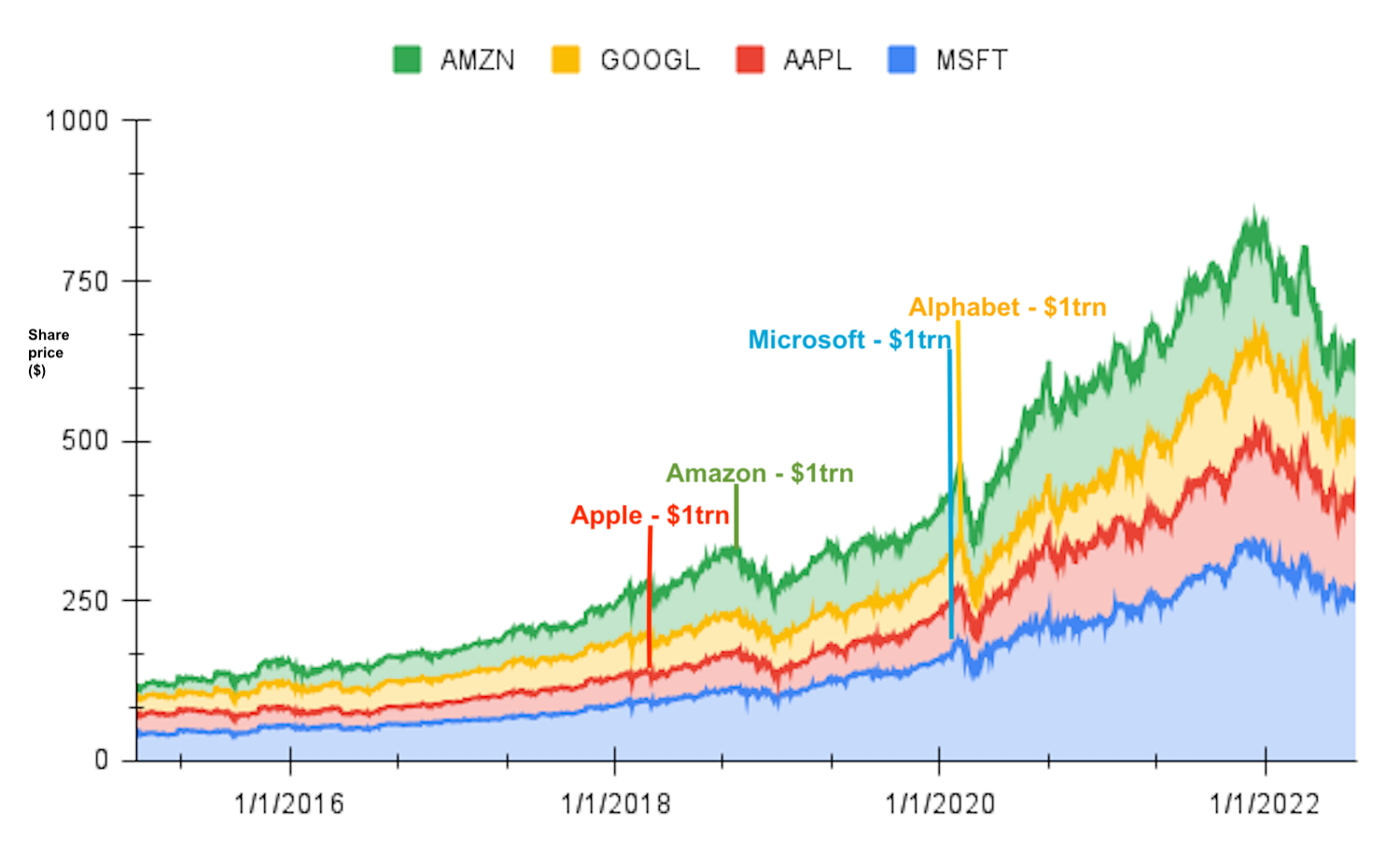 Tesla (US: TSLA) has also enjoyed a stint in the $1trn club, although its valuation has since slipped. Indeed all four of the world's most valuable tech companies have stumbled in 2022. Apple shares are down 16% in the year to date, Microsoft 25%, Alphabet 28% and Amazon 33%. But all four are still carrying meaty valuations, as shown in the table below.
| | P/E | PEG | P/Book Value | P/S |
| --- | --- | --- | --- | --- |
| Apple | 23.5 | 3.8 | 36.4 | 6.4 |
| Microsoft | 23.6 | 1.8 | 11.6 | 9.8 |
| Alphabet | 17.7 | 2.3 | 5.5 | 5.1 |
| Amazon | 67.8 | NA | 8.7 | 2.5 |
The question investors must now ask themselves is whether the four tech giants have further to fall. Are they still too exorbitantly priced? Will their bulk continue to drag the entire US stock market down, setting off a feedback loop which leads to a pattern of falling shares? Or does their inherent quality and global presence justify a return to share price growth?
Quality operators
Let's first look at the quality of these companies - the numbers which make many investors (including me) overlook the obvious problems with investing in a company trading at 67.8 times its forecast earnings.
Apple
Investors should be reassured by the fact that Apple makes excellent use of the money invested in the business, as shown by a five year average return on capital employed (ROCE) of 31.4%.
Apple is able to generate such attractive profitability ratios thanks to its strong revenue generation, decent margins and excellent ability to convert profits to cash. In the last five years, the company has delivered compound annual revenue growth of 11.1% and EPS growth of 22.0% thanks to gradually widening margins.
A free cash flow to sales ratio of 27.4% is a good sign as it shows the company converted a decent chunk of its revenue into cash, which can be used for reinvestment in the business or to deliver extra returns to shareholders. The highest quality companies should be able to convert almost all of their operating profits into operating cash flows. Last year, Apple generated $116,426m of operating cash flows from $119,379m of operating profits.
Microsoft
Heady revenue growth figures tend to capture the most enticing of headlines, but true quality can only be found in companies which can consistently generate strong profits from those revenues. In the last five years, Microsoft has delivered compound annual revenue growth of 13.0% - pretty astonishing for a company which is fact approaching its 50th birthday. Operating and net margins in that time have averaged 34.9% and 28.0% respectively in the last five years and Microsoft's earnings per share growth has averaged 24.4% in that time.
Arguably the most interesting profitability metric is return on invested capital (ROIC), which showcases the amount of profits generated from the investments made by all stakeholders in the company. It is useful to compare to ROIC with cash return on invested capital (CROIC) to show how efficiently the company is converting its profits into cash flow. Last year Microsoft generated an ROIC 41.7% and a CROIC of 45.6%.
Alphabet
With a five-year average operating margin of 23.6%, Alphabet is clearly doing something right. High operating margins are a pointer to firms with products that customers can't get enough of - and are unlikely to look elsewhere for. That's certainly true of Google, which - alongside Facebook - boasts an unregulated duopoly in the digital advertising space. This kind of pricing power contributes to the fact that the company's earnings per share have been growing at a compound rate of 32.1% over the past five years.
With a long-term average ROCE of 17.0%, it's also clear that Alphabet has been doing a good job of allocating capital and reinvesting to support further growth in its profitability. This shows up in a five-year average Return on Equity of 20.6%. Companies with consistently high ROEs tend to exhibit the high-quality, competitive business traits that deliver resilient profitability.
Amazon
Amazon's ability to check the traditional quality boxes is hampered by its founder's mantra of reinvesting all the profits back into the business. The company's cloud computing division (12% of revenues and 47% of operating profits in the first quarter) boasts whopping margins and a strong ability to generate cash, which is reinvested into the innovative services divisions of the business and the original shopping channels. Sales growth therefore is hard to fault, averaging 28% in the last six years.



Beyond the bottom line
But while the $1trn club are unquestionably good companies, are they still good investments? Not according to our StockRanks: Microsoft carries a Neutral rating with its StockRank of 60, Amazon and Alphabet are both Falling Stars - their high valuations and poor momentum giving them StockRanks of 39 and 56 respectively. Apple's recent turnaround in momentum means it is a High Flyer with a StockRank of 74.
The StockRanks haven't always fared particularly well in the US, with the strategy's equal weighting across value, momentum and quality resulting in a sub-par performance in the momentum-fuelled tech run of the last decade. But as Ed has recently commented, the StockRanks strategy can work in the US when it is applied in sensible portfolio construction.
And the signs from our StockRanks are not the only red flags to the big tech outlook. The dark clouds of competition and regulation remain and investors might do well to expect more earnings hiccups in the coming years.
That said, both Microsoft and Alphabet upgraded their expectations for the following quarter and were met with decent share price jumps on the day of their results announcements - the $1trn club may continue to surprise us.