Hargreaves Lansdown is one of the UK's biggest investment brokers - and like other platforms, one of its eye-catching pages is its "Top of the Stocks" feature. You may have perused lists like this for interest or even made investment decisions off the back of them. But have you ever considered what lists like these really tell you - and whether they're a route to easy profits or painful losses?
Lists of the most viewed, most bought, and most sold stocks can instinctively feel like a useful guide to what's hot in the market. But our research shows that far from being a useful short-cut, these lists are right to carry very serious wealth warnings…
Hargreaves' homepage reveals the top 5 most viewed shares and just one click away you can find the top 10 most viewed shares. This may seem innocent enough, and perhaps even very useful. After all, given the concept of the wisdom of crowds, the top 10 most popular shares could easily feel like somewhere you should be focusing your attention.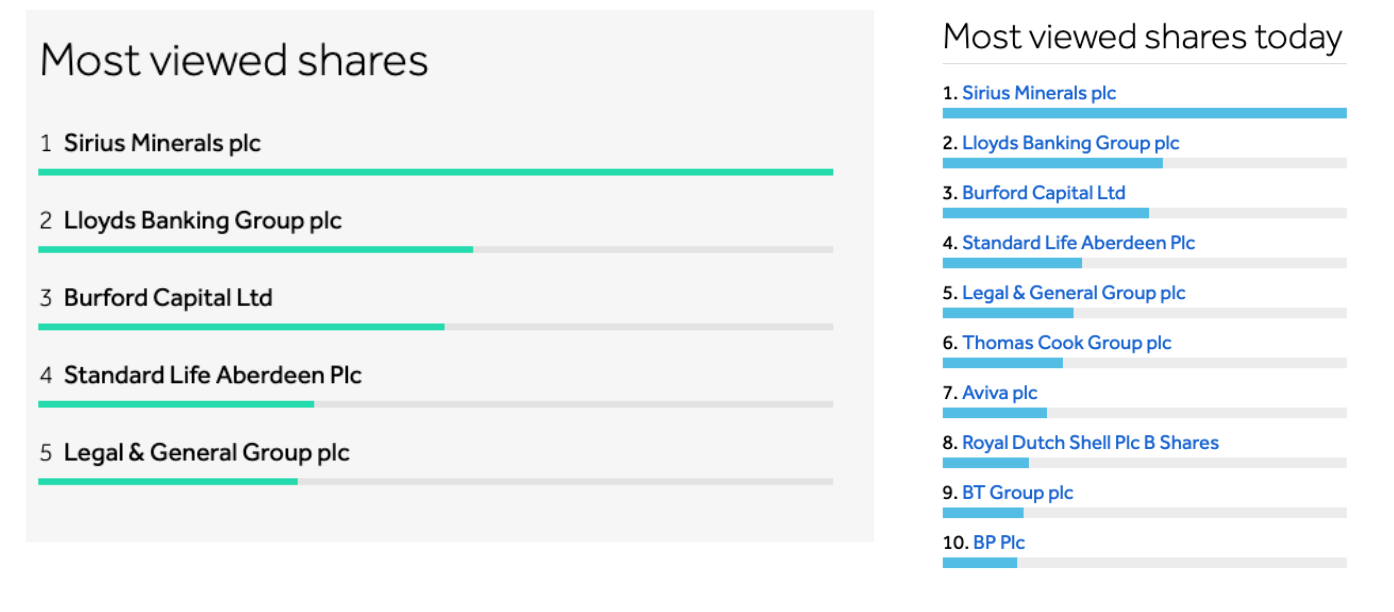 Well, that's where you'd be wrong. Upon seeing this list, there are three actions you could realistically take.
1. You might trustingly decide to buy these stocks, rationalising that they should perform well as they might have strong momentum. You may reasonably think that you can even combat poorly performing stocks on the list on any one day by adjusting your portfolio quarterly or even weekly. Yet my research shows that even this will not be able to save you from poor portfolio performance.
Using the top 10 lists dating back six years, I have created a portfolio of these stocks and updated it quarterly (in January, April, July and October), graphing the performance in comparison to the FTSE All-Share Index. Both are given a base investment of £100,000 and rebalanced quarterly as and when there is new data on stocks. As demonstrated, such a portfolio would significantly underperform the FTSE All-Share Index.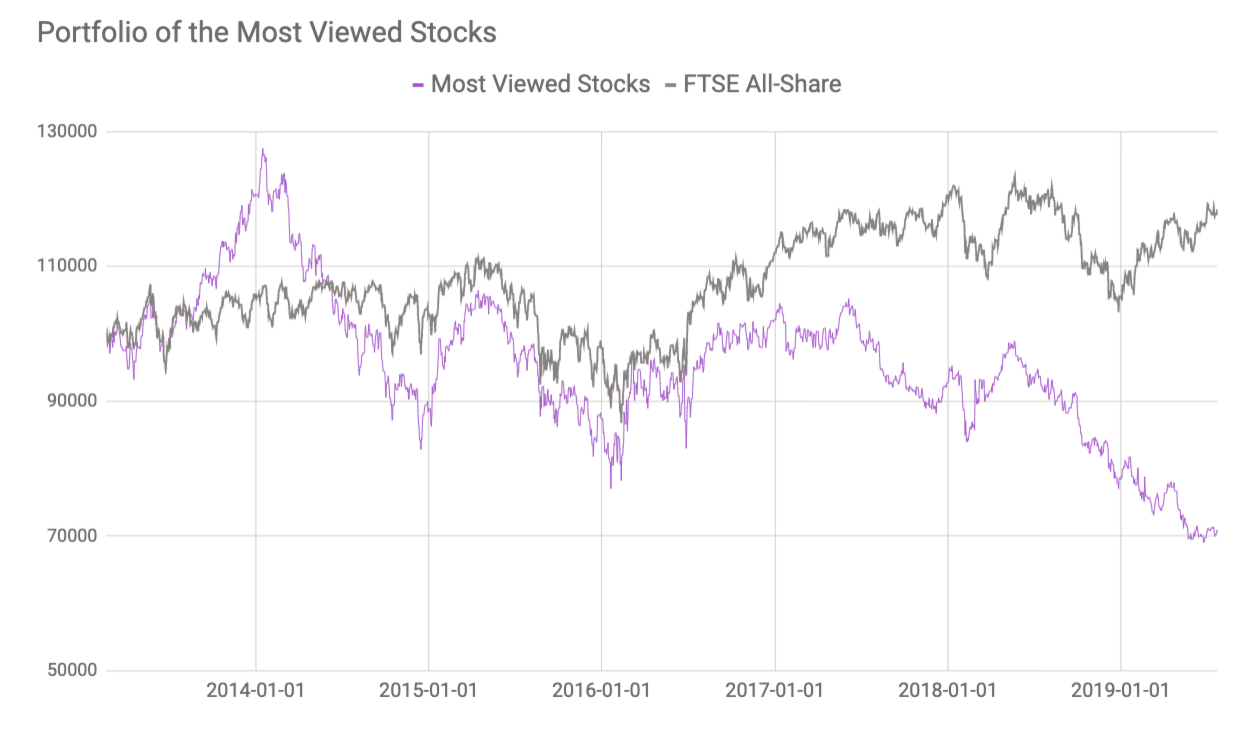 2. You might decide to do some research to determine whether or not the stocks are worth the hype. Perhaps you think there must be some reason for the popularity of these stocks and know to do your research before investing. Investors should, on the whole, be smart and rational. However, given the data I've collected about these stocks, there are strong indications that most, if not all the stocks, are potentially hyped and actually poor stocks to invest in.
Nearly a quarter of these stocks have a Speculative or Highly Speculative RiskRating (the two highest volatility bands on Stockopedia's RiskRating spectrum). They have an average Piotroski F-Score of just above 5 and an average StockRank of merely 60.5. Although these aren't damning figures on their own, they do suggest that the stocks are not as strong as they could be. Instead, you could have been screening for only the stocks expected to show the strongest performance via Stockopedia's "Popular Screens" section.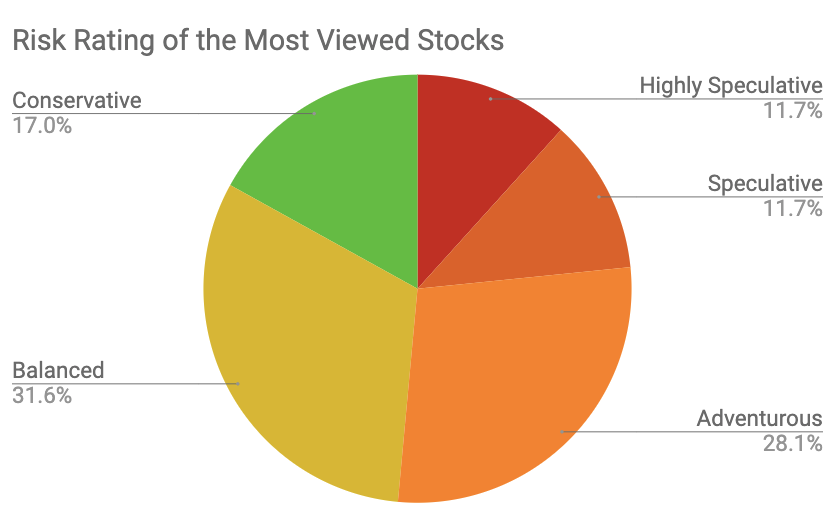 3. You might ignore the list and go about your investing as usual. Good for you, you've avoided the trap of being a sheep and following the crowd. Now you can gloat about how you haven't been lured into creating badly performing portfolios or researching poorly performing stocks.
It's not only the most viewed stocks you should be wary of…
So, a portfolio of the most viewed shares could well lead you to a loss. But what about the kinds of most bought shares that you find in lists like those in Hargreaves' "Top of the Stocks" section?
I mentioned in the beginning that there is not just the most viewed shares section but also the "Top of the Stocks" section, which shows the most bought and most sold stocks weekly.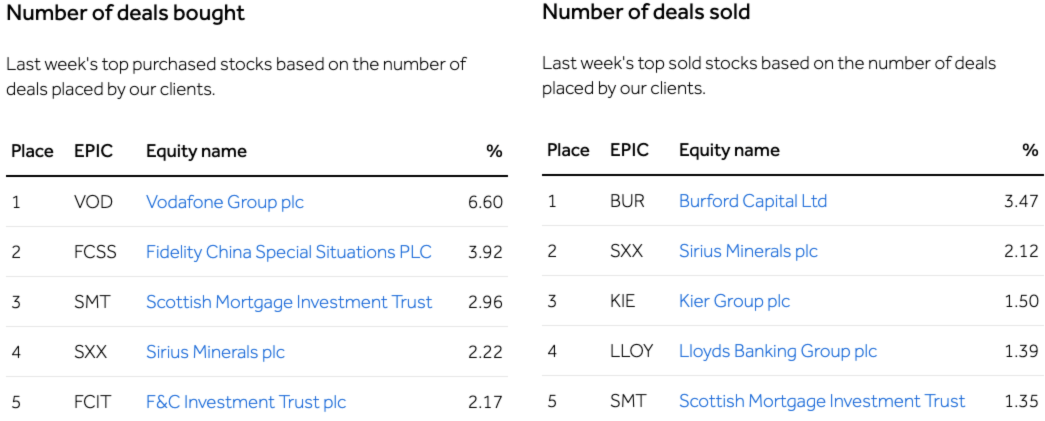 You can find Hargreaves' "Top of the Stocks" lists under their 'Shares' section as a further subsection under 'Research and Tips'. Here, I would argue that these lists are neither research nor tips. There is no research going into these shares; they are merely compiled from the shares which most of Hargreaves Lansdown's clients bought or sold. They also should not be classified as tips; as mentioned above, if investors were to blindly abide by these lists and buy the relevant stocks listed, their portfolio would underperform the FTSE All-Share Index even more than if they had bought the most viewed stocks.

A damning final finding here - one that really reinforces the risks of following the crowd - if you had chosen to buy the top 20 most sold stocks, updating your stocks quarterly, you would have notably outperformed an investor choosing to buy the top 20 most bought stocks across this same time period by over 20%. This kind of result shows just how easy it is to waste time, lose money, and adopt poorly performing strategies in the stock market.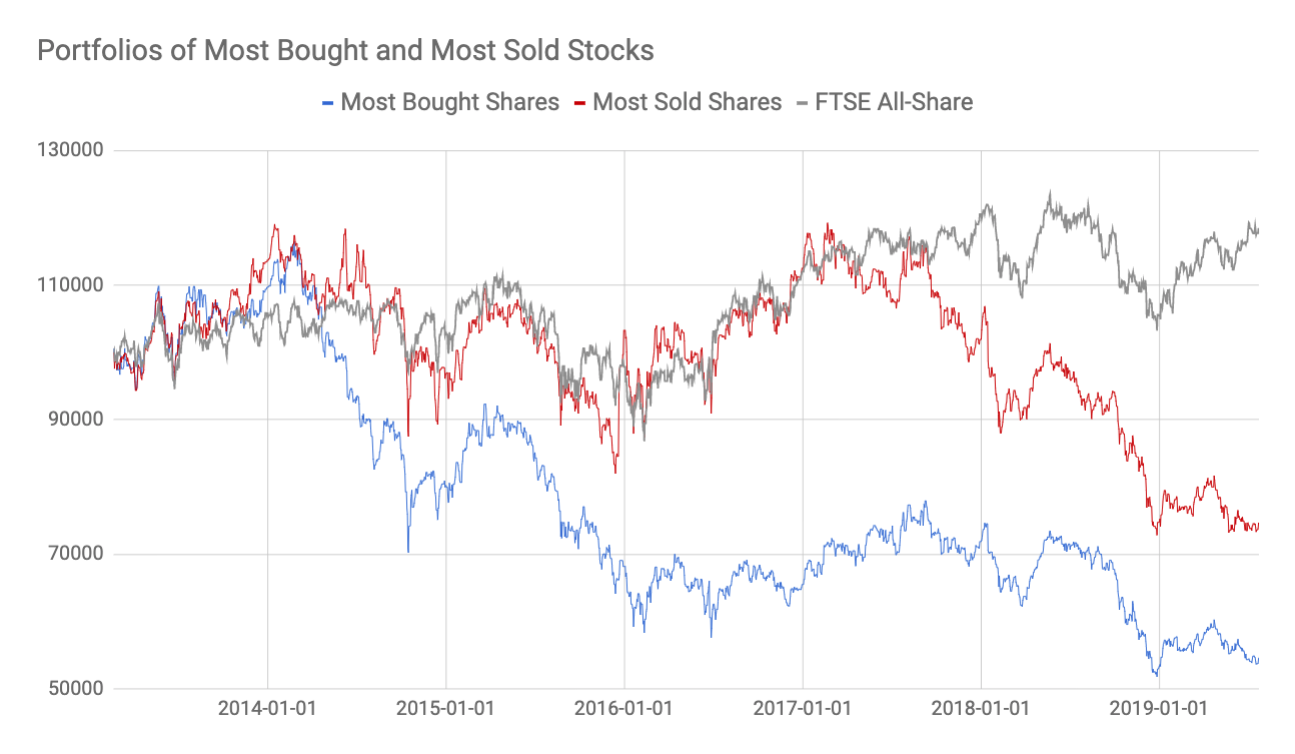 In comparison, if you overlaid the performance of the stocks with a StockRank over 90 during this same period, you would find that it outperforms the FTSE All-Share Index by over 120% and the portfolio of the most bought shares by over 180%.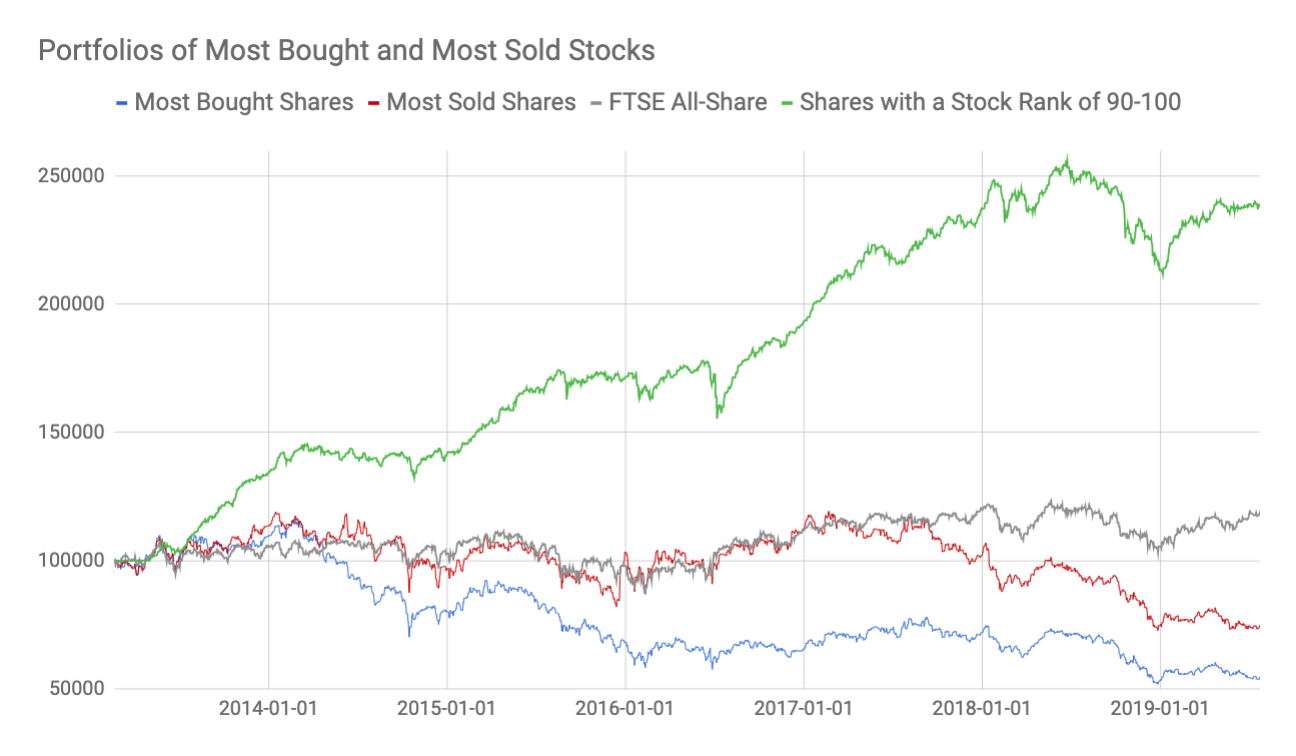 What Stockopedia's data tells us about the most bought and most sold lists
First of all, how do the stocks on 'top lists' rate in terms of historical volatility? Simply by looking at the Risk Ratings of both lists of stocks, you can see how speculative most of them are. In fact, 45% of the stocks in the most bought lists are Highly Speculative or Speculative in comparison to 45.3% of the stocks in the most sold lists. It seems that retail investors appear to be attracted to volatility rather than stability when investing.

Secondly, in terms of factors like Quality, Value and Momentum, what kind of profile did these stocks have? According to the StockRank Style, 31.7% of the most bought stocks are of a losing style compared to only 25.8% of the most sold stocks. So, if investors had used Stockopedia's website to research the StockRank Styles of the stocks in these lists, they could have easily avoided investing in badly performing shares.

What can we learn from all of this?
The data clearly demonstrates that 'top lists' attract a lower quality of shares. Very importantly, it's not just Hargreaves Lansdown that publishes lists like this. You can find them on broker platforms and media outlets everywhere. And while they do offer a snapshot of market activity that can be useful to many, those inclined to use them for trading ideas could well be pursuing low probability bets.
Lists such as these merely add noise to an already noisy environment; investors already have so many signals they could respond to. Now, they need to know which are the correct ones to listen to. In this case, if you thought that these popular stocks lists were well researched or that the crowd should be right, unfortunately, you're incorrect. Not only that, but you could do real damage to your portfolio.
Perhaps instead of 'top lists', consider using Stockopedia's range of factor-based screens based on well-researched criteria that have proven results.