Whether you're new to the stock market or a seasoned professional, one of the biggest challenges in investing is finding profitable ideas.
For decades, journalists from national newspapers and investor magazines have offered tips about what you should buy. While these pundits might sound like experts, a look at their track records suggests that many of them should come with a wealth warning.
The takeaway for those in a hurry: research by Stockopedia has found that the annual share tips from a selection of the most popular UK newspapers and specialist investor magazines tend to be inconsistent, and underperform the market (the FTSE All-Share).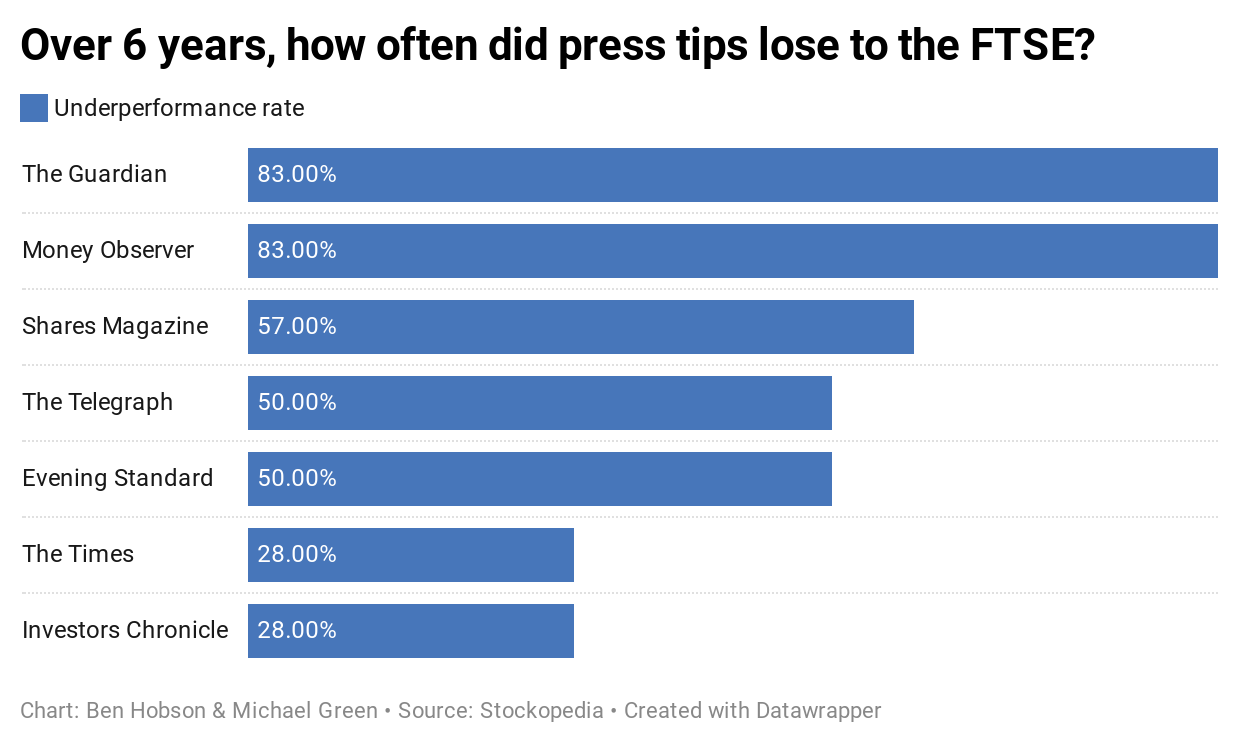 ---
Why do people use stock tips?
It's worth reminding ourselves why people use tips. Today's world is frenetic; there's a lot of information out there (especially online) that can and will influence your investment decisions.
With shares offering returns that aren't on offer in other asset classes, more people are trying their luck in the stock market. At the same time, online trading tools have become simpler and cheaper - with some trading platforms removing fees entirely.
With many sources providing news and opinion about what to buy, it's tempting to shut down the feeling of being overwhelmed and reach for the 'easy button' by listening to investment tips.

Our question is simply this: does it work? Is this is really the cornerstone of a solid, profitable investment strategy that you can live with for a lifetime?

A brief history of the stock tipping
Three hundred years ago, Jonathan's Coffee House was a bustling centre of trade in the heart of the City of London. It was the birthplace of what is now the London Stock Exchange.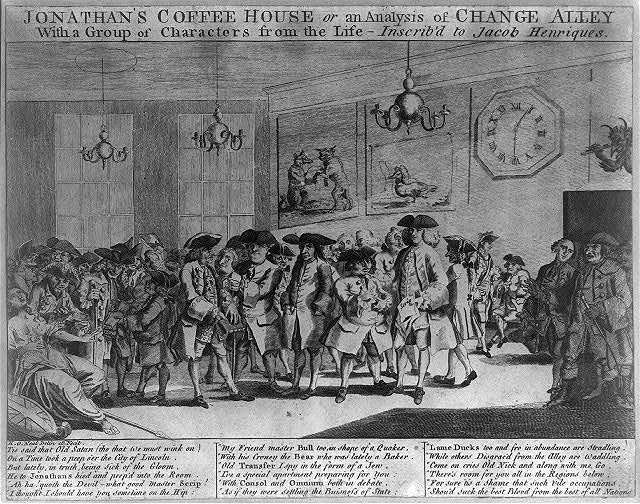 Back then, brokers and investors would meet to trade ideas and investments. And it was here, in the early 1700s, that one of the first and most dramatic booms and busts took place: the South Sea Bubble.
A deal between the British government and the South Sea Company sparked a nationwide frenzy of share buying. It was a sorry tale of bad ideas, spurious companies, bribery, corruption and insider dealing.
Eventually it led to utter bust and destitution for many of the public who'd been swept up in the mayhem.
It was an early example of how the power of investment tips, suggestions and poor advice can wrong-foot the unwary.

---
Centuries on, share tips are still a staple of the financial pages. For those making their first venture into the stock market - but even for experienced investors - tips can be a natural place to look for ideas.

These tips can, and do, move share prices when they are published. Onlookers hoping to get in early on new ideas can momentarily send prices soaring. But those prices also retreat quickly when the excitement wanes and those new holders - who may have very little knowledge of what they have bought into - get bored and lose interest.


The facts about tips
Research by Stockopedia has found that the annual share tips from a selection of the most popular UK newspapers and specialist investor magazines tend to be inconsistent and underperform the market.
In our review of their average returns (see below), more than half were found to have underperformed the main stock market index (the FTSE All Share) in recent years.
This analysis is important because while many publications suggest that readers do further research before buying 'tipped' shares, it's unlikely that this always happens. Anecdotally, we know from Stockopedia subscribers - of both experienced and inexperienced investors - that reading press tips can be the extent of their research before they buy a share.
---
Our research looked at the New Year Tips from four national newspapers and three investment magazines to understand just how successful they had been. The publications included:

The Guardian (2014-2019);

The Times (2014- Oct 2020);

The Telegraph (2017-Oct 2020);

The Evening Standard (2017-Oct 2020);

The Investors Chronicle (2014-Oct 2020);

Shares Magazine (2014-Oct 2020);

Money Observer (2015-Oct 2020).
The analysis involved creating a simulated portfolio for each publication using their tips dating back to the first year they issued a list (we went as far back as 2014). Each portfolio was equally-weighted and assessed after one year before being rebalanced with the newest share tips. The portfolios were benchmarked against the performance of the FTSE All Share.
To get a pure view of the share price performances we didn't include any dividend returns, taxes or trading fees in the analysis. Note that in some cases individual publications use stop losses or suggest target prices for their tips, which can affect their overall performance - but we have not included those rules here.
So how did they get on?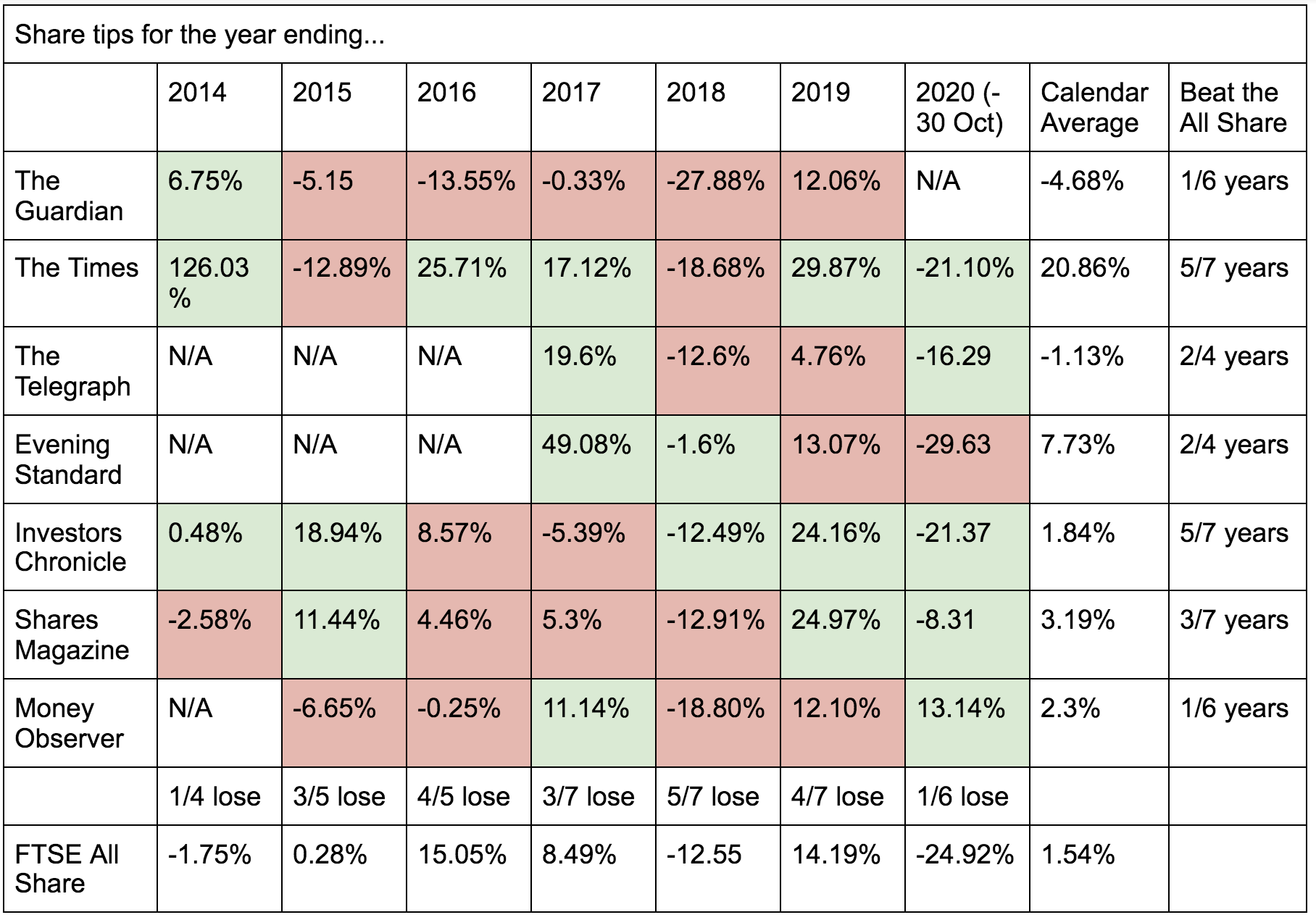 One of the overall findings from this research is that there has generally been little consistency in the performance of tips from most of these mainstream publications over the past seven years.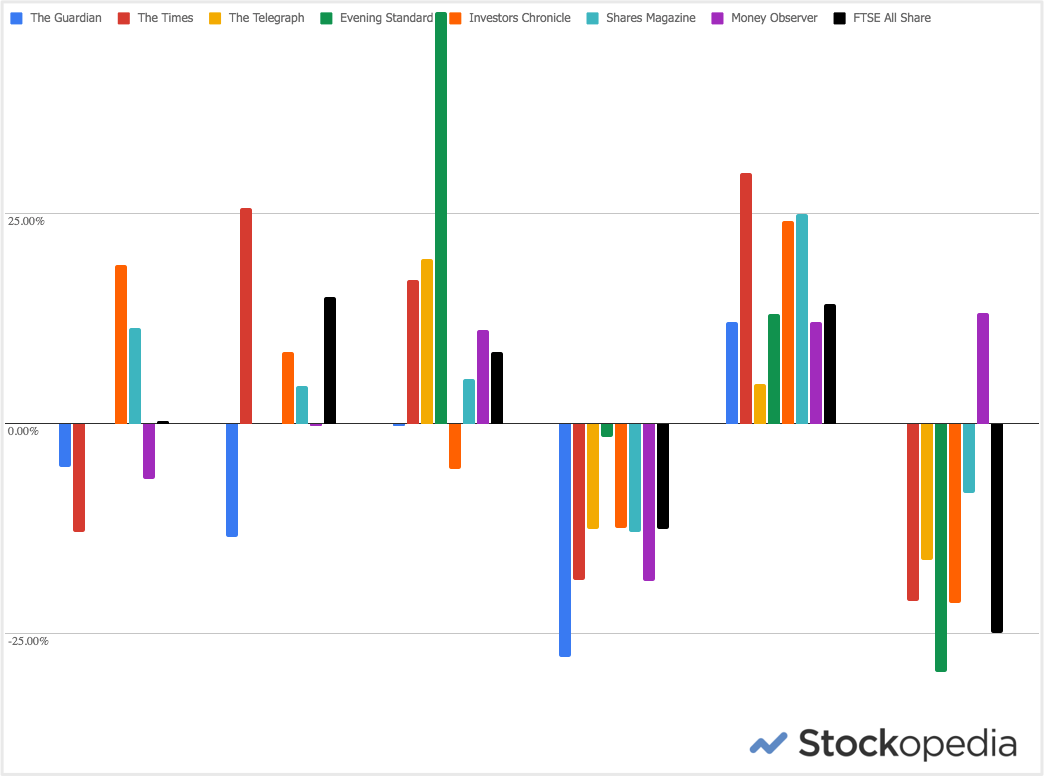 (Full graph data available here)
When it comes to beating the FTSE All Share index, five of the seven publications underperformed at least half the time.

The lowest hit rate (of beating the FTSE All Share) were from The Guardian and Money Observer (now closed), which only managed to beat the index in 1 out of 6 years.

Both The Guardian and The Telegraph managed an average negative return over their respective years (6 for The Guardian and 4 for The Telegraph).

The highest hit rates were achieved by The Times and Investors Chronicle, both of which beat the index in 5 out of 7 years.

The Times achieved the strongest average performance over time, with an average gain to date (end of October 2020) of 20.86% - an impressive performance.

The Times also achieved the best one-year performance, with a 126.03% return in 2014.

Apart from The Times, none of the publications has managed to achieve an average annual gain over time that's in double figures.

Among the worst single tips across the publications was the Evening Standard's choice of Thomas Cook in 2019, which collapsed in September that year, wiping out shareholders.

In the 6 years between 2014 and 2019, there were only 2 years (2014 and 2017) when the majority of publications beat the market. In the other 4 years the majority actually underperformed.

Markets have been incredibly volatile in 2020 because of the Covid pandemic, yet all of the current tipsters are ahead of the FTSE All Share - but not by much (to the end of October). Money Observer's tips were actually up by 13.14% at that point.


Don't get tripped by a tip
Share tips - both in specialist tipsheets and in mainstream newspapers and magazines - have always been part of the stock market landscape. In their defence, legitimate tips and tipsters are highly unlikely to deliberately manipulate prices or offer bad ideas. This is an area that is carefully watched by regulators. Indeed, some tipsters enjoy a large and loyal following and have successful track records.
However, as a source of investment ideas, tips should be treated carefully. Our snapshot research shows that annual New Year Tips are inconsistent at best, and often underperform over time.
For those using them as a source of research to trade on, there is a risk of losing money. Doing your own research is essential.
If you wish to learn more about how to invest, please take a look at our articles here.