Informational edge or home bias?
Many investors diversify across different stocks, industries, and asset classes

Not so many investors diversify across different stock markets

Home bias can increase risk and cost money in terms of missed opportunities
Do you only invest in the UK-listed stocks? I do, even though UK indices make up just 6% of the world stock market. Adding the rest of Europe takes it to 25%. That still leaves an awful lot on the table.
I don't really know what's going on with a company half the world away. I can flip it around, of course, and say I have some kind of informational edge on UK stocks. The fact is, though, that my UK-centrism is not a choice - it is a function of what I don't know (and not what I do know). It's probably time to expand my investment universe. Not doing so has cost me money before.
About five years ago it occurred to me that I should put some money into the FAANG stocks. FAANG is an acronym for the S&P 500's superhero squad of Silicon Valley tech titans. You know their names: Facebook Inc (NSQ:FB), Amazon (NSQ:AMZN), Apple Inc (NSQ:AAPL), Netflix (NSQ:NFLX), and Google (alright, Alphabet - NSQ:GOOGL). Together, they make up more than 10% of the S&P 500 index.
We can turn it into 'FAANGS' if we stick 'Stockopedia' on the end.

Anyway, I never got around to investing in them but have been revisiting their share price performances and am now distracting the rest of the office as I loudly kick myself under the table.
Here are their three-year stock charts: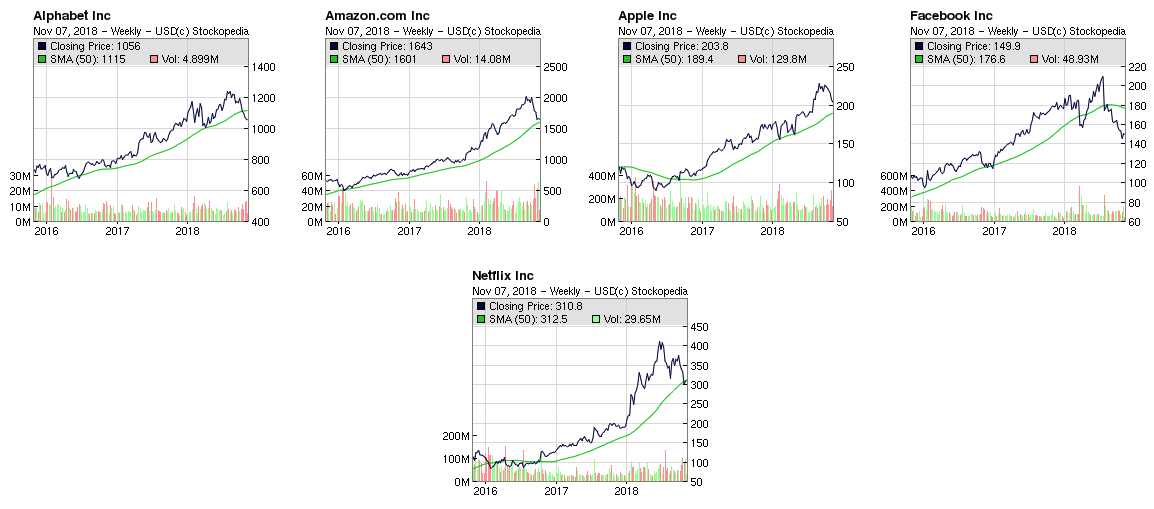 I know, I know, I'm not the first bright spark to have had this (exact) idea, and everybody has stories about 'the ones that got away'. What's more, failing to act on a hunch helps me as much as it hinders me. I was considering taking a small stake in DP Eurasia recently until I cunningly forgot all about it. Next thing I know, Turkey is grappling with inflation, LON:DPEU's share price has nearly halved, I've had a good miss, and getting distracted by something else is just another sign that I might be brilliant. I'll add it to the list...

So the FAANGs were just another idea that I never acted on, big deal - but reading about home bias lent this half-forgotten memory a new significance.
The internet makes it easier...
We now have electronic markets and masses of company information

Studies show investors from developed markets are increasingly investing overseas...

… But the majority still only play locally, even though it has never been easier to go global
As markets become more interconnected, sophisticated investors will become increasingly global in outlook. This trend is already happening, according to US brokerage Charles Schwab, as you can see from the money flows shown in this graph: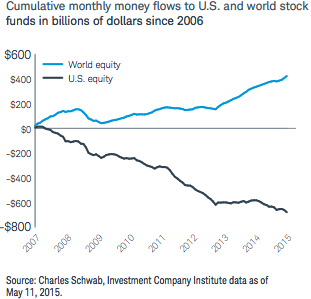 Yet this graphic of the IMF's Home Bias Index shows a significant bias remains across regions: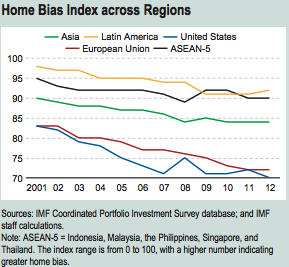 The trend towards a more global investment outlook is entrenched but still has a long way to play out. Research shows even institutional investors and professional money managers display home bias. If this is the case, then considering investment opportunities further afield might strengthen our hand.
According to Charles Schwab, home bias 'is a universal phenomenon' and 'investors are actually weakening their portfolios and cutting themselves off from potentially superior returns' because of it. Schwab recently conducted a study into home bias based on interviews with 200 UK retail investors, each with at least £25,000 in disposable assets. It found the following:
74% of respondents aim to invest 'the majority of their assets' in their home market.

Just 7% are looking to make significant investments in the US market despite significant outperformance in recent times

48% said they feel 'most informed' about companies in their own market and 39% feel that they 'understand the dynamics of their domestic economy better' than other parts of the world
I imagine that last bullet point resonates with a few people. It does with me. There are other concerns that come with investing overseas as well, including transaction costs, dealing with different languages, currency risk, tax complications, potential corporate governance issues and general management accountability. Currency conversion costs on overseas trades can also be a pain so it's important to check just how a broker charges to buy or sell.
Investing across more stock markets is certainly not a panacea. It won't guarantee better returns.
Familiarity and risk
Around 77% of revenues in the FTSE 100 are derived from outside the UK, so if you really want overseas exposure you don't need to search very far.
True, but having more choice (as long as we remain diligent in our research and prescient of the risk we take on) must be a good thing. A UK-based investor can get exposure to Australian mines by investing in UK-listed stocks, but there might be a better alternative actually listed on the Australian exchange. Many of the obstacles that prevented us from researching these companies are now gone.
Also, different markets have different characteristics, valuations, and constituents (see charts below). Being able to access these different markets can be an advantage.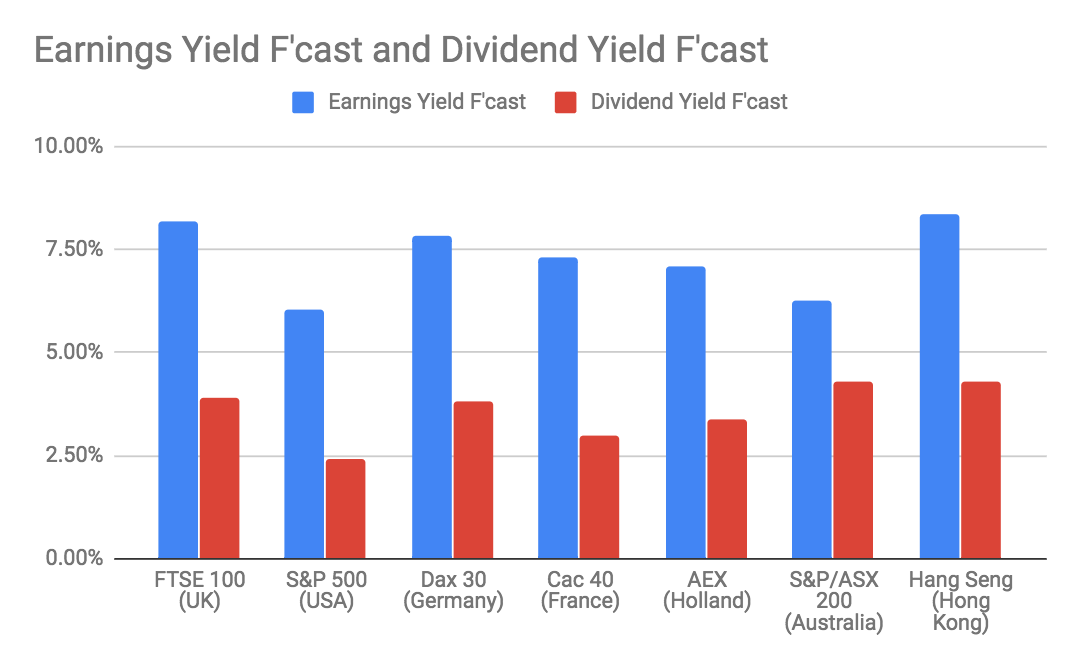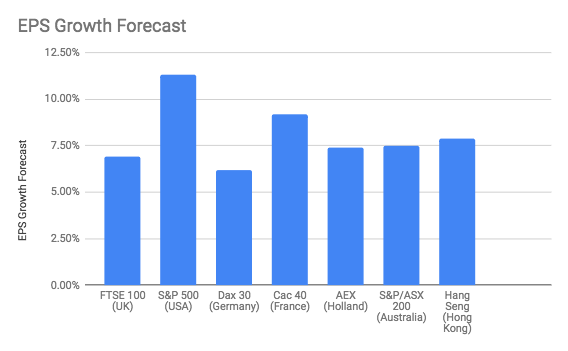 Investing is always risky and prudence is required when dealing in unfamiliar markets with strange companies - but isn't exercising caution and demanding a margin of safety good practice in your home market, anyway? One way of partially addressing this concern is to rule out developing markets (or use ETFs) and focus instead on the big, global indexes.
(An aside: being familiar with a company's presence does not necessarily mean it is less risky than a foreign peer - see familiarity bias)
Factor investing in the big wide world
Perhaps the best way to mitigate concerns around a lack of knowledge of overseas markets is to stick to systematic, factor-based investing methods. Investors who already gravitate to this style might find it easier to make the jump to different markets.
We can check quickly to see how Stockopedia's model has fared in different regions: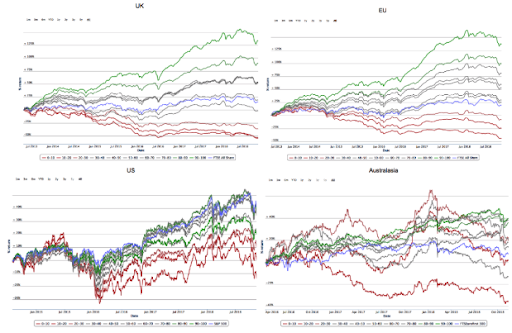 The StockRanks appear to be working well in the UK and EU markets, according to the five years of data we have on each region. The US StockRanks (3.5 years of data) are affected by the low-value FAANG stocks that account for a good chunk of the S&P, while c2 years of data on Australasia might not be enough to spy a meaningful trend (although there is early evidence of the 90-100 SRs rising to the top and the 0-10s falling to the bottom).

If you'd like to explore these markets yourself and start screening for investment candidates, we've been working on our international data plans.
_______________________
Photo by Tom Grimbert on Unsplash