Small Cap Value Report (Fri 6 Apr 2018) - NXT, TET, MOTR, VP.
Good morning, it's Paul here.
Due to jet-lag, I'm up bright & early again, ready to get cracking when the 7am RNS springs into life! As usual, please feel welcome to add your comments on any interesting announcements below.
---
I was adding this section below to yesterday's report, then decided to move it to today's so that more people see it.
Continuing my macro thoughts earlier this week, here is a summary of recent, detailed outlook comments from Next plc. This is not a small cap, but it provides unique commentary and transparency, which is of wider importance to the sector, and economy as a whole. Hence why I report on Next.
Commentary from Next (LON:NXT)
(at the time of writing, I hold a long position in this share)
Earlier this week, I outlined here my current macro view - which is that I see reasons for a degree of optimism later in 2018, particularly as the squeeze on UK real incomes appears to be coming to an end.
Belatedly, I've been reading the utterly brilliant commentary which retailing bellwether Next plc produced on 23 March 2018. The version with colour charts is here. It makes fascinating reading, and if you get a moment, I strongly recommend reading at least sections 2 & 3.
Here are a few key points;
1) Currency is now becoming helpful - and should drive price deflation in 2019 - which could also feed through to better LFL sales, although Next doesn't mention that;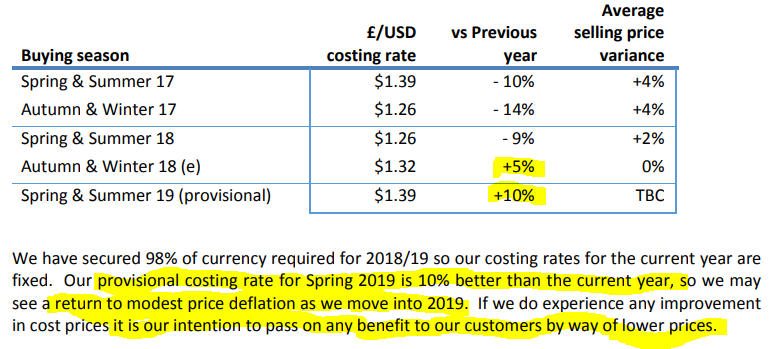 2) Real incomes should stop falling;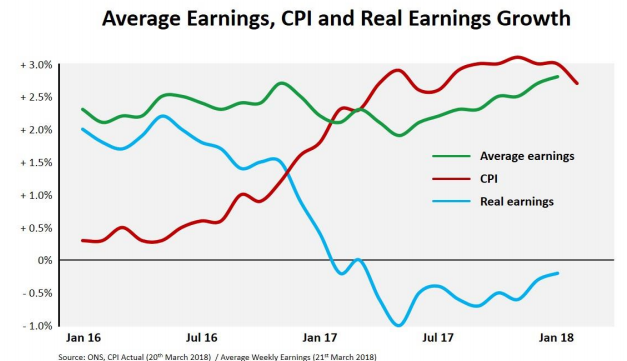 Outlook for Real Income in the Year Ahead

It appears that the easing of inflation in our own sector is being reflected in the wider economy, as other sectors benefit from stabilising currency rates. If that is the case and average nominal income growth remains at current levels, then we should expect to see little or no decline in real incomes during 2018. 
EDIT - Many thanks to reader "dfs12", who points out in the comments section below, that big hikes in contributions to auto-enrolment pensions look set to take a bite out of disposable incomes. I've just googled this issue, and the increases are indeed quite…

Finish reading with a 14 day trial
Already have an account?
Login here