Small Cap Value Report (Thu 19 Oct 2017) - ZYT, IRV, GAW, TSTL, OMG
Good morning, it's Paul here.

This is a placeholder article, for readers to post your comments & reader requests (small caps please!) from 7am. Then I will be updating the article throughout the morning & early afternoon.
---
Good morning properly! Thanks for your comments posted so far today. I'll have a look through those in a moment, and make a list of the small cap shares that readers want me to look at. I see that Interserve (LON:IRV) has dropped 31% on another profit warning, so that's already on my list of things to look at.

Here's the link to yesterday's report, in case you missed my afternoon updates on Foxtons (LON:FOXT) and Flybe (LON:FLYB) .
---
Share price: 577.5p (down 4.2% today)
No. shares: 16.0m
Market cap: £92.4m
Trading update - this is a pre-close update for the year ended 30 Sep 2017.
Zytronic is a UK manufacturer of bespoke & innovative touch screens, for e.g. cashpoint, gaming, and vending machines.
Revenues have continued to show good progress over the prior period, and results are expected to be in line with market expectations.
Sounds alright to me. So why has the share price dropped 4.2% today? It should be emphasised that only 23,763 shares have traded so far today (although there could be more trades reported later - as bigger transactions are reported later). So the immediate share price reaction to news on lots of small caps is often just a knee-jerk reaction from small traders, who are notoriously fickle!
The other thing that strikes me, is that I wonder whether in line with expectations updates are enough, now that many shares have re-rated onto higher PERs?
As you can see from the usual Stockopedia graphics below, Zytronic is a good quality company, but a PER of 20 is historically high for this share;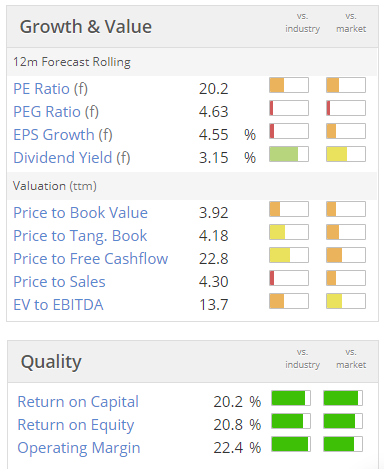 There's a really neat feature on Stockopedia whereby you can look back at historic StockReports for any company, by pressing the "Print" button, which then calls up a drop-down menu, allowing you to select any previous month's StockReport. This is…

Finish reading with a 14 day trial
Already have an account?
Login here