Small Cap Value Report (Thu 21 Sep 2017) - BEG, AXS, DRV, QXT, TMMG
Good morning, it's Paul here!
I'll be updating this article at a leisurely pace throughout this afternoon, so please update this page later for more sections.
---
Share price: 66.1p (up 0.4% today)
No. shares: 137.6m
Market cap: £91.0m
(at the time of writing, I hold a long position in this share)
AGM trading update - this company is the only UK listed insolvency practitioner. It also has a property services division (e.g. valuation, auctioneers) which now accounts for 30% of revenues and profits.
The next year end is 30 Apr 2018, so today is an update for Q1 (May, Jun & Jul 2017).
Key points;
Q1 trading is in line with management expectations
Business recovery division is achieving year-on-year growth
Property services division - performing in line
Government statistics show that insolvencies have risen 2% in H1 of 2017 - the first rise since 2009 
Earnings should grow this year
Looking for more acquisitions
My opinion - this is a good counter-cyclical share - so it does well in recessions. Although Government policy of ultra-low interest rates has suppressed the number of insolvencies - allowing zombie companies to trade their way out of problems that would normally have resulted in their insolvency. Is this a good or bad thing? You can argue it either way.
 On a forward PER basis, this share is starting to look a bit pricey (see below), on a PER of 17.2. So clearly the market is anticipating that the actual earnings may exceed broker forecasts? With increasingly ominous signs of economic problems ahead, it makes sense that BEG shares will rise to anticipate increased workload & hence profits.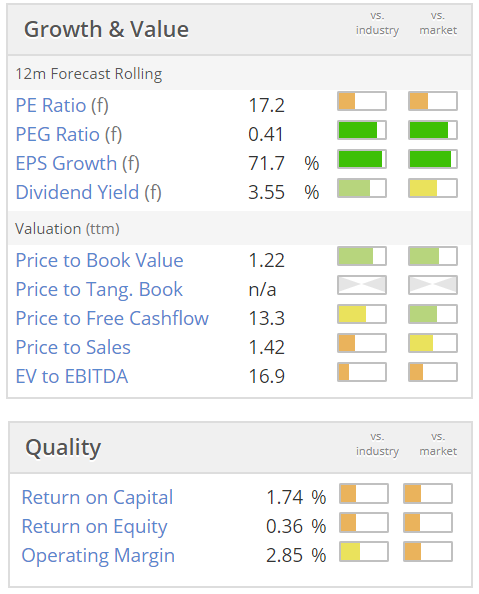 So much retailing is now moving online, that smaller retailers are struggling, and many are likely to go bust. The same is true of estate agents. Therefore capitalism's creative destruction is bound to take its toll in those areas, and others - e.g. hospitality, where there is over-capacity and profit warnings galore (all listed restaurant chains have now warned on profits).
For these reasons, it stands to reason that BEG should have more buoyant trading ahead.
The StockRank is strong, at 80.
---

Unlock the rest of this Article in 15 seconds
Already have an account?
Login here