Small Cap Value Report (Thu 25 Jan 2018) - RTN, LAM, MYSL, VANL, TMMG, VTU, HYNS
Good morning, it's Paul here.
Please see the article header for the trading updates & results that I shall be covering today. It's very busy for updates today, so I'll be writing all afternoon (I've come down with a cold, so this morning was a wash-out).
Forex
I mention forex occasionally when there have been big changes, because these changes in exchange rates have a big effect on some companies' earnings, and growth. My worry is that the benefit of cheaper sterling might now drop out of results, or even go into reverse in some cases. Cheaper sterling has boosted earnings at groups with overseas subsidiaries, and for UK exporters. It's hurt UK importers, e.g. retailers. However, those are one-off impacts on growth. So we need to be careful about over-estimating future growth at companies that had previously seen profits grow a lot from overseas earnings translation into weak sterling.
Amazingly, sterling against the US dollar is now back to the same sort of level it was just before the Brexit vote;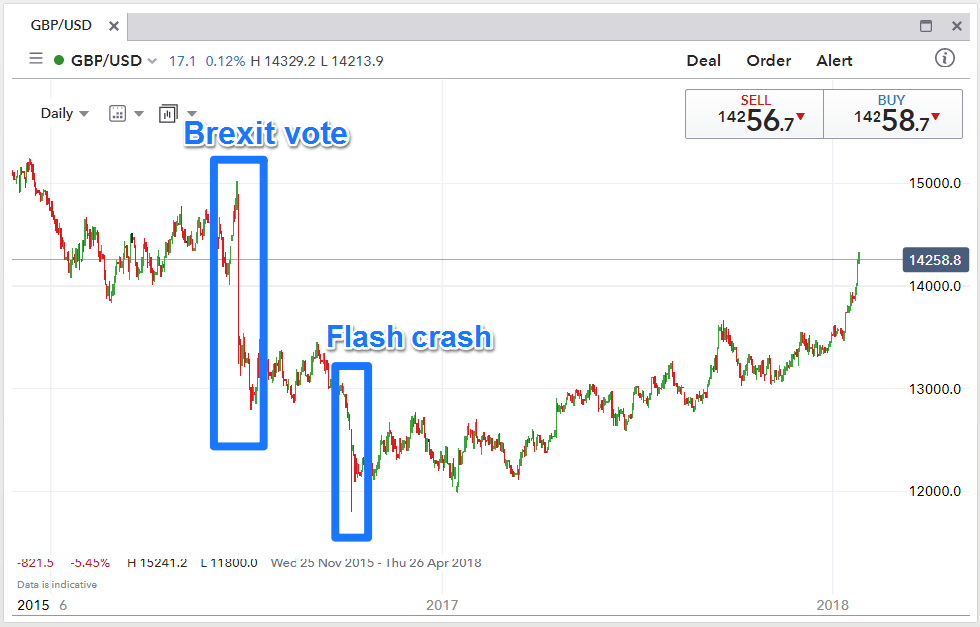 (chart courtesy of IG Index)
However, this seems to be more about dollar weakness, than sterling strength. Against the Euro, sterling has not risen very much at all, nothing like the move against the dollar anyway.
Stronger sterling against the dollar should start to help retailers, once their forex hedges are used up, which could be 6 months to 2 years, depending on their hedging strategy (which can be checked, as it's often mentioned in the Annual Report - just open it online, then use CTRL+F to search for specific terms (e.g. "hedge" or "hedges").
Inflation in the UK should also gradually reduce, as the one-off impact of sterling devaluation unwinds. For that reason, I'm more relaxed about the likely direction of consumer spending, and hence am more bullish on (carefully selected) consumer shares than other commentators seem to be. There could be some bargains around now, if as I expect, the consumer is likely to be more confident & spending more later in 2018.
As an aside, I think a couple of readers got the wrong end of the stick last time I mentioned forex. I'm not interested in trying to predict what exchange rates will do. However, we do need to watch, and be aware of the impact on company earnings/growth from forex movements…

Unlock the rest of this Article in 15 seconds
Already have an account?
Login here