Small Cap Value Report (Thur 13 Dec 2018) - Portfolio update, BON, PURP, RTHM, KOOV, OCDO, TON, PZC
Good morning!
How are your portfolios doing at the moment? Mine has certainly taken a few hits. 
The great thing about the sell-off, of course, is that it opens up all sorts of new buying opportunities.
I've been doing quite a lot of work on my watchlist, keeping it up to date and looking for those spots where a value opportunity may have opened up for a company that I previously liked, but wasn't willing to pay for.
Most recently, two such companies caught my eye: 888 (LON:888) and Gocompare.Com (LON:GOCO). I now have long positions in both of these.
This has been at the expense of my fixed income holdings. Bonds are now just 10% of my portfolio, with 3% cash and the rest in UK equities.
And if the FTSE stays around current levels (or gets cheaper), I'll continue to make that switch into equities. I imagine that I'll be 100% invested in equities if the FTSE gets back to the 6000 level.
The political uncertainty seems very extreme at the moment, and it could become even worse, but this makes for pleasant conditions in which to buy shares, in my opinion. When others are heading for the exits - that's when you get some good value. But you do need a long time horizon, so you won't be forced out of your position before the value shines through.
VFTSE - the UK's VIX
One of the barometers I keep an eye on is the UK's volatility index, with ticker code "VFTSE".
I got this chart off Euronext.com: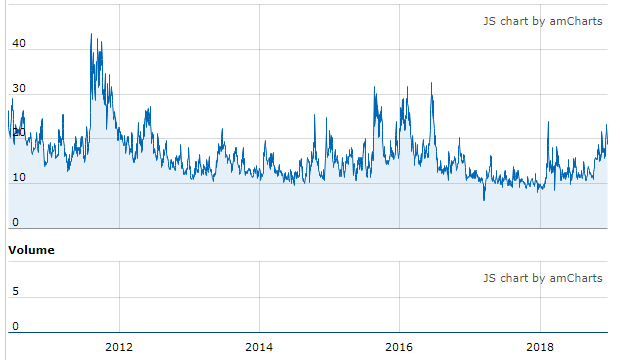 With a reading of 19, this shows that traders are pricing in above-average levels of volatility.
It could get much worse, however: peak readings have been seen at 30 in 2015/2016 and over 40 in 2011.
My interpretation is that we are still a long way from peak bearishness and peak fear, so it makes sense to keep some powder dry.
---
Ok, let's see what's on the newswire today:

Unlock this Article with a 14 day free trial
Already have an account?
Login here