Small Cap Value Report (Wed 22 Aug 2018) - ALY, RBN, HEAD, PHD, SPO
Good morning everyone!

There were a lot of RNS announcements to sort through this morning. Thanks for the suggestions, and keep them coming, as they help me figure out where to focus on.
My provisional list for today is as follows:
Cheers,
Graham
---
Share price: 5.25p (+21.5%)
No. of shares: 728 million
Market cap: £38 million
Good news has been scarce for Laura Ashley shareholders. Today makes for a welcome change.
It's amazing how far a share can fall when it suffers is a loss of faith. Collapsing profits don't help either, of course.
For me, the most significant aspect of today's news is the disposal of the Singaporean property. This very strange asset has been an eyesore for existing and prospective investors such as myself (I owned ALY shares from 2014-2015).
When the property was purchased, back in June 2015, ALY's share price was 22p. Most of the value destruction since then has been related to weak trading, but some of it has been due to question marks over the company's move into property ownership.
It has been sold for SGD $54.5 million (£30.3 million), after being valued at SGD $56 million.
It was bought for SGD $66 million (£31.1 million based on exchange rates at the time), having been independently valued at $65 million.
Singapore commercial property prices (for office space) are down by just 4% since June 2015: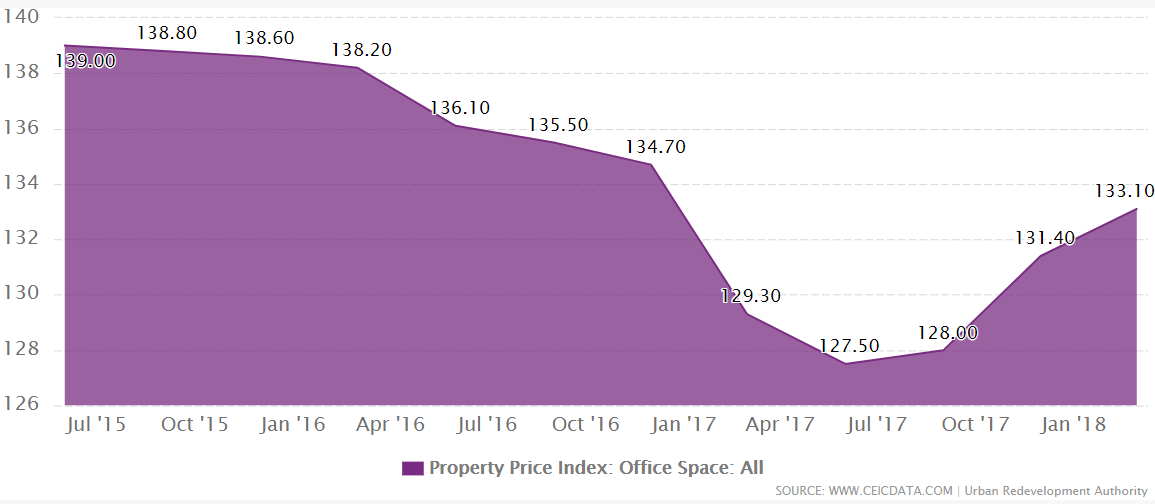 Yet the value of Laura Ashley's property has allegedly fallen by 14%, and it is selling it for 17% less than it paid for it.

Bad luck? I guess we have to conclude that it's just bad luck.
The infusion of £30 million from the sale will make a big difference to the balance sheet, assuming that shareholders vote the deal through (I estimate that 444 million shares are held by the Malaysian chairman's companies).
At June 2018, ALY had bank borrowings of £20.1 million associated with…

Unlock the rest of this Article in 15 seconds
Already have an account?
Login here