Small Cap Value Report (Wed 25 July 2018) - WGB, QTX, JOUL, BUR, NXR, APC
Good morning!
Today we have interesting news from:
We have in-line-with-expectations updates from STM (LON:STM), Empresaria (LON:EMR), James Halstead (LON:JHD) and Norcros (LON:NXR) (which I will discuss further below).
Wealth manager Brewin Dolphin Holdings (LON:BRW) issued an update which did not specify performance relative to expectations but looks strong.
---
Share price: 75.5p (-8.5%)
No. of shares: 71 million
Market cap: £54 million
I'm detecting a lot of frustration from shareholders that the company saw fit to release this announcement at 16:27 yesterday afternoon, creating a bit of an intraday mess as far as the share price is concerned.

Walker Greenbank PLC (AIM: WGB), the luxury interior furnishings group, announces the following trading update in respect of the financial year ending 31 January 2019.
Paul has covered this company several times before (see the archives).

EPS expectations have been trending lower: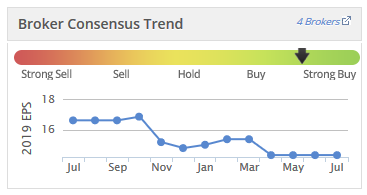 Yesterday, we learned the Board had materially revised down expectations for licensing income in the current year, after gaining "new information" on the  potential profit from a recently signed licensing agreement.

Separately to this, ongoing trading has deteriorated, with orders below expectations.
Adjusted PBT will therefore be materially short of expectations.

At least we are given a new range to expect: adjusted PBT is likely to be £9.5 million - £10 million. It's very good to include this range in the RNS.

Anyway, the new estimate is not so terrible in comparison to last year's adjusted PBT of £12.5 million (2018), or the previous year's £10.4 million (2017).

And the financial adjustments the company makes don't look overly aggressive to me. Statutory PBT (what I call the "actual" PBT!) was £12.8 million (2018) and £7 million (2017).
So on the face of it, I don't see why the share price is down by another third after…

Unlock the rest of this Article in 15 seconds
Already have an account?
Login here