Small Cap Value Report (Fri 13 July 2018) - DPEU, ASHM, THAL, TSTL, Amortisation
Good morning!
Today's assortment looks a bit like this:
---
share price: 177.5p (unch.)
No. of shares: 145.4 million
Market cap: £258 million
(Please note that I currently own DPEU shares.)

This is the master franchisee of Domino's Pizza in Turkey, Russia, Azerbaijan and Georgia.
It's the smallest position in my portfolio due to the fairly obvious geopolitical risks and also its speculative nature as the Dominos brand is rolled out in Russia. It remains to be seen to what extent it will catch on.
So far, the signs are pretty good. Small, speculative positions like this in my portfolio require me to make another decision at some point: to add more (when I'm more confident that it's going to succeed) or to dispose of it (when I am pretty sure that it will fail).
I haven't made that decision with DP Eurasia yet. I want to gradually learn more about the company and its progress as it produces more and more results. I also want to be careful since it has only been listed for about a year, and I am cautious about recent IPOs. We often get an accident in the first year or two.
It's worth noting that DPEU's Turkey business is already established as the #1 pizza delivery company in that country, so that part of the group is much less speculative than the rest of it.

System sales - these are sales made to customers by DPEU's corporate and franchised stores. In other words, it's the revenue that DPEU would have achieved if all stores were corporate owned and none of them were franchised.
This looks satisfactory to me.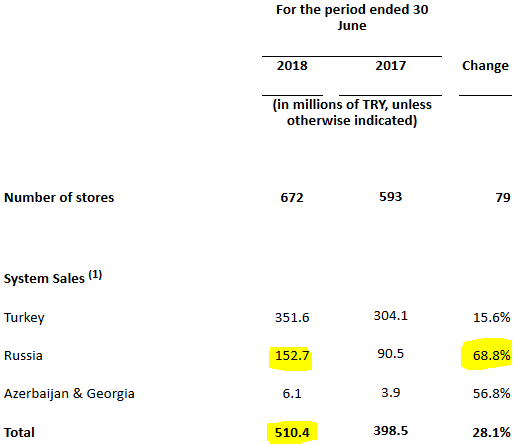 System sales in Russia are up by nearly 70% (measured in Turkish Lira). 1 Lira = 16 pence.
Russian sales are now 30% of the total, up from 23% last year.
Long-term, if the roll-out succeeds, Russia will hopefully be making a…

Unlock this Article with a 14 day free trial
Already have an account?
Login here