Small Cap Value Report (Thu 8 Mar 2018) - CWD, CVR, FUL
Hi,
It's Paul here. Today I shall be covering results from;

Countrywide (LON:CWD) - results - bank covenant worries - needs a fundraising.
Conviviality (LON:CVR) - massive 59% drop in share price - overdone? Maybe, but Graham foresaw it! So a hat-tip to my co-writer here.
Fulham Shore (LON:FUL) - mild profit warning - horrible sector.
(the above list changed during the day, as profit warnings are more interesting than in line with expectations results)

Just to flag that Tuesday's report, and Wednesday's report, are now finished, with extra sections added. Sorry they were rather slow in emerging.

---
Share price: 83.75p (down 5.8% today, at 14:18)
No. shares: 237.9m
Market cap: £199.2m
This is a large chain of UK estate agents.
The narrative is particularly interesting, as it squarely lays the blame for the group's poor performance at the door feet of the recently departed CEO. The Chairman has taken over for now, rising to Executive Chairman, with a "back to basics" strategy change. Here's a flavour of the commentary today;
Industry expertise in all areas of our business is key. Within Sales and Lettings, the previous strategy resulted in us losing a lot of that expertise.

In the Group, we are fortunate in that we have an industry veteran, Paul Creffield, who has been promoted to the role of Group operations director. His deep understanding of the market and operations means that we have quickly been able to identify what we need to do to begin addressing our under-performance.

I am greatly encouraged by the number of high calibre industry business leaders that we already have within our Sales and Lettings business and a number of similarly experienced and high calibre industry people who previously left us and want to rejoin now that Paul is in this role.
Let's look at some key numbers for calendar 2017;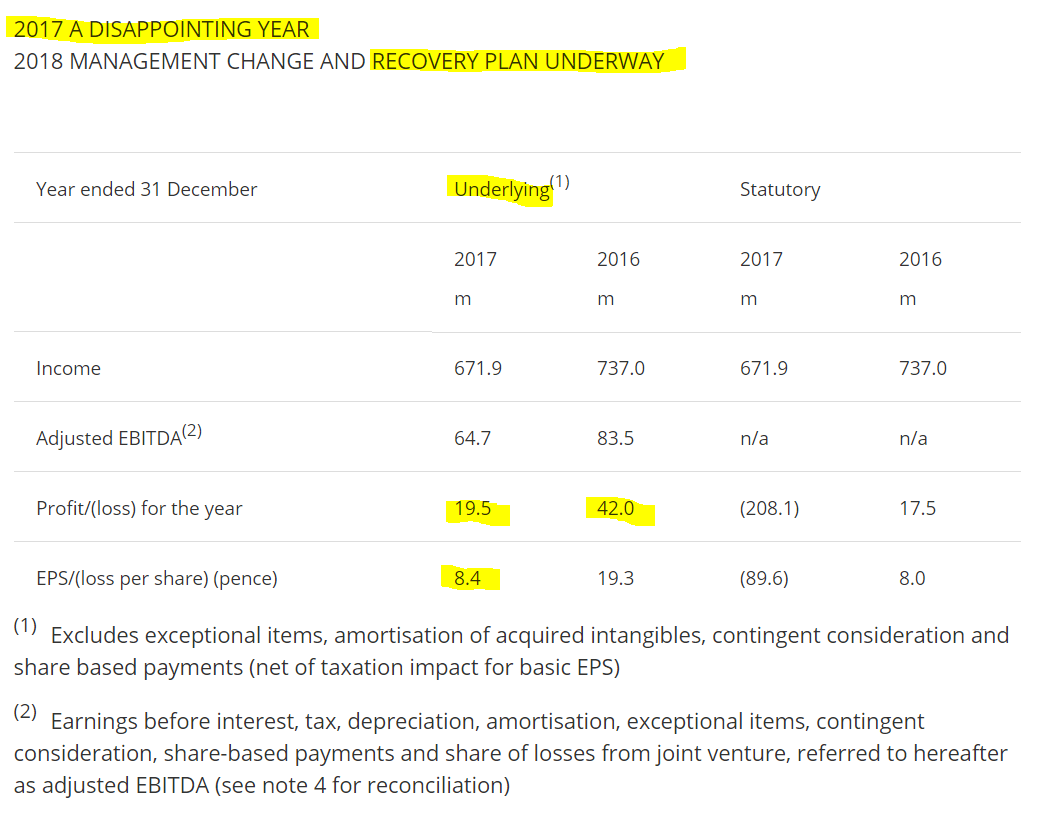 I've left in the footnotes, so you can see that the "underlying" figures strip out quite a lot of items. However, these are all fairly usual items. It's important to remember…

Unlock the rest of this Article in 15 seconds
Already have an account?
Login here