Small Cap Value Report (Tue 9 Jan 2018) - EHG, TPT, JOUL, NEXS, TAST, GAW, CARR, BQE, WINE, FOUR
Hello, it's Paul here.
It's busy for updates today. Please see the header above for the stocks that I shall be reviewing today.

---
Share price: 85.5p (down 10.9% at 08:32 today)
No. shares: 88.8m
Market cap: £75.9m
(at the time of writing, I hold a long position in this share)
Results - for year ended 30 Sep 2017. This company is;
...the owner and operator of seven upscale freehold hotels and a beachfront restaurant on the island of Barbados.
It listed on AIM in May 2015. This is a rare exception to my usual (personal) blanket rule not to invest in overseas companies on AIM. The reasons being that it's profitable, has freehold property assets, pays divis, seems to have sensible management, and operates in a country which seems to be politically & economically stable.
Its major shareholders list is pretty impressive too;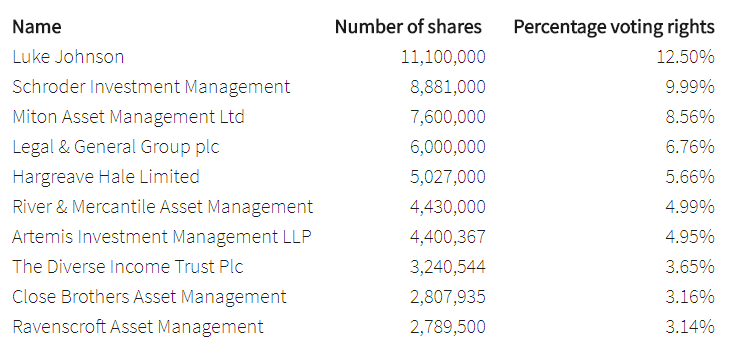 Results today have clearly underwhelmed some people, as the share price down 10.9%.
Dividends have been reduced today, which could have upset some shareholders. Although as I flagged here on 12 Oct 2017, the company was clearly over-paying, so a cut in the divi was to be expected. The final divi this year will be 1.75p (PY 3.5p). The 2018 divi will be 4.0p, split one third: two thirds between interim & final. That will still give a pleasing yield of 4.7%, and looks a much more sensible level of payout. So personally, I'm absolutely fine with this. I'd much rather the company sensibly balances its divis and capex, rather than paying out too much in divis and starving its hotels of capex.
Some key numbers for 09/2017;
Revenue up 5.1% to $59.9m - with one additional site.
Adjusted EBITDA down 7.6% to $18.1m - so nicely cash generative, but we do need to take into account maintenance capex, which is heavy for hotels.
Adjusted profit before tax is down 22% to $11.1m
Adjusted basic EPS is down from 13.1c last year, to 10.1c this year (converts to sterling of 7.5p). Note that there doesn't seem to be any potential dilution from share options, since the basic & diluted EPS figures are the same.
At 85.5p share price, the 7.5p EPS results in a PER of 11.4
EPS seems to have…

Unlock the rest of this Article in 15 seconds
Already have an account?
Login here