In the ten years to 2014, shares in online fashion retailer Asos soared from around 7p to £70 each. The stock became the stuff of folklore among those that had either made a fortune or missed the chance of making millions by selling out too early. Its relentless growth seduced investors and created blistering momentum that pushed it to a nosebleed valuation.
Despite concerns that Asos was priced far too highly, investors continued to buy into expectations that it could keep keep up the pace. So when it finally did start showing the signs of slowing down, the impact on the shares was dramatic. When the hopes of more spectacular growth were dashed, Asos found itself out of fashion.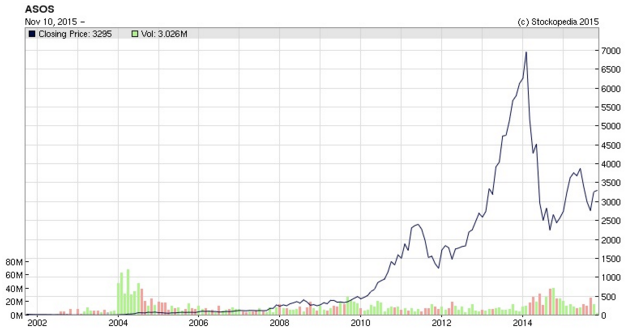 In the taxonomy of stock market winners Asos had become a Falling Star. Its financial and business quality continued to hold much appeal, but in the absence of hope, the extremely stretched valuation didn't reflect underlying fundamentals. When momentum declined, the stock lacked two of the main drivers of investment returns. As a result, it looked expensive and deteriorating. For some, it still looks expensive.

The profile of a Falling Star
Earlier in this series, Ed wrote about how focusing on high Quality, high Momentum shares regardless of price can open the door to finding the stock market's High Flyers - a class of high priced, compounding, market beating shares. Falling Stars are what you get when the Momentum leg of High Flyers gets kicked away. When brokers begin cutting their forecasts and the companies miss earnings expectations then expensive, quality companies can look very vulnerable.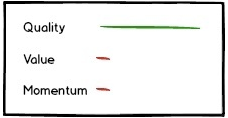 Falling Stars might be good quality businesses suffering temporary declines - and they may bounce back. But is the opportunity cost of holding them in the hope of higher share prices too much to bear? And is the sudden decline in momentum, as seen in Asos's case, something that will become far more severe?
One of the highest profile cases of this kind of re-rating occurred with the so-called nifty fifty companies of the late 1960s (see the Research Affiliates note on this here). Back then, this group of 50 large, good quality blue chips like General Electric and Polaroid were rated at anything up to 100 times earnings. Researchers Vitali Kalesnik and Engin Kose describe these stocks as spurring "a shift from value investing to a "growth at any price" paradigm." But it didn't end well. When the S&P 500 fell by 39% between 1973-74, the nifty fifty fell by 47%. It took investors in these stocks a decade to recoup their losses and they never caught up with the broad market.
In their paper, The Moneyball of Quality Investing, the researchers note: "Just as hiring great ballplayers at rocket-high salaries may be bad business decisions, buying quality stocks at high prices are likely to be bad investment decisions."
How have Falling Stars performed?
We've back-tested the performance of Falling Stars over the last three years using the Stockopedia StockRanks. Despite containing a lion's share of market darlings during this period, this 25-stock portfolio, rebalanced annually, has underperformed the FTSE All-Share.
During a bullish phase through 2013, the portfolio did do well. But when markets drifted the following year, these stocks dramatically underperformed. It suggests that investors gravitate towards glamorous, growth stocks on high ratings during bullish periods. But with a change of fortunes, these shares let investors down badly. Overall, the wild swings in performance are unlikely to be welcome in most portfolios.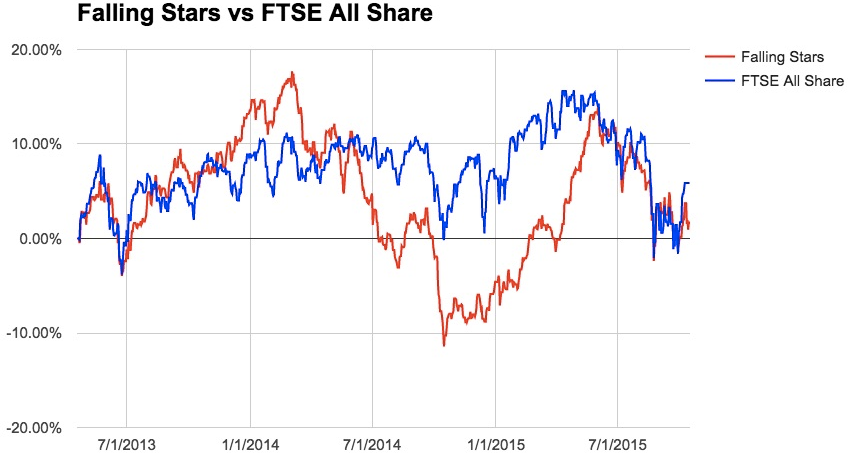 The portfolios were formed by Screening the market each year using the following rules:
Quality Rank > 80 (higher quality companies)
VM Rank < 50 (low combined value and momentum)
Momentum Rank < 50 (low momentum)
Market Cap > £50 million (ignoring micro-cap shares)
In amongst them were stocks that had the classic profile of Falling Stars. The likes of Majestic Wine, Blinkx and Mulberry fell in value and have failed to recover in a meaningful way.
In the case of Majestic Wine, the makings of a Falling Star emerged in December 2013, when the shares began falling from a 12-month high, dragging its Momentum Rank from 81 to 44 within weeks. Based on its StockRanks, Majestic Wine had the profile of a good quality but fully priced stock. A profit warning followed in March and the shares embarked on a long-running losing streak.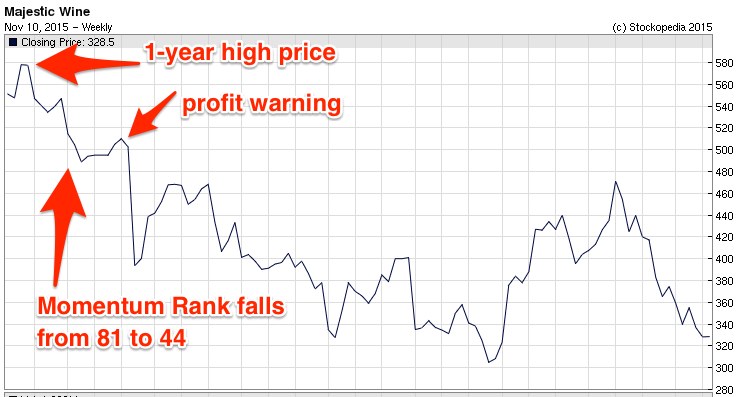 In addition, the period saw a number of IPOs. Some of them came to the market on racy valuations and went on to immediately disappoint with poor momentum. Among them were the likes of Boohoo.com, Poundland and Foxtons. All of these have issued profit warnings that have lead to earnings forecast downgrades from brokers.

Where do Falling Stars go next?
Evidence from the past three years suggests that some Falling Stars don't easily recover. On a general level, the portfolio performance suggest that this is not an area of the market where the odds of outperformance are high.
But of course they don't all languish forever. In fact, the portfolio held some companies, including Abcam and James Halstead, that recovered remarkably well. These shares were a triumph for buy-and-hold investors who were convinced by their prospects regardless of what the market thought. In these cases, neither stock looked particularly cheap, but momentum was re-established. As a result both Abcam and James Halstead now fit neatly into the profile of good Quality, strong Momentum High Flyers again.
So perhaps the best way to interpret Falling Star status is to use it as a reason to re-examine the investment case for a stock and wait for either the valuation to fall, or the momentum to rebuild. This sort of strategy echoes an approach used by American investor Richard Driehaus. He famously waited for earnings surprises in companies with a history of earnings growth before buying them (see the Richard Driehaus screen here). This might offer one way of isolating Falling Stars that might recover quicker than others - although Driehaus was averse to stocks that had already declined.
Alternatively, it might be possible to reassess Falling Stars based on their potential for offering Growth at a Reasonable Price - if the falling share price offers a more reasonable valuation. A GARP screen would take into account valuation measures like price-to-earnings, against growth indicators like earnings growth and return on capital employed (see the GARP screen here). Time of course may also allow earnings growth to rise and bring the P/E ratios of these shares back to more acceptable levels without any fall in price.
Of course Stockopedia subscribers have some shortcuts to identifying shares with at least some of these redeeming features by using the Momentum Rank and / or the Value Rank - available on all Stock Reports and in the Screener.
Is it worth the wait?
The stock market is littered with examples of market darlings who had prices that were stretched, snapped and never recovered. Having shattered the confidence of investors, they can spend long periods in the doldrums. For investors that own them, the opportunity cost of holding on may well be too great to bear. And for any investor looking for opportunities, the risk of catching a falling knife may well make these shares untouchable. Without the benefit of an appealing valuation or improving momentum, Falling Stars are generally worth avoiding.
To find out more about the taxonomy of stock market winners, you can browse through the entire series: