Not all profits are made equal.
For most investors and analysts, the Income Statement is the first port of call. That's why it is home to all manner of financial shenanigans and accounting trickery.
Yes, company A and company B both generated net income of £100, but how did they generate that net income figure? The importance of this question is why we have the concept of earnings quality.
What are 'core' earnings?
High-quality earnings are persistent, recurring earnings that are generated from the core operations of a company. And it is this idea of 'core' where the fun and games begin.
The classification of earnings is subjective, and so there is scope to inflate core earnings by shifting non-core (such as one-off gains from the sale of property) into core earnings.
Core operating expenses can also be classified as non-core (by reclassifying normal expenses to special items or by shifting operating expenses to discontinued operations), inflating the headline earnings figure that way. Similarly, special attention should be given to income-decreasing special items - particularly if the company is reporting unusually high operating earnings.
Unfortunately, these actions are much easier to spot after the fact than before, but it still helps to understand some of the ways in which management can spin the earnings figure.
Persistent earnings: cash versus accruals
The notion of how persistent a company's earnings are is tied up with the Matching principle of accounting, or the accruals method.
If a sale is made in one period and cash is collected the next, the difference between reported net income and cash collected constitutes an accrual. This sensible principle can lead to all sorts of interesting accounting.
When earnings are split into their cash and accrual components, research has shown that the cash part is more persistent than the accruals part. This 'accruals anomaly' was first documented in the catchily-titled academic study Do Stock Prices Fully Reflect Information in Accruals and Cash Flows about Future Earnings? (Sloan, 1996). We cover the topic in more detail here.
Cash component good, accruals component bad? It's not that simple...
Although sizeable accruals (roughly, net income minus operating cash flow) can indicate manipulated or low-quality earnings, this is not the profile of all frauds. In fact, smart fraudulent companies will go out of their way to avoid this profile.
As shown in this article, it is possible to manipulate the cash flow from operations figure by, for example, improperly capitalising (instead of expensing) certain costs. Because capital expenditures are shown as investing cash outflows rather than operating cash outflows, this inflates cash flow from operations.
In a study of 227 enforcement cases brought between 1997 and 2002, the SEC found that the most common accounting misrepresentation occurred in the area of revenue recognition (SEC 2003). Revenue is the largest single figure on the income statement and therefore generally has the largest impact on earnings. Any analysis of earnings quality requires an analysis of revenue.
How to assess quality of earnings
Unfortunately, there is no single characteristic that perfectly captures the quality of earnings.
This is why the Earnings Manipulation Risk Indicatory (aka. Beneish M-Score) that we put on every company's StockReport is so handy. As far as earnings quality checklists go, we could do a lot worse than to investigate the areas of accounting that go into this regression analysis: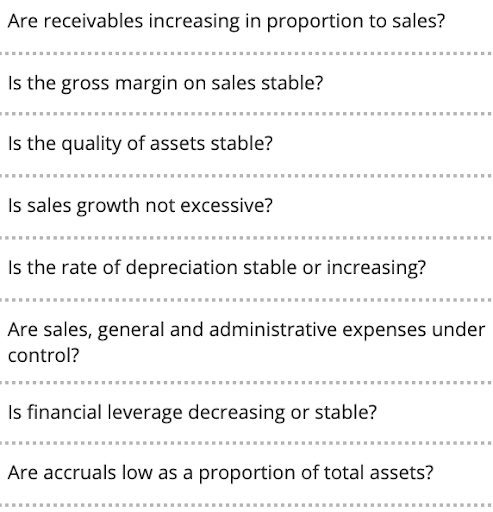 Or just pay attention to the M-Score itself, of course... Some other qualitative areas to investigate or be aware of include:
Management changes, management track record, recent insider selling

Changes in accounting policies (especially revenue recognition)

Changes in accounting assumptions (eg. increased proportion of capitalised R&D)

Historic confirmations of poor-quality earnings (enforcement actions, restatements, etc.)

Level of disclosure and transparency in financial reports and footnotes

The amount of adjustments that go into pro forma earnings