Over the past few weeks, I have been looking at companies highlighted by my earnings-based stock screen. So far, I've found eight non-resource companies that made it firmly onto my watchlist: James Latham (LON:LTHM) Quarto (LON:QRT) Zytronic (LON:ZYT) MJ GLEESON (LON:GLE) Sanderson Design (LON:SDG) Renold (LON:RNO) Arcontech (LON:ARC) Luceco (LON:LUCE) . This week I continue the search for interesting value investments by looking at the companies from the resource sector. Here are the companies that the screen highlighted: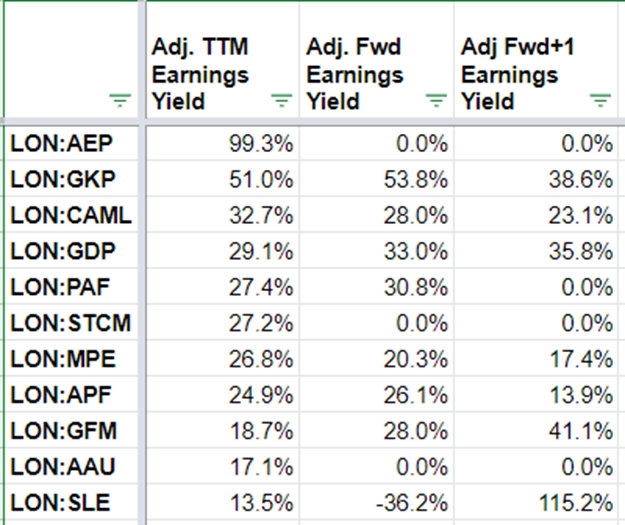 Value Investing & Risk
The first thing to note when looking at this list of companies is the level of political risk that investors are taking. For example, they include oil producers in Nigeria and Kurdistan and gold miners in South Africa. Many investors may conclude that there is a reason why these companies are cheap. And they would be right. Very few companies find their way onto a deep value screen without some hair on them.
However, before ruling these out entirely, it is worth thinking a bit more about the nature of stock market risk. There are two types of company risks: idiosyncratic and systemic. Idiosyncratic risks are risks that are specific to a particular company. In contrast, systemic risks are those that impact the overall market or sector. So, for example, a coup in the country of operation is an idiosyncratic risk for a company, whereas a market crash or a rise in global interest rates is a systemic risk.
Investors cannot wholly escape risk in their portfolio. Often strategies that purport to do this simply move the risk from a known and estimable quantity to a hidden and unquantifiable one. Just ask investors who had "portfolio insurance" in October 1987 or held AAA-rated subprime CDOs in 2008! However, there is one key element of idiosyncratic risk: it is diversifiable. For example, political instability or a change in mining laws in South Africa is unlikely to be correlated with changes in oil production payments in Kurdistan.
So when faced with a compelling valuation but an uncomfortable level of idiosyncratic risk, the value investor can protect themselves by only putting a small amount of their portfolio in each stock. By holding many such companies, plus more significant positions in safer companies with compelling valuation characteristics, the value investor can build a portfolio with a high potential upside but acceptable risk. A coup in one country may wipe out any single investment, but the overall diversified portfolio will generate a high enough return to compensate for this total loss.
Perhaps the only downside with this strategy is that investors find this psychologically hard. It is natural to feel stupid when a high-risk investment position goes wrong, thinking that it must have been possible to see that calamitous event coming. While investors certainly should cut their losses and sell if the investment outlook for a stock has soured significantly compared to its valuation, investors often fool themselves by thinking that they could have spotted such events in advance. This is known as hindsight bias. However, perhaps the value investor's greatest strength is willing to look stupid on individual investments in the process of generating high returns at the portfolio level.
The Companies:
Anglo-Eastern Plantations produces palm oil and rubber in Indonesia and Malaysia. Palm oil is controversial since the growth in palm oil has led to significant deforestation and threatens endangered species habitats. However, palm oil is used in many everyday products. There have been attempts to certify palm oil as sustainable, but this is what Greenpeace has to say about these attempts:
But the RSPO is about as much use as a chocolate teapot. It took 14 years for the RSPO to ban its members from destroying forests – which it finally did in November 2018. It still hasn't enforced this new rule – and RSPO members are still destroying forests and getting away with it.
Anglo-Eastern has a zero-deforestation policy and other sustainability initiatives, which, if implemented correctly, should alleviate a lot of these concerns. Like many sustainability issues, investors have to make their own minds up on how investable a company is.
The company is at the top of my earnings yield table because it had more than half its market cap in cash at its half-year end on 30 June and reported a substantial operating profit: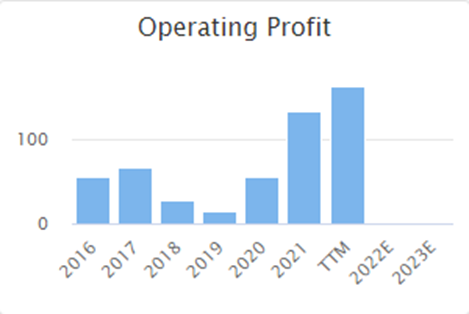 With no broker forecasts available, the focus should therefore be on how sustainable these profits are and what the management  intends to do with the cash. By now, I think it is clear that 22H1 was an exceptional period. In these H1 results, they say:
It is increasingly apparent that 2022 will be a year of two halves, with record CPO prices in the first half of 2022 and much lower prices in the second half.
Looking at a price chart, this suggests prices for H2 could well end up at half the average price of H1: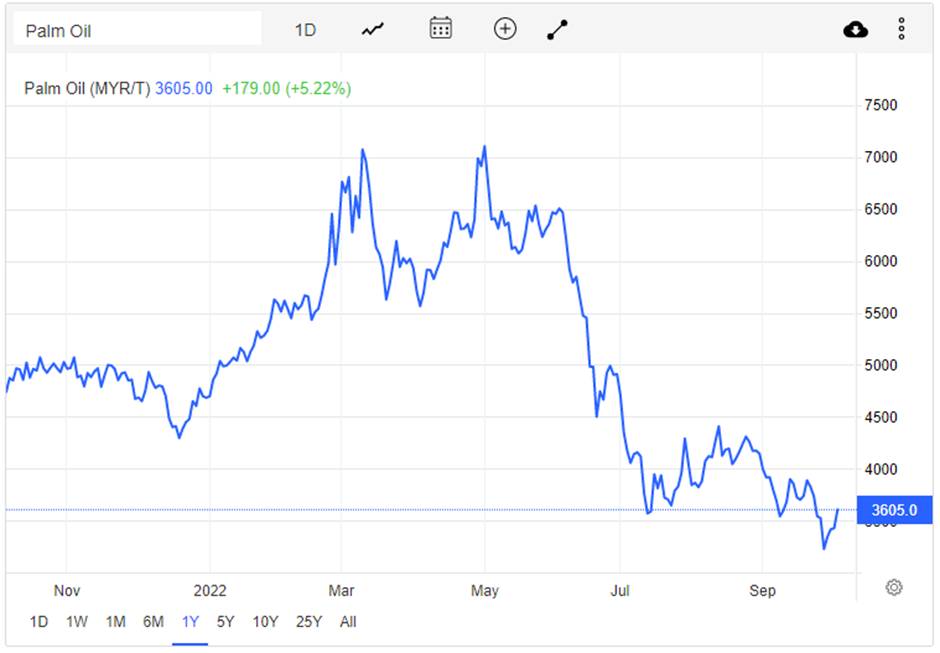 Palm oil tends to be quoted in the Malaysian Ringgit, which has declined 5% versus the dollar in this period. This means revenue could be in line with 20H1 when prices looked at a similar level: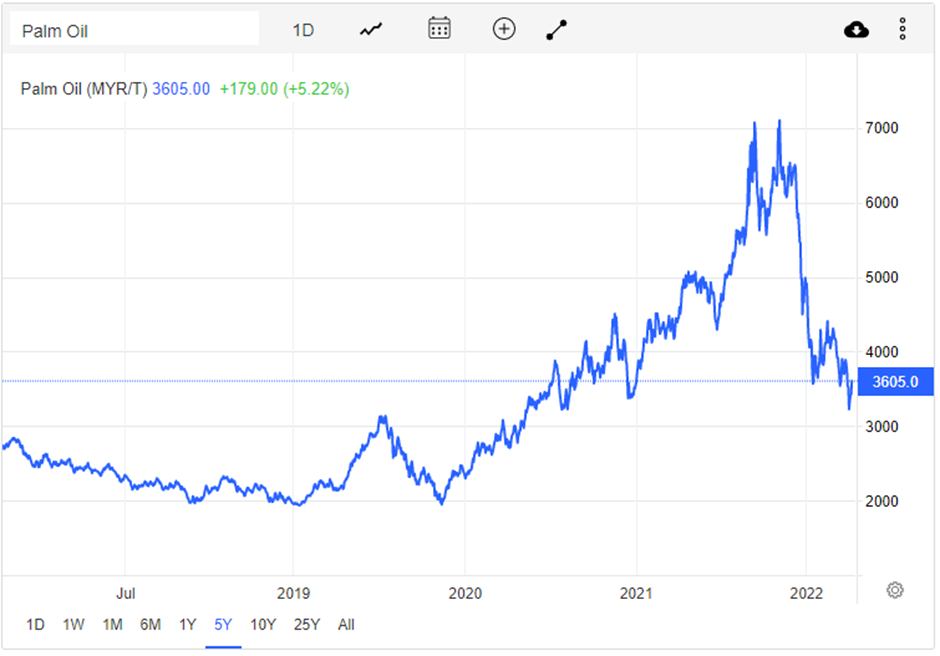 The operating profit for 20H1 was around $15m, which would make a $30m annualised operating profit. This would be a forward earnings yield of 18%. This would be good but not exceptional, and the risk is that a higher cost structure will make the operating profit much lower than this.
On the cash, they make little comment in the interim results, but the annual report discusses this in more detail:
The Board was aware that some shareholders have requested for a higher dividend in view of the substantial cash balance in the Group. The Board reiterated that the Group should exercise prudence in these uncertain times and in view of the emergence of new virus variant which may cause a shutdown in our Indonesian operation…

The Board also believe that there should be a cash balance earmarked for attractive opportunities that may come along. The Board nevertheless raised the dividend to 5.0cts (2020: 1.0cts) in view of the better performance, together with an improved economic outlook for 2022. 

The issue of share buyback was also discussed and the Board after discussion with advisors was of the consensus that shares buyback does not necessarily improve the share price in the long term.
A USD5c dividend is less than a 1% yield, so management appears to want to hang on to the cash for unspecified "opportunities". In light of this and the likely significant reversion to the mean in profitability, the forward valuation looks unattractive.
MP Evans is another palm oil producer, so much of the commentary on Anglo-Eastern is also valid here. However, in this case, there are broker forecasts and a small net cash balance, meaning the 27% adjusted earnings yield mainly comes from the high TTM operating profit:

However, worryingly, it looks like the 2023 forecasts haven't been updated since 4 June: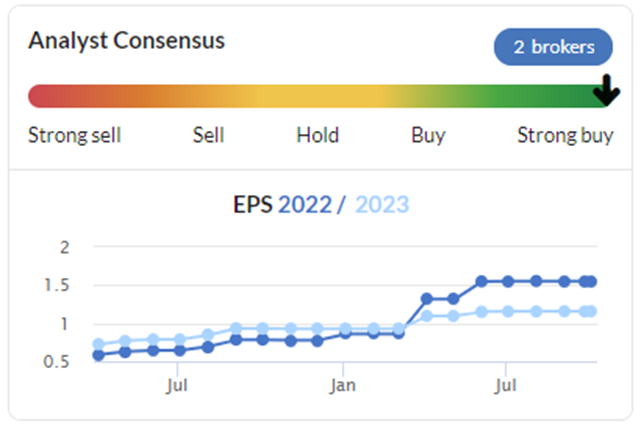 At the time, the palm oil price was around 6,400MYR/tonne; today, it is around 3,600MYR/tonne. So again, if operating profit were similar to 2020 levels, this would be an adjusted earnings yield of only around 7%. Not cheap. However, the company believe that at least some of this price weakness is temporary and that their operational improvements will also lead to higher profitability. In their half-year report, they said:
The board is of the view that, as the impact of the temporary export ban recedes, and any remaining stock overhang is eliminated, stability should return to the CPO market. Furthermore, the government has put in place new tables with regard to the export tax and levy effective from the start of September which should give clarity to market participants. The Group's own areas continue on their long-term trend of increasing yields, and milling capacity will increase once again with the introduction of the Musi Rawas mill around the end of 2022. All of these factors put the Group in a strong position to continue delivering healthy cash flows and progressive shareholder returns.
Unlike Anglo-Eastern, MP Evans seems happy to return cash to shareholders in the form of dividends and also has an ongoing share buyback in place:

While a 5% dividend yield isn't exceptional in the current market, they increased their interim dividend by 25%. This is a sign of management's confidence that this payout level is sustainable. Although they both face the same pricing headwinds, this makes MP Evans more attractive than Anglo-Eastern.
Gulf Keystone is an oil producer in Kurdistan, operating the Shaikan Oil Field. The long-term chart here tells a story!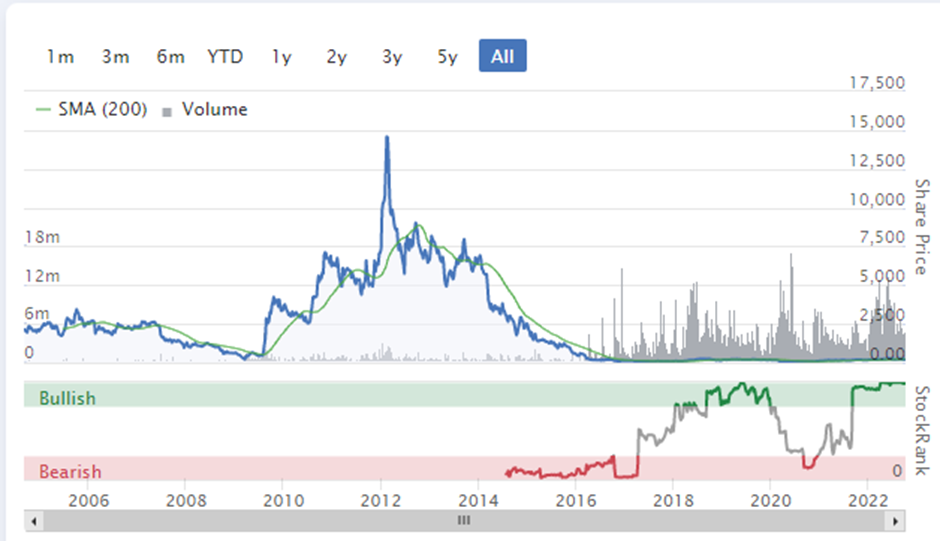 This was a private investor favourite back in the oil boom in the early 2010s. But, as is often the case, the development of a resource has happened, but much more slowly than initial estimates: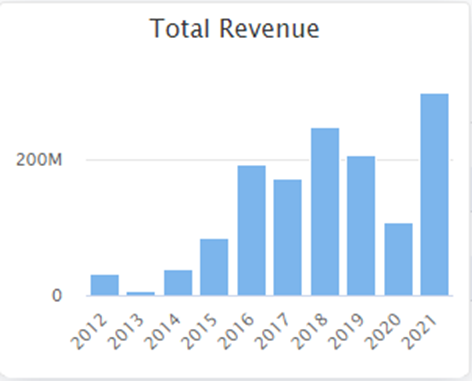 And with significantly greater dilution: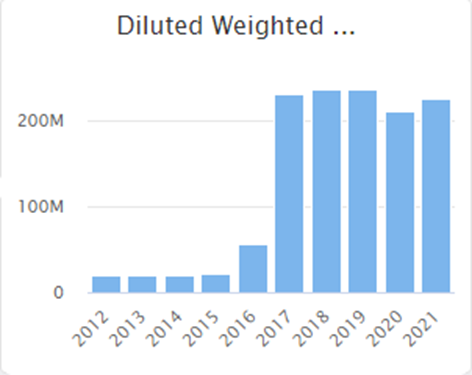 [These 10-year charts are available on the Income Statement tab of the StockReport.]
The company was not helped by problems getting paid by the Kurdistan government and allegations that their former CEO Todd Kozel had acquired the license to the Shaikan field inappropriately. However, these problems seem to be behind the company now, and with the high oil price, the company has been exceptionally profitable:

And more importantly, they are not shy about returning excess capital to shareholders:

Although oil prices are down from a high of $120 in June to around $85 today, at least some of that drop is due to the strength of the dollar. The oil price in pounds is down only 25%. However, the company has one of the cheapest operating costs per barrel, which means that it will remain highly profitable even if prices drop further: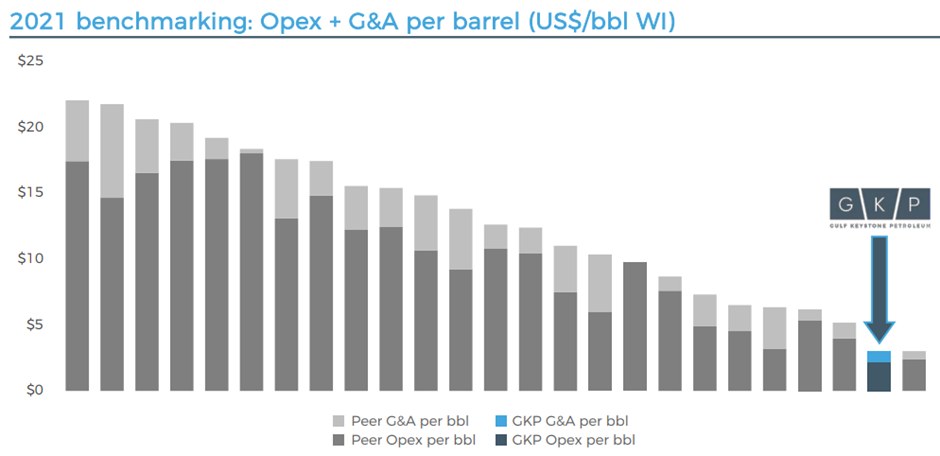 Such short-term profitability may not be attractive if the asset has a short production life and production is due to fall off precipitously. In this case, production has been growing: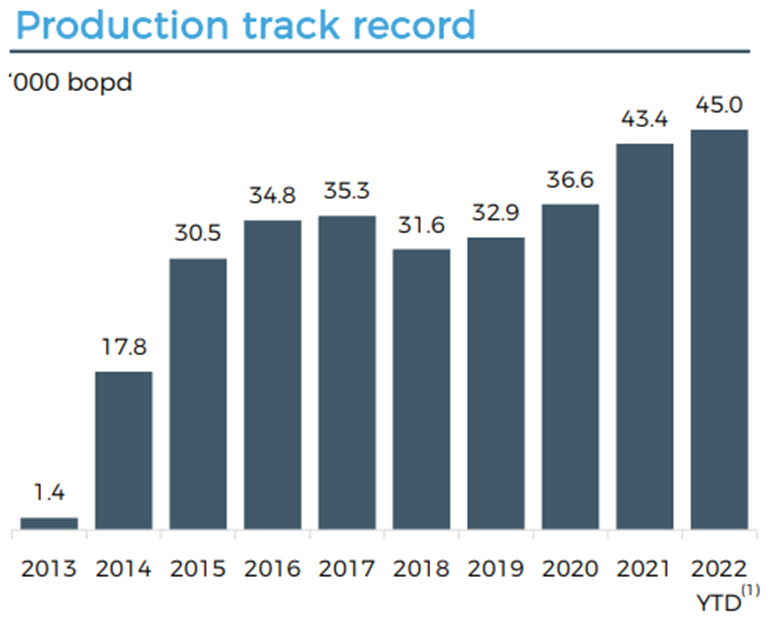 Their 2P reserves should allow them to continue production for many years ahead. And the company has a Field Development Plan to increase output further: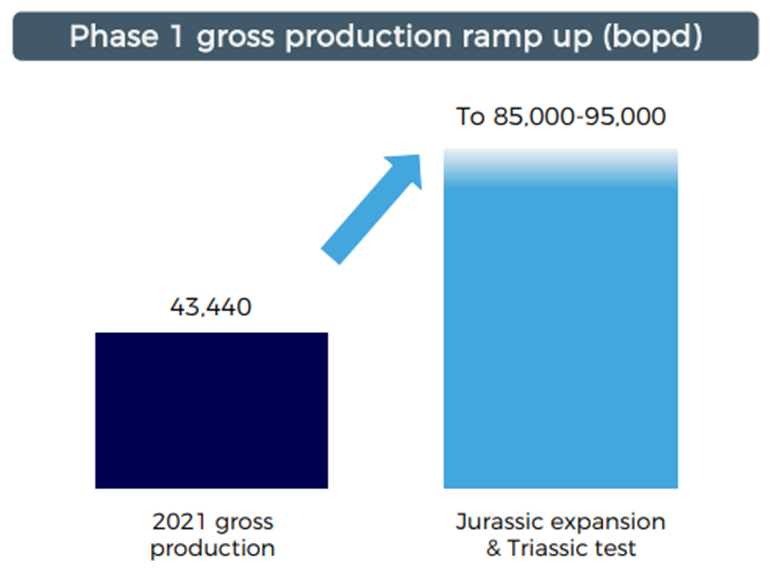 This will take capex to achieve, and the company is guiding capex to increase 2022 net capex to $110-$120 million. However, they say they remain committed to balanced shareholder returns.
This company is the epitome of political risk. However, the valuation appears compelling enough for a suitably-inclined value investor to consider a small position.
Goldplat (LON:GDP)
Goldplat is a rather unique company. It processes mine waste to generate gold and other precious metals. Unlike other gold reprocessors, who take old tailings from historical mines and re-treat them, the company tends to process waste products from the mines or gold processing plants themselves. These may be items such as mill-liners, grease or expended fine carbon. These items tend to get infused with gold over their period of operation. Goldplat has the equipment and specialist knowledge to release the gold from these materials. They have two plants, one in South Africa and a second in Ghana, serving West African and South American miners.
Goldplat tends to operate on a margin basis. They take gold-bearing material from clients, extract the gold and then either send that to refineries or return it to clients minus their cut. They also have stockpiles of their own material, which they have purchased outright, in order to maintain the optimum process. Their largely margin-based business means that, although they benefit from a firm gold price, their performance is much more stable than gold miners who face geared exposure to the gold price. Although the gold price has been quite volatile in dollars, this has primarily been about the dollar, not gold. For example, the gold price in South African Rand has been relatively stable in 2022: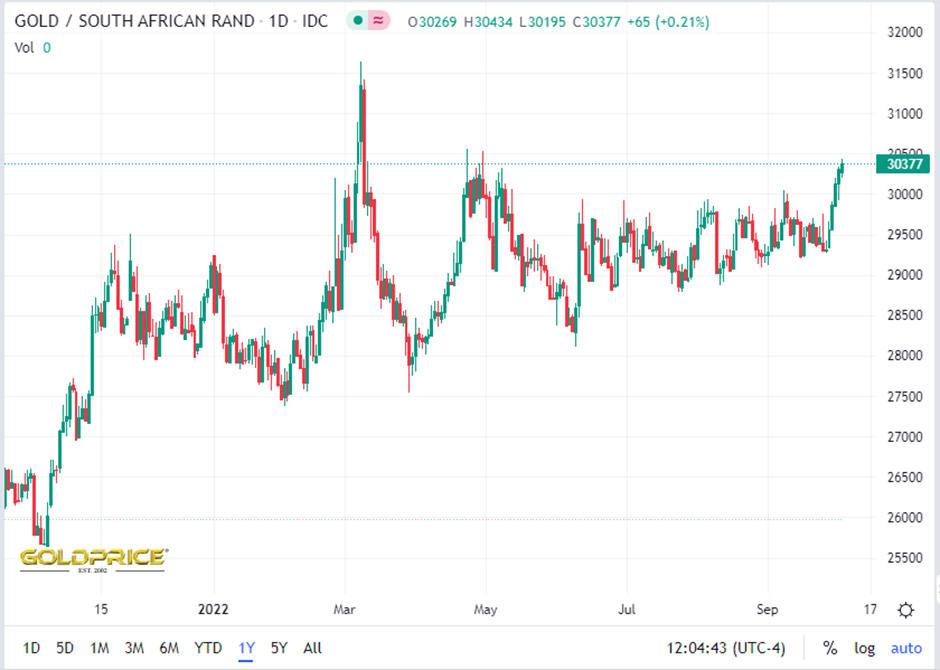 Goldplat went through some difficult times a few years ago. In 2015 Issues with a local refinery in South Africa meant that they could no longer send material there to be refined, which led to them having to find other refineries to take the unrefined gold. The delays in doing this put them under financial stress, and the share price reflected this, falling to around 2p per share: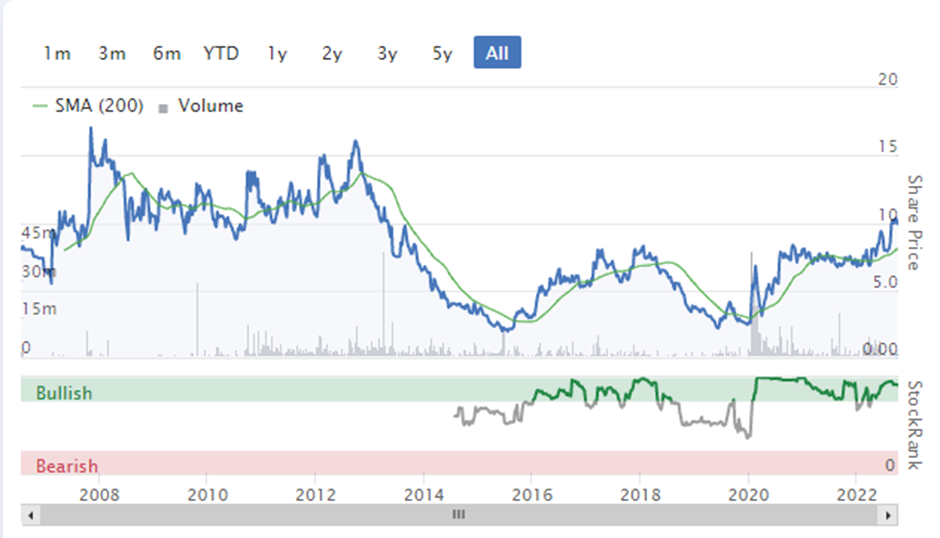 The recovery operations in South Africa recovered quickly and returned to high levels of cash generation, although Ghana continued to struggle. At this time, they decided to re-open a mining operation they owned in Kenya. Unfortunately, this didn't go well, and all of the cash being generated by the recovery operations were being spent in Kenya. Eventually, shareholders were no longer willing to fund this mine, and it was separately listed as Caracal Gold (LON:GCAT) via a transaction where fresh capital was injected. Goldplat retains a small stake in Caracal, but at a £0.6m market valuation, this is now largely irrelevant.
Combined with a weak gold price, these factors meant the share price again approached a 2p low at the end of 2019. Since then, a higher gold price, more consistent supplies of mine waste to process, and a catchup of investment into the recovery plants have generated much better profitability, particularly in Ghana. However, despite a recovery in the share price, this remains one of the cheapest stocks in the UK market on an earnings basis:

One of the good things about Goldplat is that they give quarterly operating profit figures in their operational updates: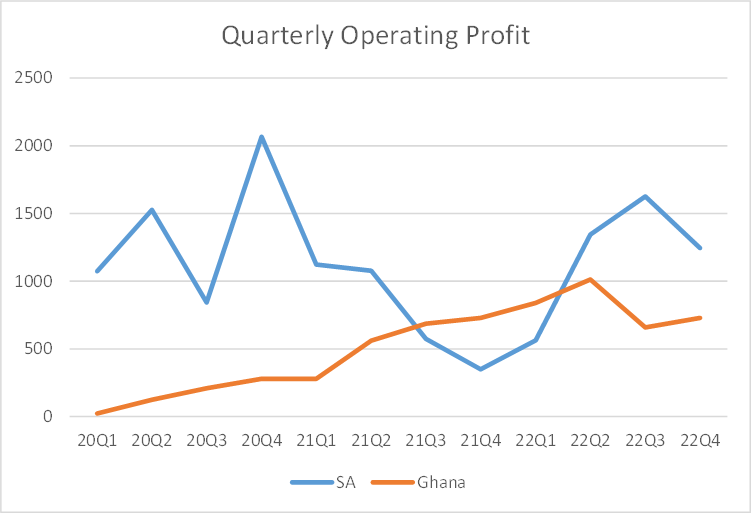 Given that the admin costs of the business are relatively stable, it is easy to calculate the operating profits and underlying EPS (non-cash charges such as FX on intercompany loans may affect the final figure). There is a bit of complexity in that these operating profit figures given in the quarterly operational updates include admin costs associated with each operation but not unallocated central costs. However, knowing these operation figures means these 2022E figures are now effectively historical, investors are just waiting for the results announcement.
House Broker, WH Ireland, describe the 2023 estimates as "conservative", and I can see why given the momentum behind the operations. In addition, there are a couple of reasons why the growth in earnings may continue. The first is that Goldplat finally appears to be delivering on the "plat" part of their name by installing circuits that can recover Platinum Group Metals from waste material. Secondly, they have a tailings dump containing a large amount of gold and are exploring getting this processed by a third party. (Tailings re-processing is a profitable business in South Africa, capturing gold that was not extracted the first time. The additional recovery occurs due to improved technology plus the oxidisation that occurs when tailings are exposed to the atmosphere over an extended period of time.)
Goldplat has a small amount of net debt, which they took on to buy out a minority holder in their South African subsidiary. This will likely be eliminated in the full-year results depending on working capital movements. The company has recently conducted a share buyback, and the company's statements imply they will be restarting dividends soon (although their broker has not forecasted this.)
As it stands, the operational progress and momentum in the recovery operations mean that an adjusted earnings yield of around 30% makes this look far too cheap at the moment.
Pan African Resources is another South African gold company. The company combines primary underground mining at Barberton, with a surface/underground mine at Evander, plus two tailings retreatment plants, one at Barberton and a second called Elikhulu.
Production from the Barberton Tailings re-processing is expected to end in the next couple of years. However, the rest of the operations have over ten years of mine life.

Overall, Pan African has an industry average cost base per ounce, although some higher-cost operations are effectively loss-making at the current gold price: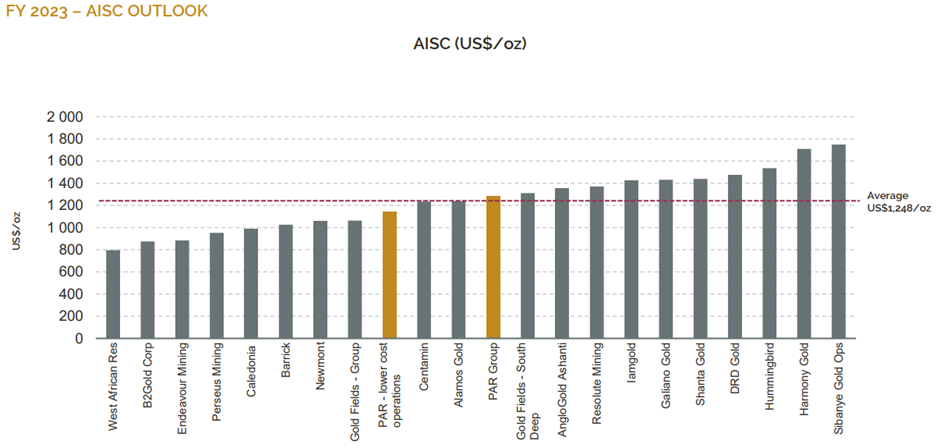 The company says that actions are in place to bring those back into profitable operation. Brokers seem unconvinced, with 2024 estimates below those for 2023:

However, this may be because Edison Research has not yet issued an updated note following the FY22 results. Gold price and cost assumptions can make a big difference here. One of the challenges with operating in South Africa is inconsistent power generation. In response to this, the company says that they have increased their private generation licencing threshold and have a significant number of projects in progress to stabilise and supplement grid power supply and reduce costs.

Unlike many peers, it pays a decent and well-covered dividend:

These factors make this an attractive value investment for anyone willing to accept gold commodity exposure and some political risk.
Central Asia Minerals produces copper, zinc and lead from mines in Kazakhhstan and North Macedonia. Given the Russian influence over Kazahkstan, this is another company that operates at the top end of the political risk spectrum.
Their approximately £40m of net cash is around 10% of the market cap, so this appears on my adjusted earnings yield screen primarily due to its low earnings multiple:

Operationally, the company appear to be performing well, with an upgrade to their copper production guidance with their H1 results. However, forecasts are for 2022 earnings to be below 2021 levels. In addition, the 2023 brokers consensus has been falling for around six months now: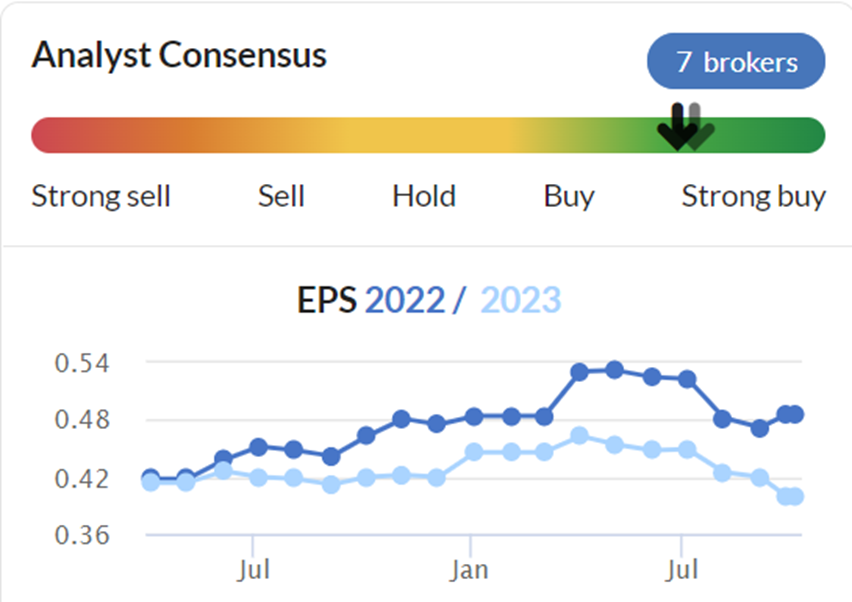 This appears to be partly due to softening commodity prices. The one-year copper chart shows prices in H2 around 22% lower than the average for H1: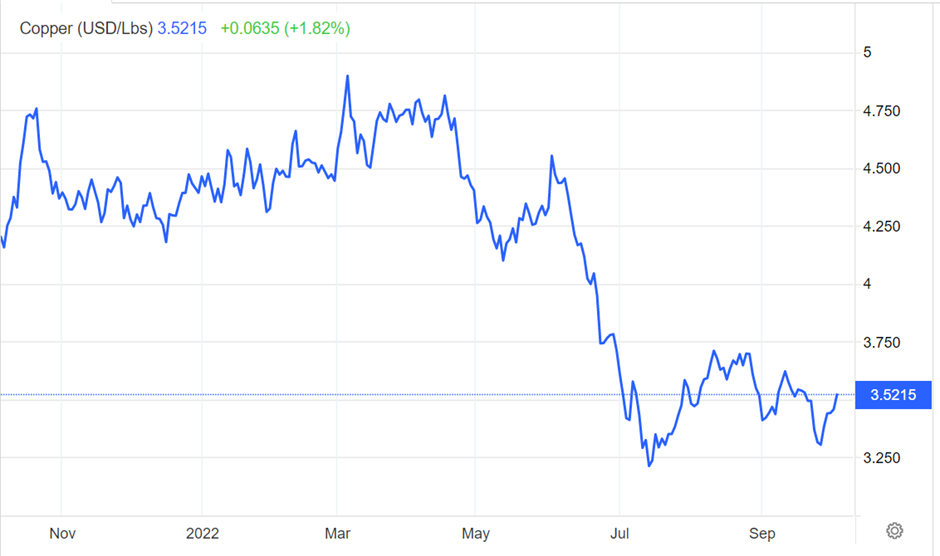 But the company also say that significant pay rises have been agreed upon for their mine employees. The risk is that a double-whammy of lower commodity prices and higher wages significantly erodes their profitability.
Despite these headwinds, the company increased their interim dividend payment by 25%, and the historical yield is over 10%. However, brokers are not confident they can continue this level of payment: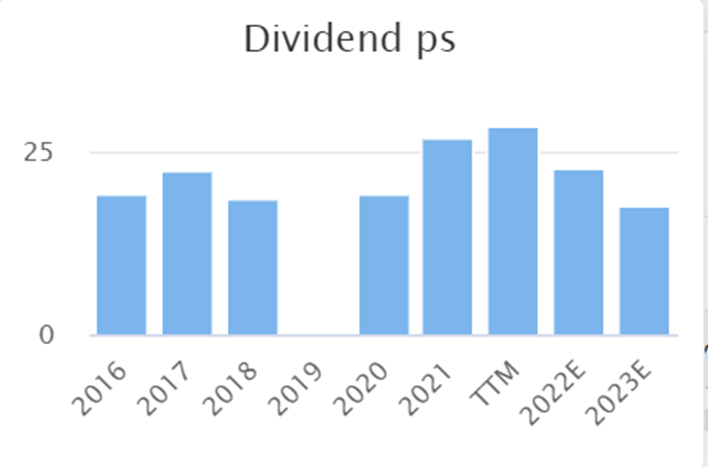 Without modelling this in detail, it is hard to judge whether the broker's estimates include the full impact of the drop in copper prices and rise in wages.
Steppe Cement is a Malaysian company that is a cement producer in Kazahkstan. Again, this is a high-political-risk company. However, the financial results have been good over the last few years, and not just since the post-COVID boom.

In the last half year to 30 June, production was flat, but increased pricing led to a 9% increase in revenue. Production costs rose 11%, but lower transport costs due to sales closer to production led to an impressive 65% rise in operating profit. Cement demand is linked to global GDP, so while I won't profess to be able to predict commodity prices, it makes sense that EPS should be, at best, flat going forward.
The forecast dividend is a pretty impressive 19.6%:

This means that almost all the earnings are being paid out as dividends. With a small net cash balance, this is not a concern in the short term but means that investors perhaps cannot expect large growth in production. This may not be a problem if this level of payout continues. However, a recent change to tax law means that the company has withheld the dividend in order. They explain it like this:
The Board wishes to recommend the distribution of a 5p dividend in respect of 2021. However new regulations in Malaysia have created uncertainty about the tax treatment of foreign sourced dividend income for Malaysian corporates - meaning that income to Steppe Cement Sdn Bhd may be subject to a 24% withholding tax. Therefore before declaring the dividend, the Board is waiting for clarification regarding the exemption to this tax. It is the understanding of the Board that confirmation from the Malaysian authorities will be forthcoming shortly. The Kazakh subsidiaries already pay 20% profit tax in Kazakhstan.

If the tax issue cannot be resolved without payment of the 24% rate, the Board will evaluate other means of returning capital to shareholders.
There's that political risk! The company's commitment to shareholder returns remains undimmed. However, it may be wise to wait to see if they can manage to make payments without incurring excessive taxes.
Anglo-Pacific owns a diverse portfolio of mining royalty agreements. Again this is a company whose 2022 results are predicted to be exceptional: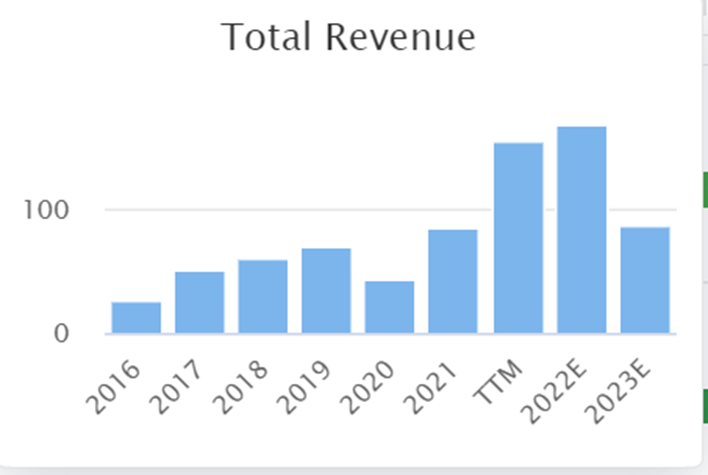 Being a royalty owner, not a direct miner, means their gross margin is high. While this ensures they benefit from any boom, the gearing works the other way when commodity prices weaken. As a result, profitability drops much faster than revenue: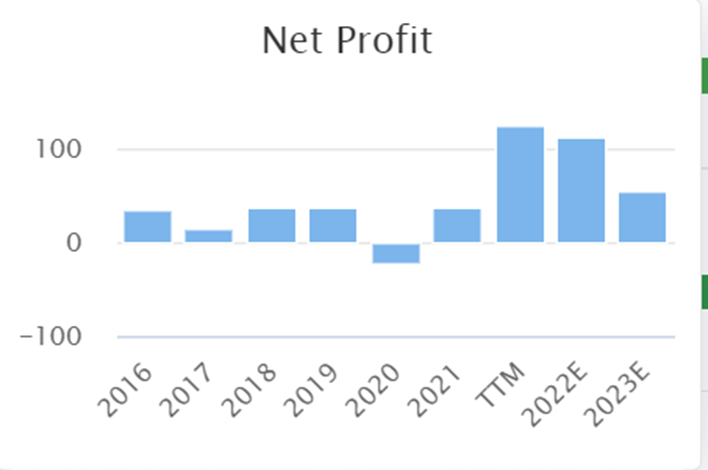 This means they are on a forecast 2023 P/E of 8. The estimates are for the dividend to drop too: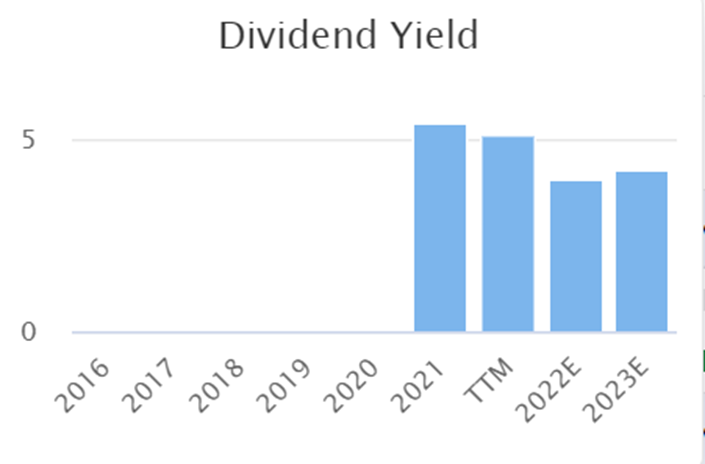 Anglo Pacific may be a good investment for geared exposure to various commodities, but it doesn't stand out as a good value investment.
Griffin Mining operates a zinc, gold, silver and lead mine in China. The profitability metrics here are good:

And the company holds a small amount of net cash once you net off a negative working capital position.
The concern with any company operating in China is not just the political risk of who actually owns the assets but can the company get the cash out of the country. That the company has operated profitably over many years but never paid a dividend leaves a question mark over this:

The company has sought to assuage these concerns recently, announcing that:
…it received into the Group's bank accounts outside of China, dividends from its operating Chinese subsidiary, Hebei Hua Ao Mining Industry Company Limited, in the amount of Renminbi 104,858,176 (US$15.2 million). The net funds were received in the normal course of business and in normal electronic wire transfer times.
However, they have yet to declare a dividend to equity holders. This is one to re-examine if and when they are able to commit to regular dividend payments to shareholders.
Ariana Resources owns a 23.5% stake in the Kiziltepe gold and silver mine in Turkey. Earnings have been good, if erratic, but there are no forecasts in the market: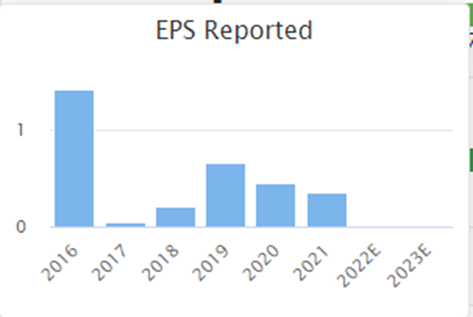 The company had around half its market cap in cash at the last balance sheet date, which is one of the main reasons this appears on my earnings yield screen. There are signs that the company has been willing to return capital to shareholders with a special dividend recently paid:

However, it appears that these are expected to be one-offs. This is what the company said in the recent results:
The last half year has reflected a period of consolidation on the strategy of the company following the transformative developments of 2021, which included the payment of the second tranche of our £7.74m Special Dividend in March 2022. The third and final tranche of this Special Dividend, amounting to £2.0m, is due to be paid to shareholders on 3 October 2022. This marks the end of one era for Ariana and the beginning of an exciting second era. This new era involves a much broader spread of project interests, from the developing Project Leopard strategy in Turkey to our significant regional investments in Western Tethyan and Venus, and to our minority interests in several discovery-stage opportunities, held through the Asgard Metals Fund.
These may turn out to be good investments, but pre-production assets are not what a value investor is looking to invest in.
San Leon Energy is an oil producer in Nigeria. Although the TTM EBIT gives an adjusted earnings yield of 13%, next year is forecast to be an EBIT loss:

This is because of a significant corporate restructuring of their interest in the OML18 oil field. While this should simplify the structure going forward, and if everything goes to plan, see greater free cash flows from 2023 onwards, this is too complex for me to take an informed view. Therefore, I am putting this one in the "too hard" pile.
---
That completes my look at the companies from my earnings-based value screen. Of the resource sector companies, Gulf Keystone Petroleum (LON:GKP) Goldplat (LON:GDP) and Pan African Resources (LON:PAF) make it onto my watchlist and Steppe Cement (LON:STCM) will join them if/when they sort out their dividend tax issues. Overall, my earnings-based screen has generated 12 investment ideas, several of which I hadn't considered before, making it a valuable exercise.
Next week I will introduce a popular value-based strategy: income investing.
[Disclosure: Mark owns shares in Goldplat (LON:GDP) Luceco (LON:LUCE) Sanderson Design (LON:SDG) Zytronic (LON:ZYT) ]