There aren't many businessmen like Elon Musk. After announcing his intention to pull out of his $44bn takeover of Twitter (US: TWTR) - a move which is set to cause considerable pain to the company's shareholders - Musk took to the social media platform to poke fun at the situation. The tweet - which shows him laughing at the fact that Twitter's lawyers are trying to force him to go through with the deal - has been liked 1m times.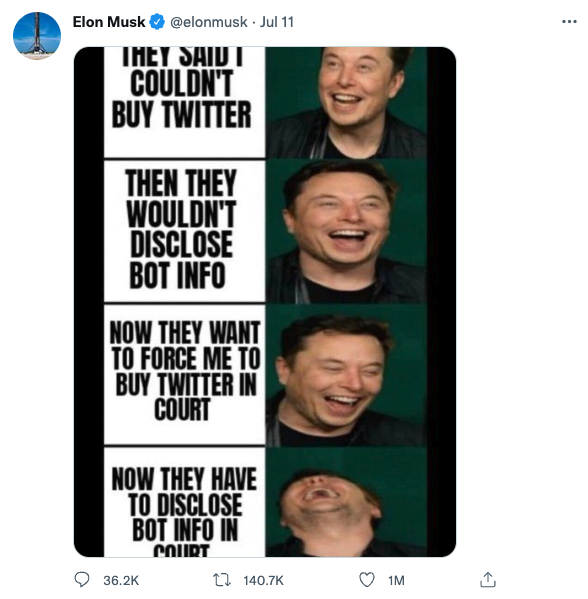 It's not the first time Musk has stretched the boundaries of the behaviour expected for a company chief executive. In 2018 he was forced to pay significant fines to the US securities and exchange commission (SEC) after he tweeted that he had secured the funding to take Tesla (US: TSLA) private at $420 per share - a major premium. The incident culminated in a court ruling that stated Musk "recklessly made the statements with knowledge as to their falsity." Less than two years later he wiped $14bn off Tesla's (US: TSLA) value when he tweeted that the stock price was too high "imo".
Tesla's share price has climbed steadily in the last few years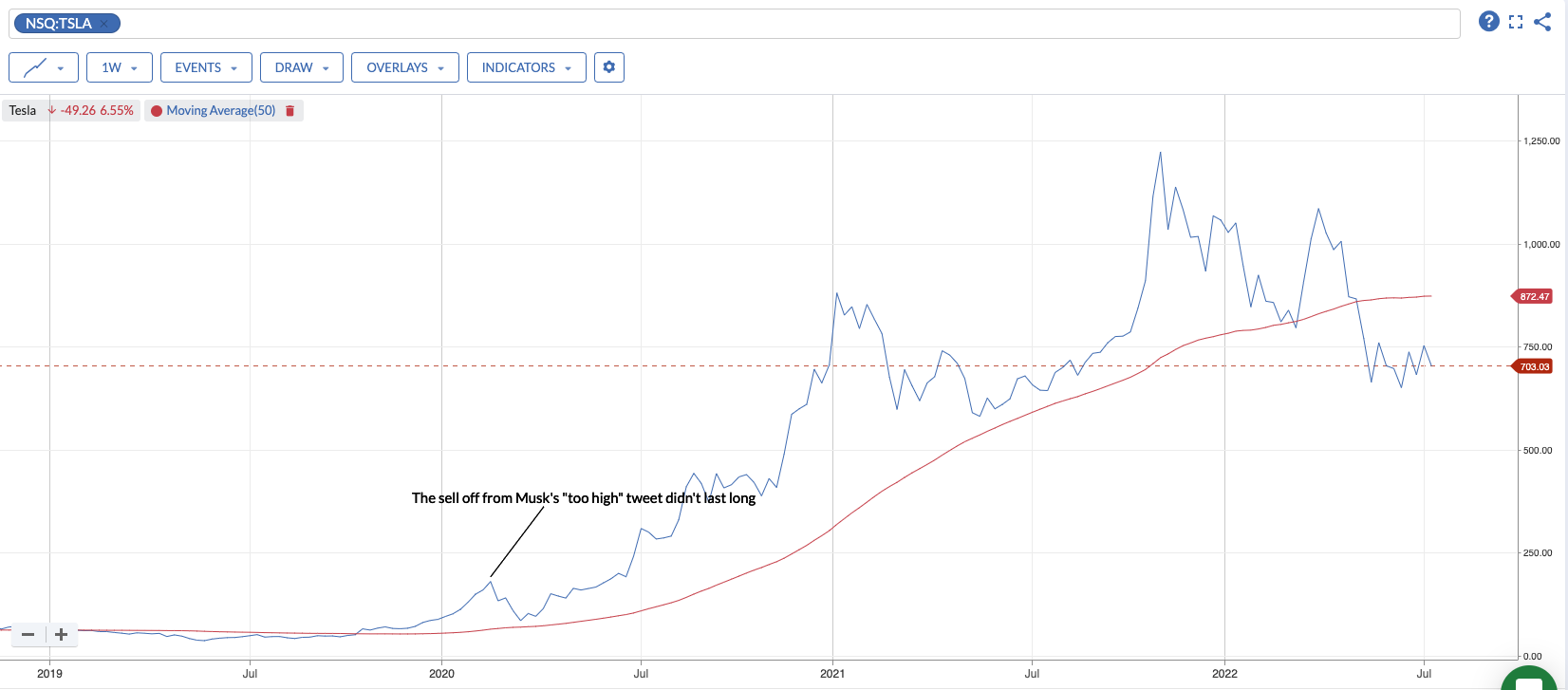 In fact, it's a wonder that Twitter executives aren't relieved at Musk's change of tune regarding the acquisition. While there is no doubt he is a creative and inspired entrepreneur, his ability to sensibly manage and grow a mature company is somewhat questionable. Since appointing a chairman to oversee Musk's decision making at Tesla (an appointment enforced by the SEC after the tweeting fiasco of 2018), the company has become profitable, while continuing to churn out impressive growth figures. Musk now seems to spend more of his time focusing on his satellite and space exploration company SpaceX.
So what were his intentions behind the proposed Twitter acquisition? Musk has long pressed Twitter on its adherence to free speech values, especially after the service blocked former president Donald Trump from the platform following the Capitol riots in early 2020. Preserving the Twitter of old where he and other highly influential people could spread their views unencumbered by regulation seems to have been a key factor driving his intention to remove it from the clutches of the current board. Trump meanwhile has ploughed ahead with a challenger app that is competing against Twitter - 'Truth Social' is has been among the top iOS downloads regularly.
He has also complained about the lack of opacity of its algorithm-driven news feed and the proportion of robotic accounts on the site. It is this latter point which seems to have been the unsticking of the takeover offer and could yet cause further discomfort for Twitter's management and shareholders. While the company is aware of a high volume of fake accounts ('bots') on its site, it has been unwilling to disclose exactly how many of these there are. In the first quarter of 2022, the company announced that it had 229m monetisable daily active users and estimated that just 5% of the total active accounts were false, or spam accounts. But management does concede that estimating the total number of fake accounts is hard. Musk contends that it could be as high as 20%, suggesting a fifth of the total accounts on the platform are un-monetisable.
Twitter's daily active users have been rising, but how many are fake?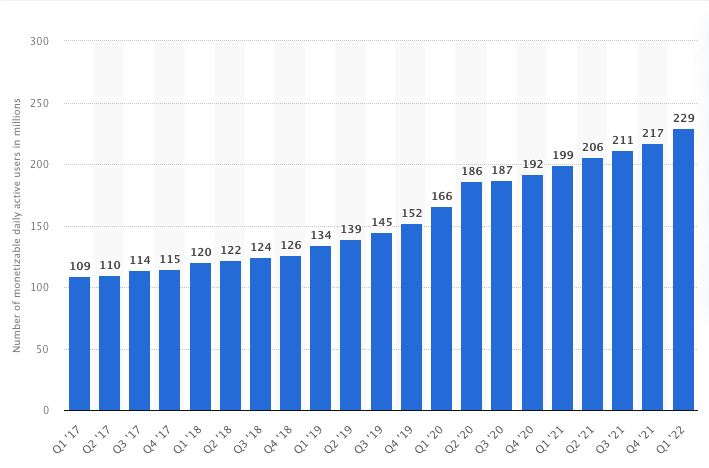 In the legal wrangling that is set to follow Musk's withdrawal from the deal, the public and the regulators might gain more exposure into the bot proliferation at Twitter. And for them, the problem is not monetisation, but security. Fake accounts have the power to spread dangerous misinformation, inflict cyber warfare and skew elections. They are one of the main reasons regulators want to take closer control of the social media space. If bots are more pervasive than the regulators previously believed, they will have more license to disrupt the status quo at Twitter and its peers in the social media space.
So perhaps that was Musk's intention all along? Acquisition was never a serious agenda, all Musk wanted was to rattle the cage and get the regulators to dig deeper into Twitter.
But Tesla shareholders won't thank him for the distraction. Much of Musk's money is tied up in his Tesla shares and having promised to foot $21bn of the Twitter bill with his personal wealth, there has been much speculation that he may have to sell some of his stake in Tesla. Tesla's share price has fallen 34% since he made his bid for Twitter. True this has come alongside a major sell-off in US tech stocks - especially those focused on next generation software and products - but Tesla has materially underperformed the market, despite better than expected earnings released in May.
Twitter's share price has fared better than Tesla during the takeover saga

So while Twitter is looking increasingly downtrodden - operating margins are narrowing, net losses becoming more regular and growth opportunities drying up - Tesla remains an exciting company. Electric cars are the future of travel. The switch isn't going to happen overnight, but eventually there will be more and more of these types of vehicles on the roads. Tesla has exposure to both the consumer-facing side of the market and the infrastructure which will allow the vision to become a reality. The company's valuation will continue to be hard to stomach, but there is a lot to like about the outlook. Especially if Musk keeps himself occupied with other ventures and leaves the running of the business to his very capable team.