The question of whether or not countries should be run like businesses is a hotly contested topic. But, however you look at it, governments like companies have balance sheets and competing priorities for their time and money. A lot like the organisations we follow on the stock market.

They also share the risk and impact of debt. The difference is that, while company debt will mainly affect the indebted business, its employees and shareholders, and possibly the wider industry to a certain degree, national debt will impact every resident in the country in some way. The potential longer-term consequences of rising national debt on individual citizens may include rising interest rates, higher taxes, inflation and a weaker job markets due to reduced economic growth.
Government borrowing isn't anything new (and the sums are staggering), but the COVID-19 pandemic has certainly changed the scale of national debt across the globe.
To find out more, the data analysts at Stockopedia have studied national debt across the world, comparing 2020 figures with pre-pandemic 2019 levels…
Which countries have the most national debt per person?
Let's start by showcasing each country's net national debt after assets are accounted for, using the latest data available from the IMF. 
The IMF describes net debt as "gross debt minus financial assets". These financial assets include monetary gold, currency and deposits, debt securities, loans, insurance, pensions, and more. We took this data one step further by adjusting net debt for the population size of each country, to ensure that the results weren't dictated by the size of the country. In doing so, we discovered each nation's amount of debt per person.
While this isn't a typical measurement of national debt, it certainly puts the scale of the issue into perspective…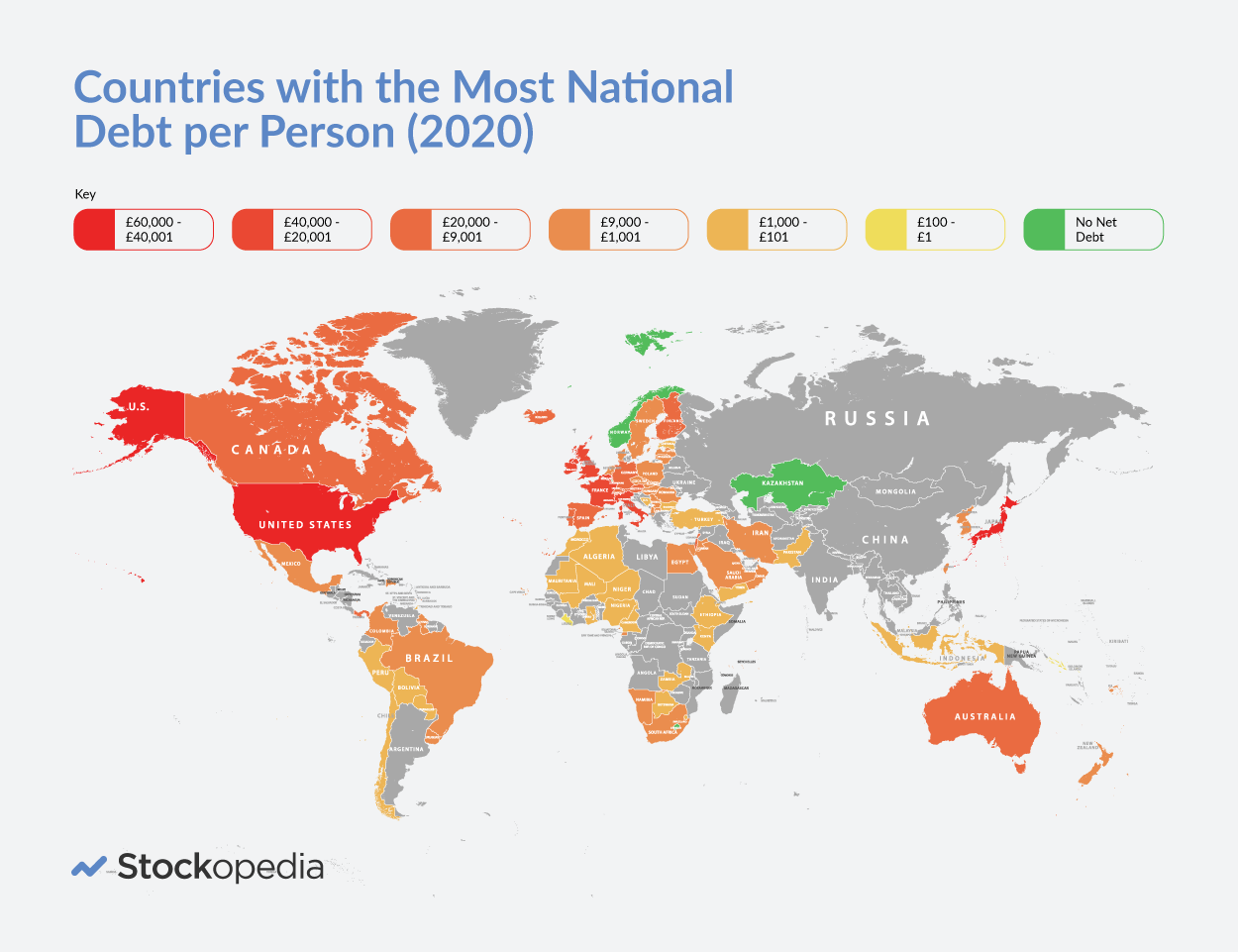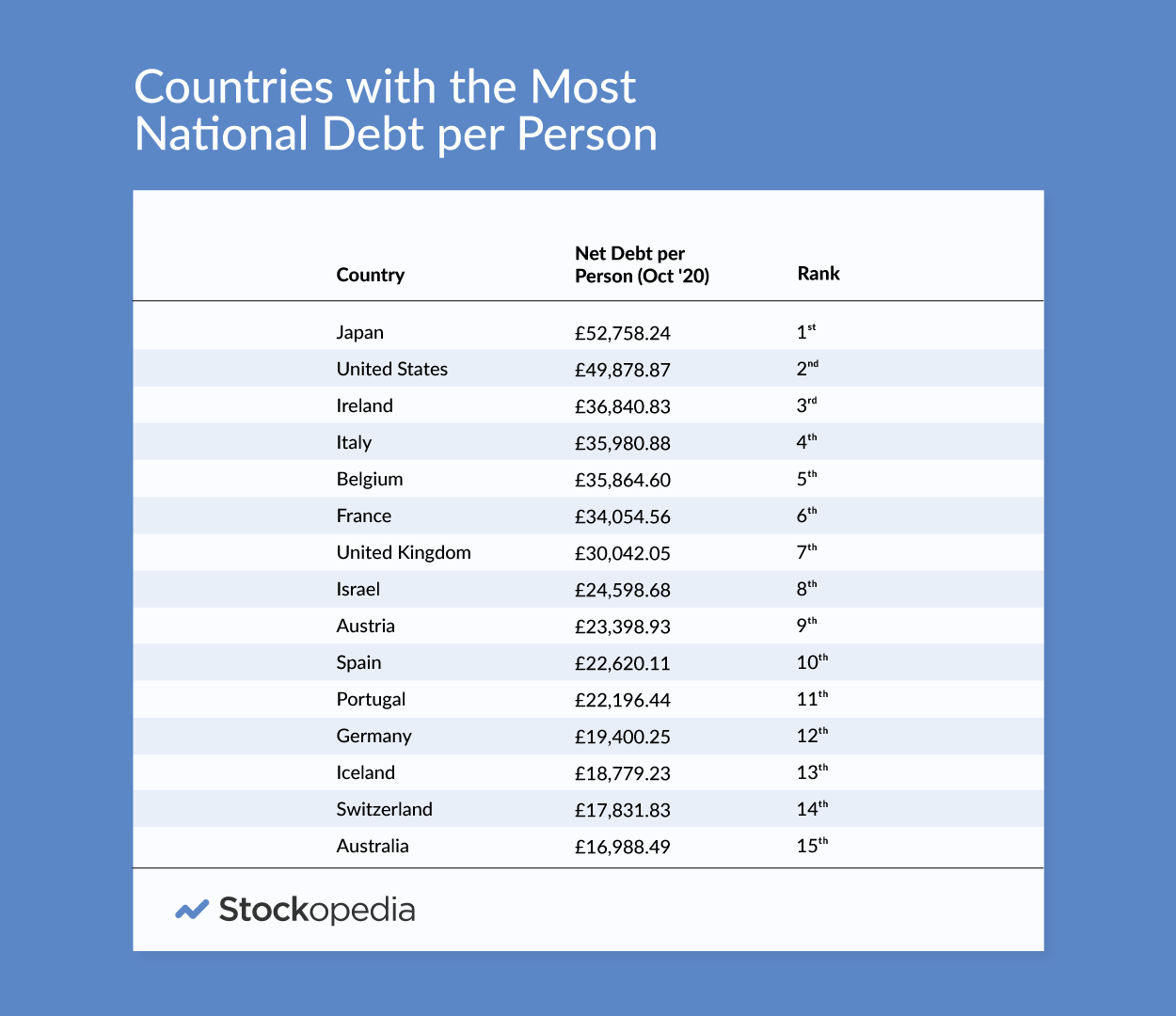 Japan, the nation in 1st place, has long had to deal with a large amount of national debt – particularly since the global recession in 2008/09, as well as the catastrophic earthquake and tsunami that hit the country in March 2011. Calculated proportionate to its population, Japan's net national debt accounts for a staggering £52,758 per person.

Of course, this isn't debt that people are directly liable for themselves; rather, it's a reflection of the size of the issue that will affect them in other indirect ways. If the proportionate size of a nation's debt is larger, then that will usually lead to governments increasing taxes and cutting public sector budgets and investments to make up for it – and this is something that will affect people directly. 
The United States follows closely in 2nd place with a net national debt of almost £50k per person. Meanwhile, closer to home, Ireland is in 3rd place and the UK is in 7th place, with debts of over £36k and £30k per person respectively.
At the other end of the rankings, there are only four countries who are out of the red and in the black in 2020: Lesotho, Kazakhstan, Luxembourg and Norway. While it's true that they all have varying amounts of gross debt, this is completely offset by their respective financial assets.
Next, let's find out how each country's net national debt is estimated to look as a percentage of GDP in 2020.
Which countries had the most national debt as a percentage of GDP in 2020?
In this section, we chose to delve into national debt as a percentage of GDP. If we simply ranked each nation by the amount of net debt, the countries with the largest economies would undoubtedly rise to the top, because doing so wouldn't take into account how large their debt is in the context of their own wealth and income. 
By comparing net debt as a percentage of GDP instead, we circumvent this potential issue and gain a better sense of the size of each country's debt compared to the strength of its economy: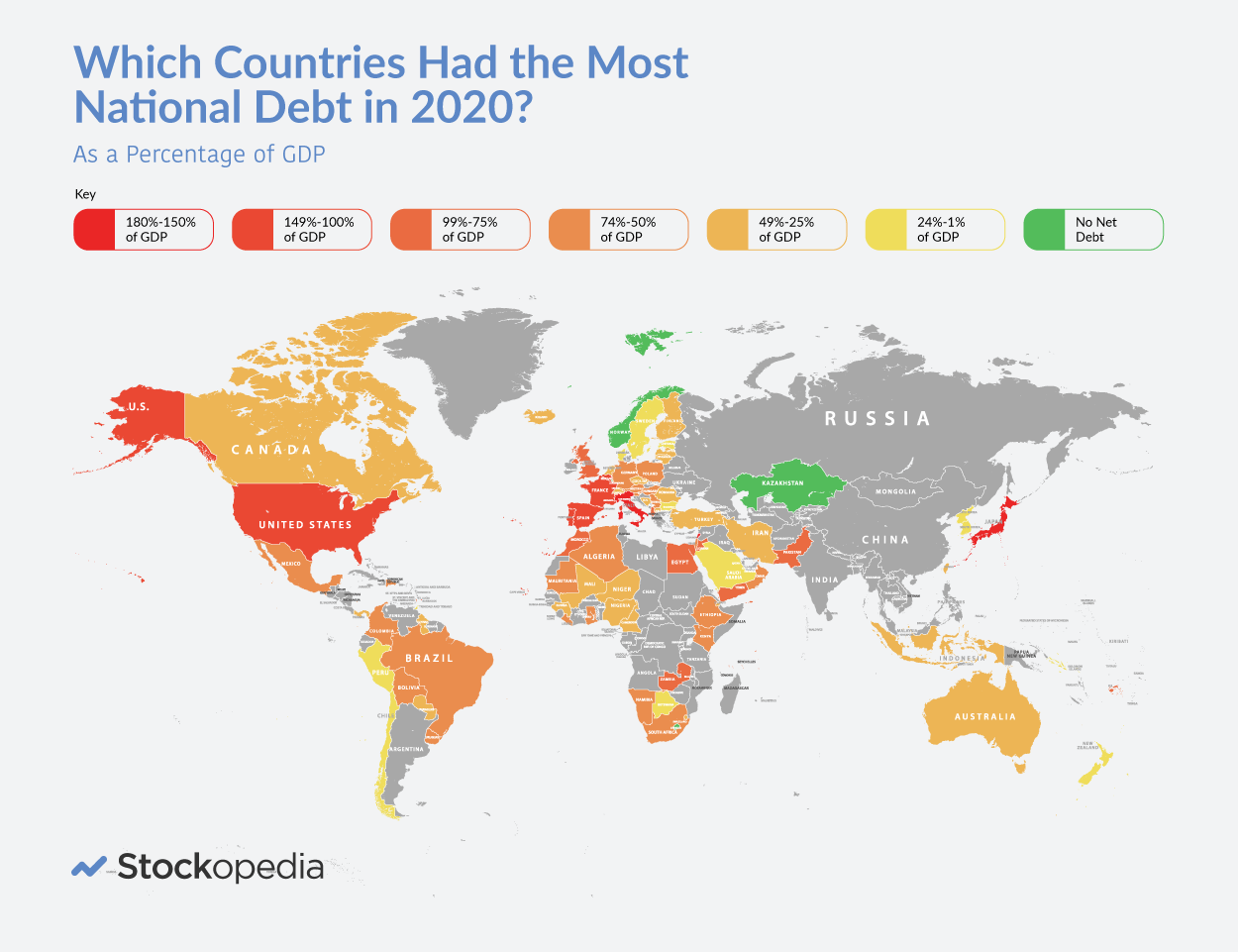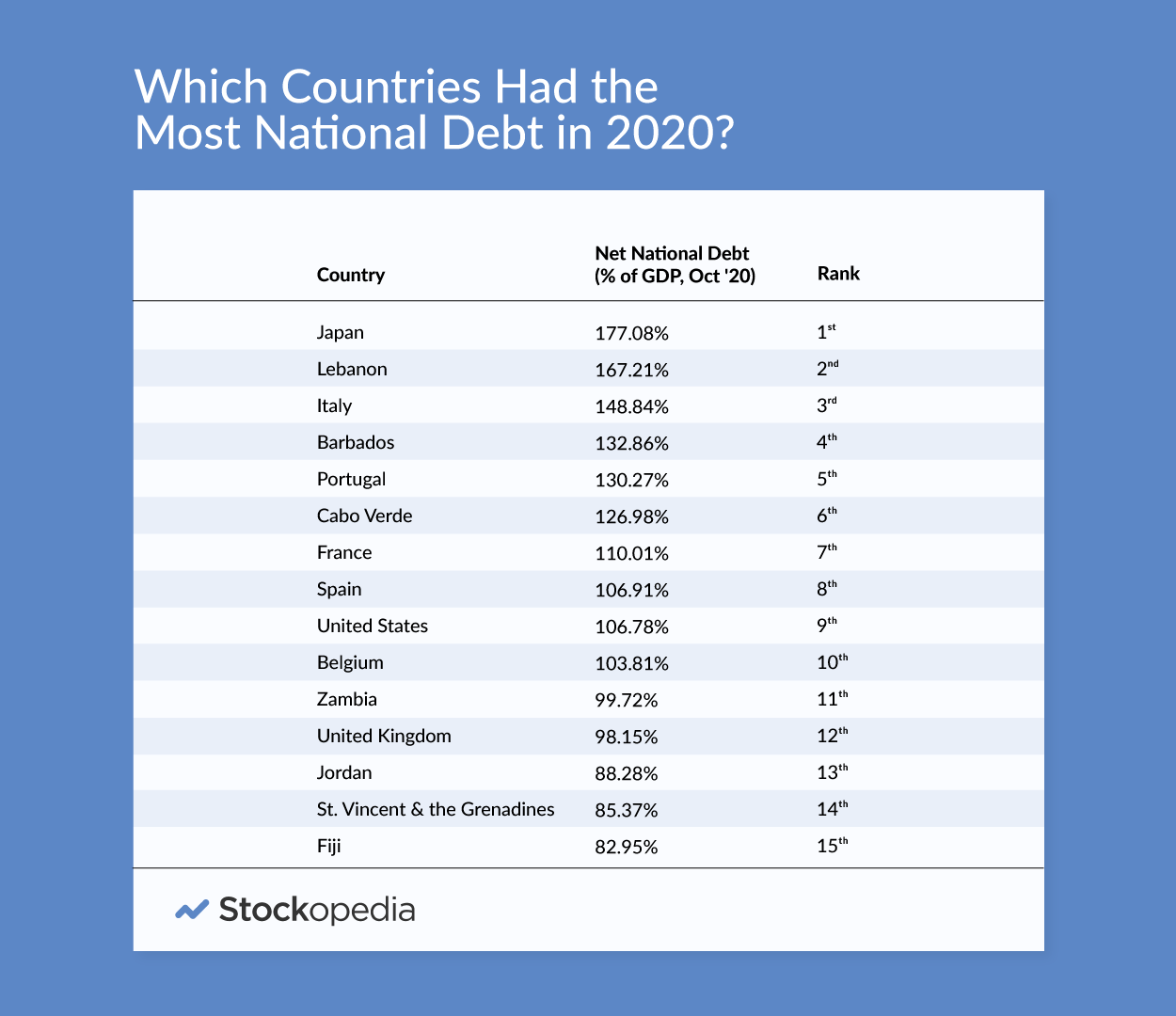 Japan tops the ranking for a second time, with its net national debt estimated at 177.08% of its GDP in 2020. Although its gross national debt has stayed at roughly the same level in recent years (235.8% in 2014 vs 236.6% in 2018), the IMF is estimating Japan's gross national debt will have risen to 263.9% by 2025.
The UK's net national debt managed to stay just below the 100% mark, amounting to 98.15% of its GDP. Just like Japan, the IMF predicts that the UK's net national debt will rise, expecting it to reach 107% of its GDP by 2025.
Once more, Lesotho, Kazakhstan, Luxembourg and Norway are the only four countries that don't have any net national debt. This is particularly evident in the case of Norway, with net national debt of -111.27%. Despite the fact that its gross national debt is 41.25% of its GDP, this is rendered much less of an issue due to the country's massive sovereign wealth.
Finally, let's delve into how each country's net national debt has changed since 2019, before the coronavirus pandemic began.
The impact of COVID-19 on national debt
The COVID-19 pandemic has caused unprecedented economic challenges for governments, businesses and individuals around the world. Let's explore the impact of the pandemic on global national debt so far…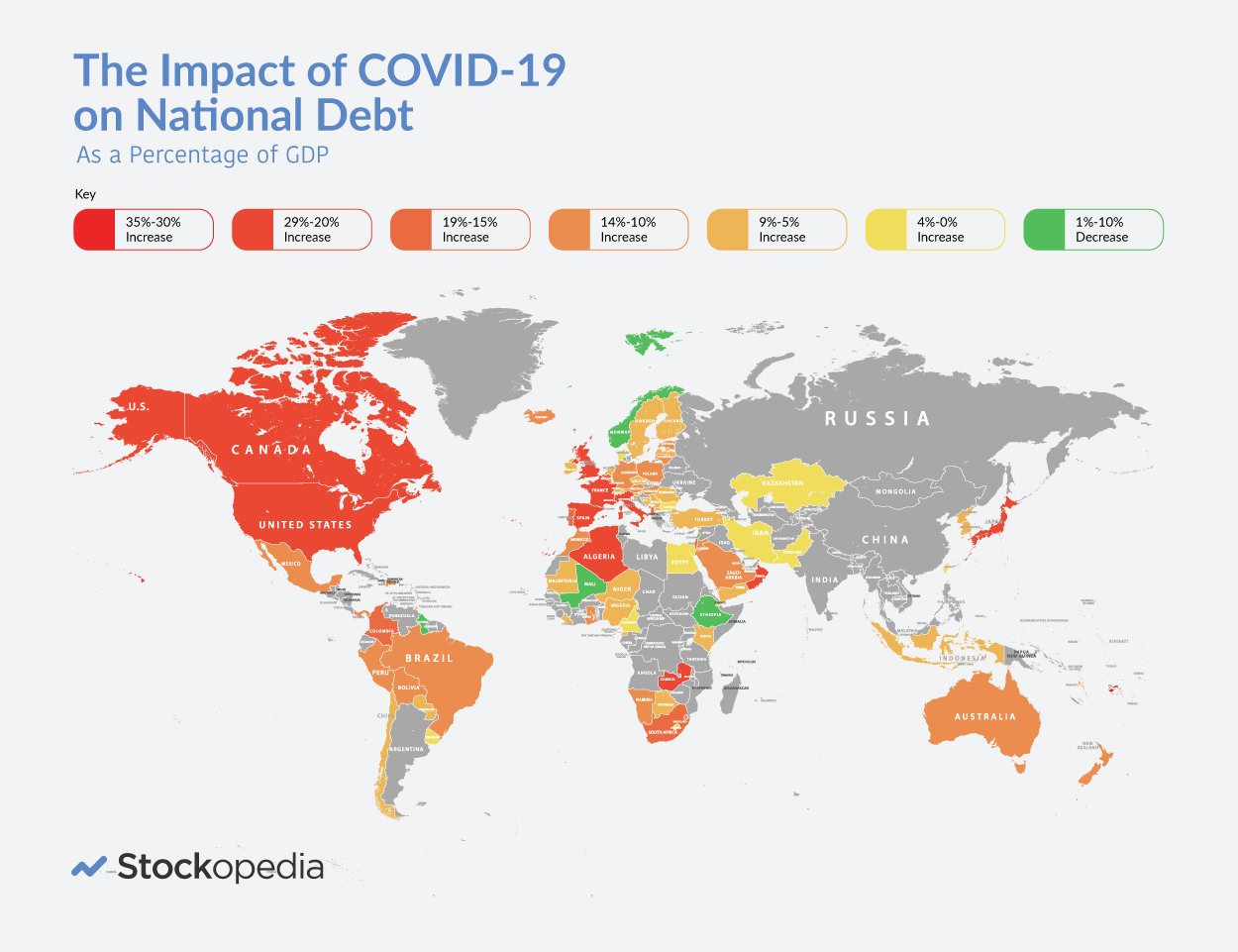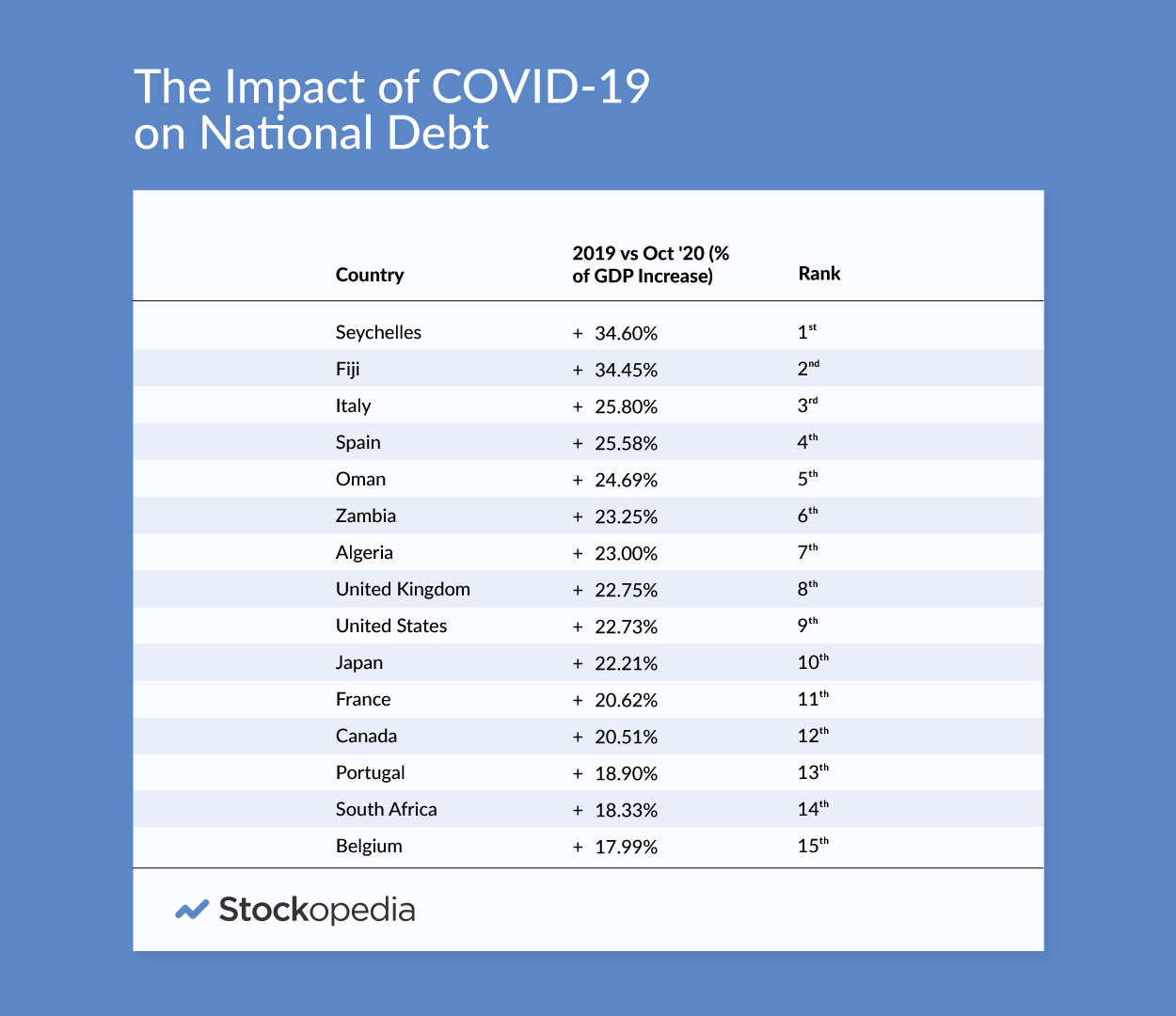 The countries in 1st and 2nd place for this table are Seychelles and Fiji. Tourism normally makes up a large proportion of both countries' economies, so restrictions on international travel and long-haul flights will have hit them hard.

Various European mainland countries stand out in this ranking, all of which have seen some of the highest transmission, hospital and death rates related to COVID-19, forcing governments to initiate economically damaging national lockdowns.
Italy and Spain took 3rd and 4th, while France, Portugal and Belgium took 11th, 13th and 15th. Meanwhile, the UK and the U.S. appear a little lower in the ranking this time, coming in 8th and 9th place respectively. Japan, likewise, doesn't rank as highly this time around, taking 10th place.
Once again, Norway performs well: its net national debt as a percentage of GDP actually dropped from 2019 to 2020, falling from -105.48% to -111.27%.
We also thought it would be helpful to create a similar top fifteen ranking, but limited to only G20 countries and EU members: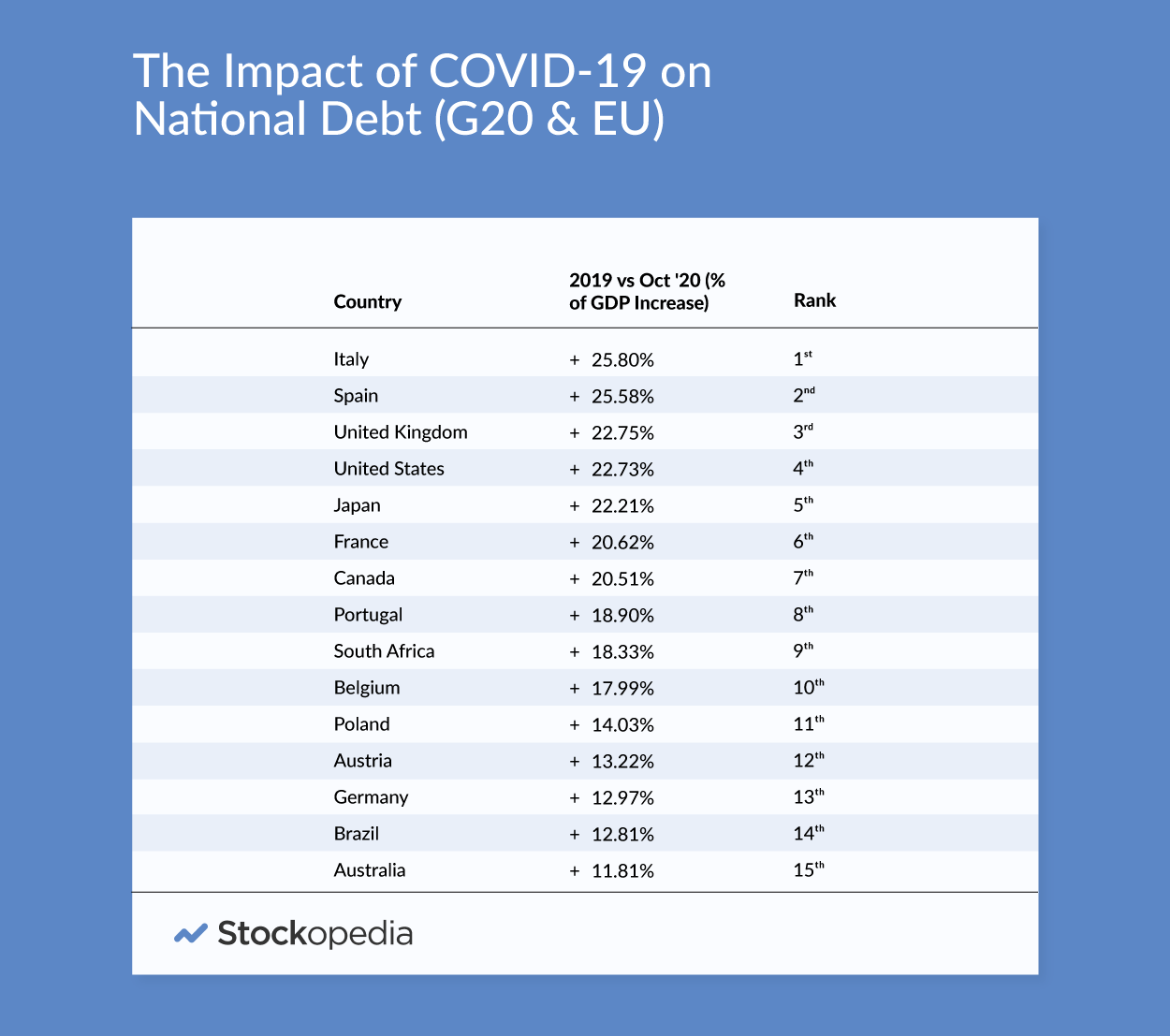 When focusing exclusively on G20 and EU nations, we can see a few new countries break into the top fifteen – namely Poland, Austria, Germany, Brazil and Australia. Although their respective debt increases certainly aren't as high as nations like the UK, the U.S. and Japan, they've still seen a debt to GDP jump of at least 11% compared to pre-pandemic levels.

Conclusion
National debt is a reality of the modern world. But few could imagine the impact the COVID-19 pandemic would have on major world economies, as well as smaller nations.
There are various ways in which governments can respond to their national debt. Aside from effectively passing on the debt to the nation's people through tax rises, they could also instigate national spending cuts (such as on the military) or raise the pension age.
Of course, it's worth bearing in mind that, previously, national debt has often decreased heavily during times of economic growth (somewhat unsurprisingly). For instance, the UK's debt as a percentage of GDP fell from 240% in the 50s to 40% in 2002, primarily thanks to many (admittedly intermittent) years of economic growth throughout the period.
While it can be difficult to predict how the situation will change in the coming year, what's certain is that there's a long road ahead for financial recovery – and we're likely to see the situation become worse before it gets better.
You can find the full set of data used in this study here.