One of our subscribers today (dangersimpson ) sent me a marvellous piece of research by Michael Mauboussin entitled "Managing the Man Overboard Moment - making an informed decision after a large price drop".  The insights contained in this piece hold some great lessons for all stock market investors.  He shows how to decide whether to buy, sell or hold stocks that suffer from negative news and 10% price drops by analysing just a few key factors of a stock which will be strikingly familiar to Stockopedia subscribers.

For those who don't know Mauboussin, he's the Head of Global Financial Strategies at Credit Suisse and a prolific writer - his several books on skill, luck and decision making come highly recommended. We admire him due to his rigorously rational, data driven & analytical mindset - the kind of mindset we believe investors should all apply to stock markets in preference to intuition or gut instinct.
The power of the checklist investor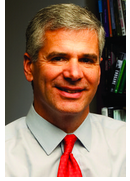 Mauboussin begins his paper by explaining that the key to successful investment is keeping emotions in check when facing adversity.  Days when widely held stocks like Tesco (LON:TSCO)  have fallen by 10% or more have led to outpourings of grief and emotion on bulletin boards across the web.  Private investors rarely if ever seem to know what to do in these situations - with a classic example being seen in the aftermath of a profit warning by widely held small cap Xaar (LON:XAR) - the Stockopedia forums were rife with differences of opinion and confusion.  So how, we ask Mauboussin, can we keep emotions in check and make the right decision amidst uncertainty?
The high technology he proposes is - surprise, surprise - the simple checklist.  Mauboussin says -  "If your state of emotional arousal is high, your capacity to decide well is low. A checklist takes out the emotion and moves you towards a proper choice."
Building a decision tree
Mauboussin compiled a set 5,400 occurrences where stocks had declined by 10% or more in a single day between 1990 and 2014. From this set he set out to discover the likelihood that a stock would recover from its fall over the next one to three months by profiling the characteristics of the stocks.  He split the set into groups of stocks that had different combinations of the following 4 factors:

Whether the fall was due to an earnings release or not?
Momentum: did the company have strong or weak price & earnings momentum?
Valuation: was the company cheap or expensive?
Quality: was the company of good quality or low quality/junk?
By looking at each of the four factors in turn and assessing the outcome of the typical stock that had the same profile over the next 3 months he built a matrix of performance outcomes for stocks with each profiles.
Putting it all together he set out a decision tree which is easy to follow in a stepwise fashion.  He proposed that when a stock you own takes a bad knock you should sequentially follow the tree and look up the outcome that the typical stock with the same profile had in following few months. If the typical stock had risen after 3 months, the stock was a hold/buy, if it had fallen the stock was a sell.  
I've printed below a screenshot of the results matrix on an earnings release… in essence the pink squares show where stock performances underperformed the market, while the green show outperformances.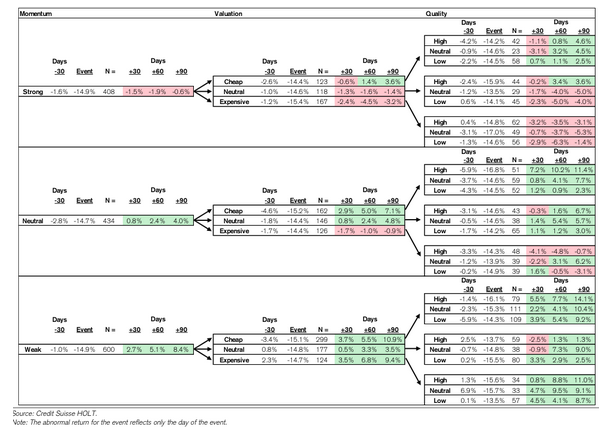 Some useful Rules of thumb
Stockopedia subscribers will recognise the similarities of the 3 main factors used in the Credit Suisse report with our own Quality+Value+Momentum StockRanks framework, and that makes Mauboussin's findings even more useful. There are a couple of key rules of thumb that can be learnt from this research:
1. BUYING AFTER A FALL
The research suggests to hold stocks that have had weak or low momentum leading up to the sell off - as the sell off possibly signals a capitulation in an already weak stock. There is a much stronger buy signal if the stock is already of good quality with a cheap valuation - what we at Stockopedia call a high QV stock.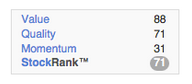 This pattern is a much stronger signal for non-earnings related falls than earnings related falls.  This ideal pattern for a buy is signified by the ranking pattern shown above - low momentum, but good quality and value.
These signals can be configured in our screener.  I've set up a watchlist for this scenario in Stockopedia screener here.  We can't currently screen on today's intraday fall, but it's easy enough to sort by the days' change % field descending to try to find 10% fallers.  There are none today.
2. SELLING AFTER A FALL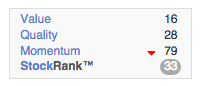 The strongest continued sell signal after a fall is in stocks which have had high momentum andan expensive valuation, regardless of quality.  It's the kind of fingerprint shown in the ranking pattern shown here.
I've similarly set up a stock screen to look for these kinds of expensive, high momentum stocks here.  Again - by sorting the days' change % field you can find the biggest 1 day price drops in the hunt for 10% losers - there are none today.
In conclusion

My own personal inclination is to completely avoid or ignore stocks that suffer profit warnings and poor earnings surprises.  I've previously posted before some research from the early 1980s which shows that buying negative earnings surprises is nearly always a bad idea.  But Mauboussin's research shows it may pay off to be more nuanced in decision making around these events.  
Not every man overboard is worth saving - sometimes it's a mutineer who has fallen to the sharks, and a good captain should know whether or not to let him drown.  If you are unlucky and do hold a stock that's fallen on an announcement by 10% or more, using the two key findings above is a guide to a more statistically sound outcome. 
Anyone wanting to find out a bit more about the StockRanks should join our webinar due for next week.