As a direct equities investor, I've never taken much interest in funds, but you couldn't avoid the Woodford Capital saga. Stockopedia HQ is in Oxford, and it was notable that Neil Woodford decided to set up shop on the ring road here. Initially raising a few billion, before growing assets under management well above £10bn. We tried to interview him a few years ago, but our request was turned down. They were too busy to reply.
To begin with, all you heard about was success. Asset growth, strong performance, fund launches. I received a lot of Hargreaves Lansdown marketing materials at the time, with very glossy pictures & interviews of Woodford that I skimmed. I remember the Patient Capital Trust launch and its positioning as an exceptional opportunity. But I passed on all of these. As mentioned, I've just had no interest in funds.
In 2017 the story began to unravel, with large redemptions and rumours of too many illiquid holdings. Poor performance, then more problems and more redemptions. It began to get interesting, then scandalous. Performance dived with the main fund - the Woodford Equity Income Fund - falling by more than 40% peak to trough. It's now closed and shutting down. Meanwhile something like £100m in dividends had been paid out to Woodford and his partner since the fund launched.
It seems almost every financial journalist in the UK has covered the story. Hundreds of thousands of hurt investors are not happy. Some are taking legal action. What value could we add ?
Our Study
Well once the fund closed to redemptions in June, we got seriously interested. Woodford was well known for being transparent about his fund holdings. We thought we might be able to dig out all the holdings history for analysis. What would we find if we overlaid Stockopedia's share analytics onto Woodford's holdings history? What we discovered was quite extraordinary.

On Monday I performed a 1 hour webinar that unveiled our research. This research is available both as:
Over the next couple of weeks we'll be publishing a range of blog posts here, and on social media for anyone who is interested. We're hoping to wrap all this up in an ebook for further distribution too. We'll pick through a few key themes that will hopefully help shine a light on what lessons we can all learn from Woodford.
Key Findings
There are a few key themes that run through the deck, but the most startling relate to the Style Drift and Risk exposures over time. I highly recommend that you watch the Webinar as it will give you the full story, set out over time. Digging into the material yourself is the best way to get the insights... but I'll summarise here with a few key findings.
Woodford initially set out to provide an "Equity Income Fund", that was marketed to hundreds and thousands of investors. One can only presume that so many retirees, divorcees, widows, savers bundled into the fund on the basis of Woodford's historic success at Perpetual and his positioning as Britain's Buffett.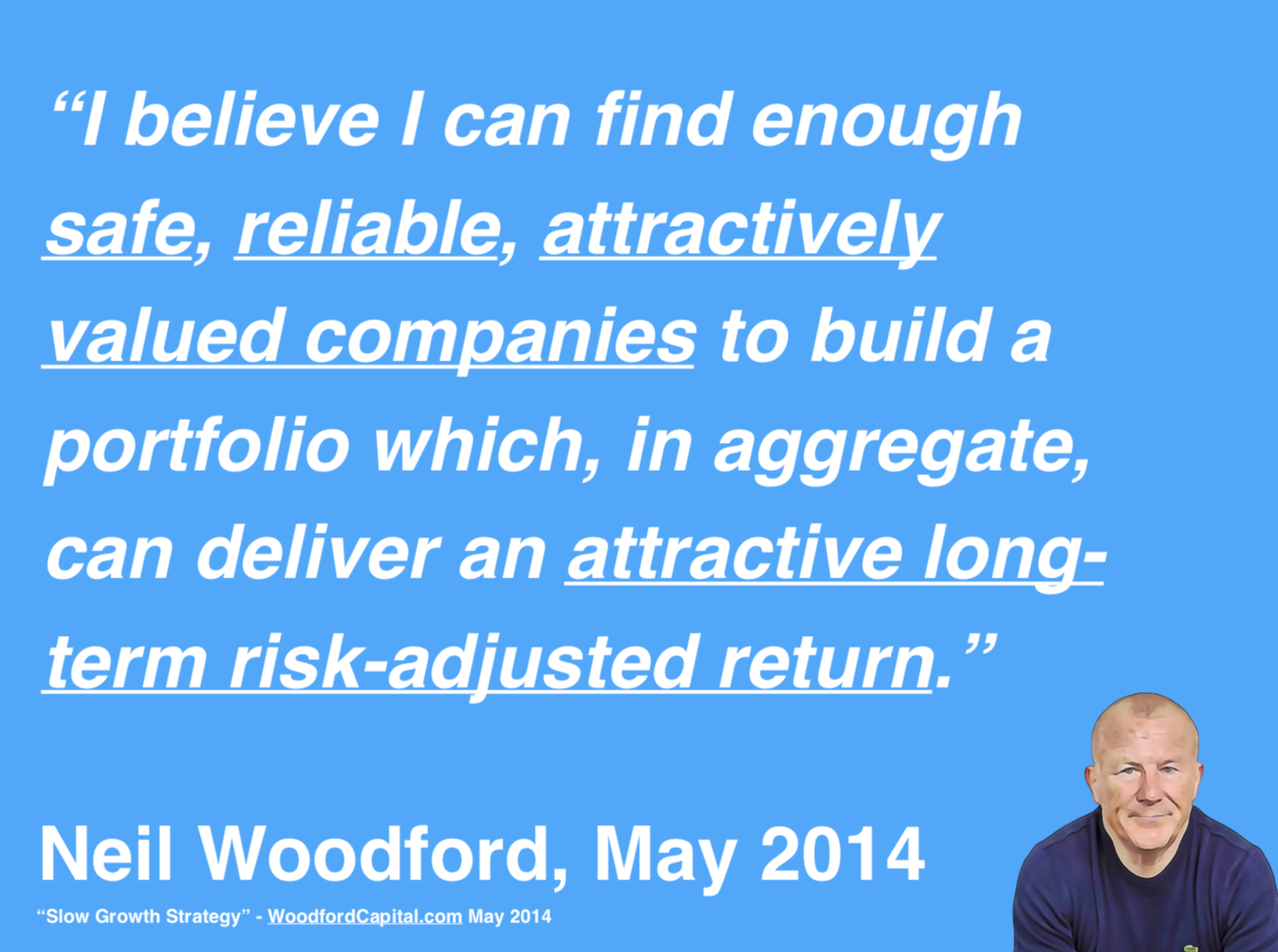 Style Analysis
Our analysis, using the Stockopedia StockRanks as a framework showed that initially Woodford invested heavily in safe, large cap, leading shares. The 2014 portfolio was actually what one might expect based on Woodford's history. It was full of high Quality dividend paying names, including many pharmaceutical and tobacco stocks. But over time, the Style drifted away from these large cap 'High Flyers' as Woodford Capital invested heavily in speculative and unquoted names. The fund style became empirically that of a Momentum Trap. With strong Momentum exposure, but low Quality and Value exposure. Eventually as the fund unravelled, it motored aggressively back into Contrarian, larger cap value names. Seeing these kinds of wild Style shifts in a major fund is quite startling - especially the Momentum exposure in an Equity Income Fund!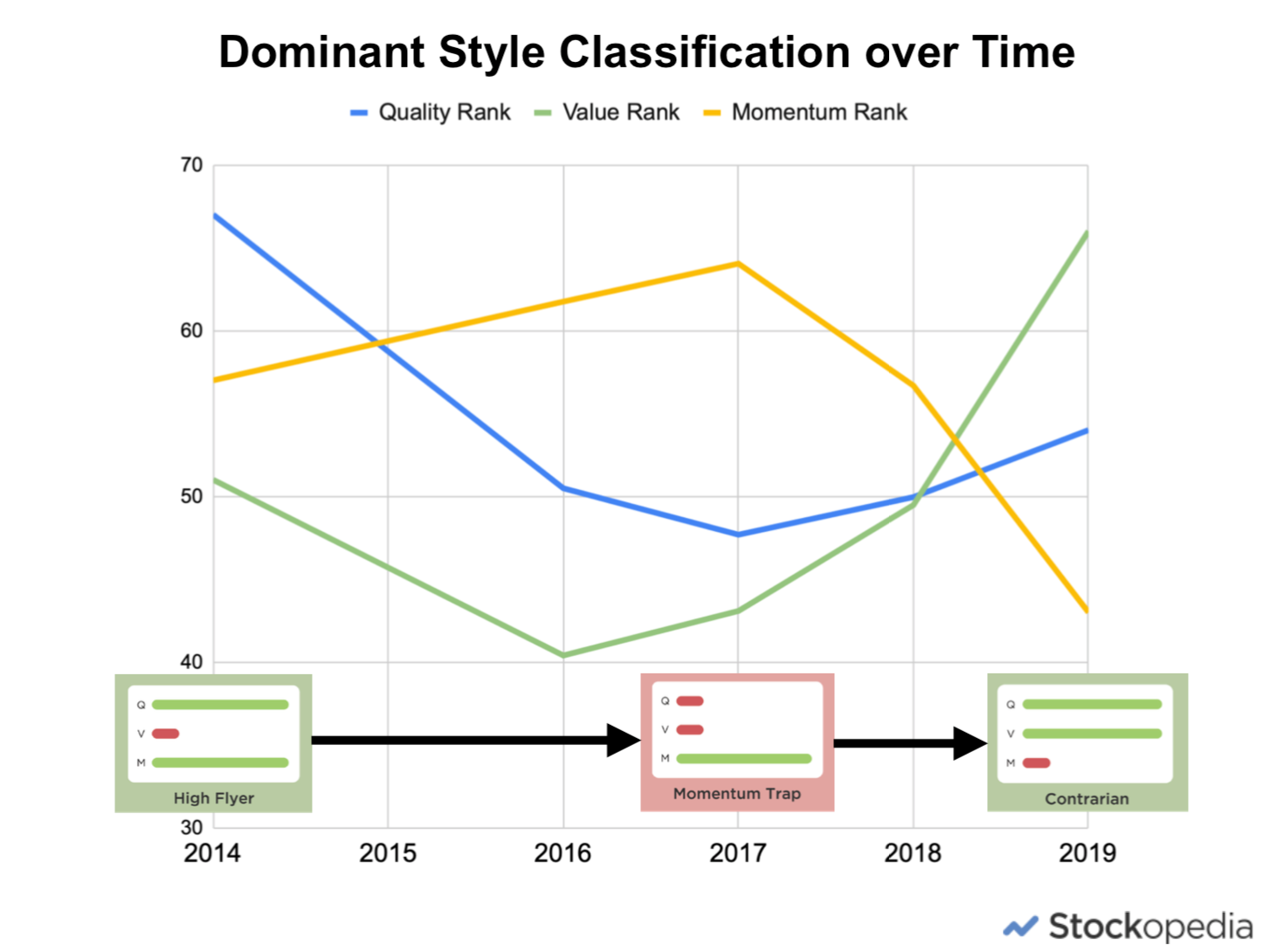 Risk Exposure to Unquoted and Highly Speculative Illiquid Investments
Using the Stockopedia RiskRatings, we can assess the proportion of Speculative and Highly Speculative shares in the portfolio. It's well known how many unquoted shares Woodford owned, but what's less well known is just how much risk he was taking across his quoted investments. We found that by 2018 almost 50% of the portfolio was in quoted speculative investments. Stockopedia subscribers will know that Speculative and Highly Speculative RiskRatings tend to have below benchmark returns. There were a great many lottery ticket type investments.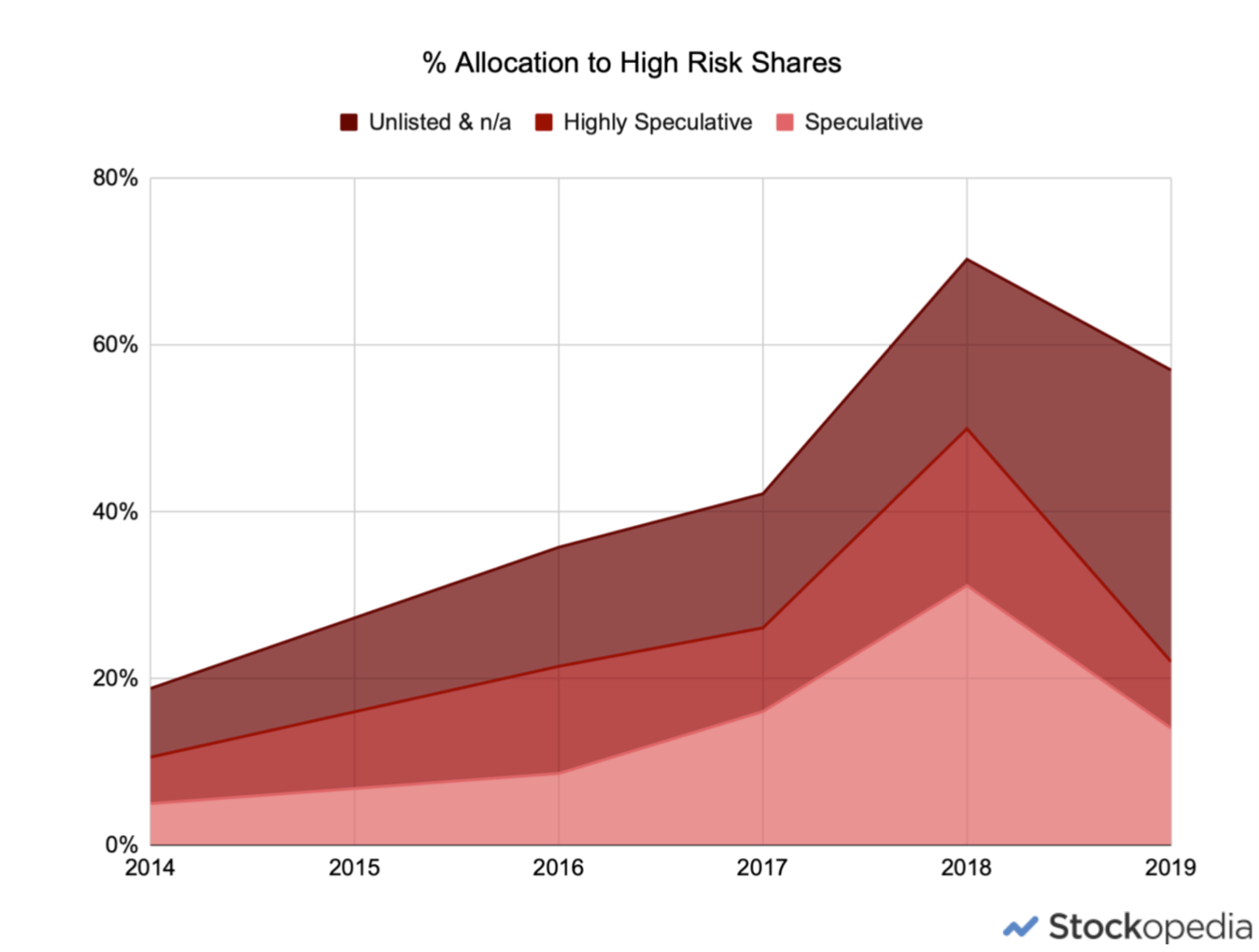 Size Group Exposures
The following chart shows the allocation of the fund to different 'size groups'. Large Caps to Small Caps etc. Blue is the Large Caps. As you can see the exposure ratcheted sharply down from the launch onwards. What would you expect to find in a £10bn Equity Income Fund? I wonder what Terry Smith would say.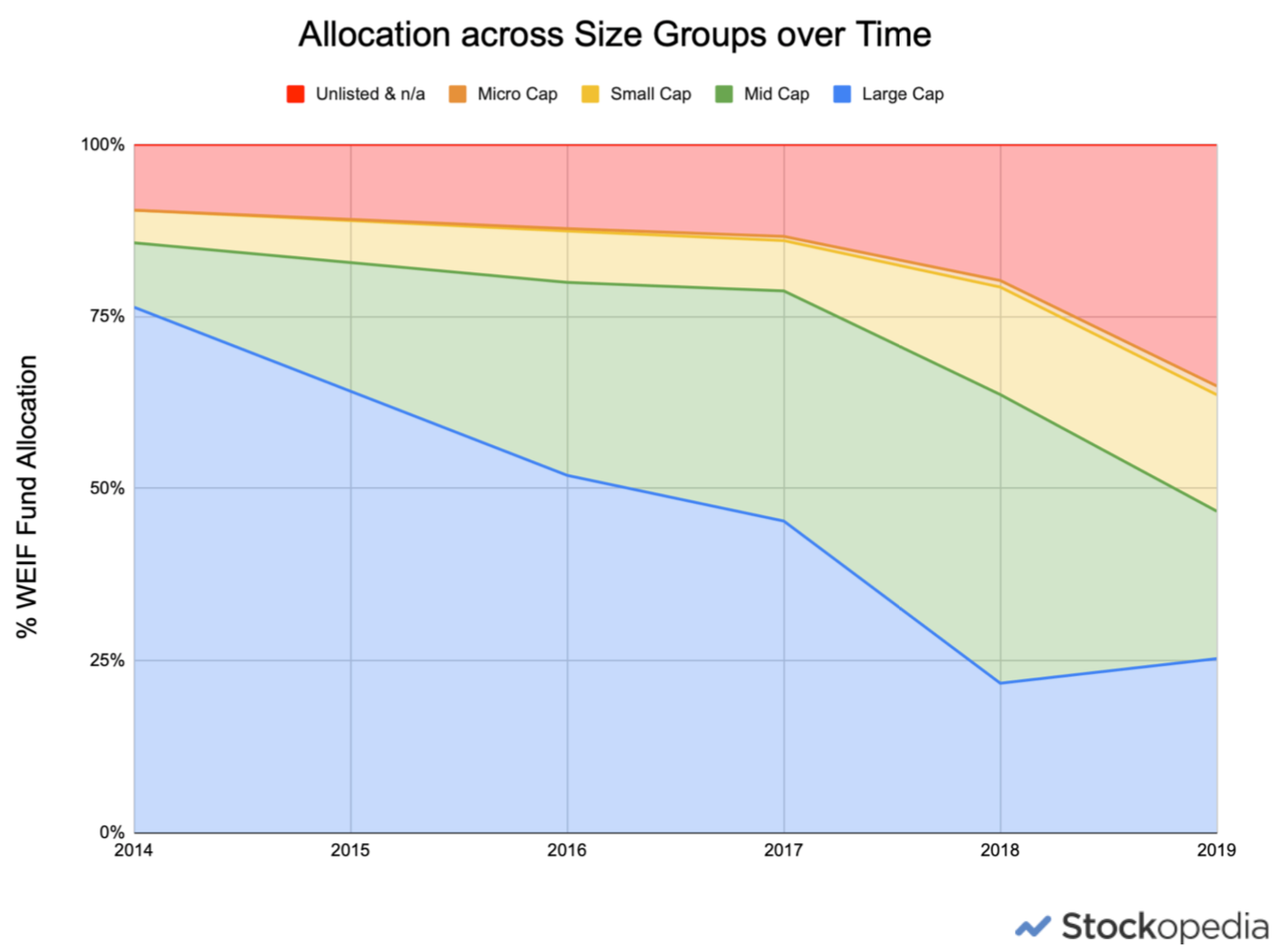 Sector Exposures
I'm just going to highlight the big Healthcare bet that was taken in the fund in this chart. In the full deck you will find many breakdowns of the Sector exposure. But at the end of 2016 there was 40% of the fund invested in Healthcare stocks (according to the TRBC schema we use and Woodford's own framework). This was split between blue chip pharmas like Astrazeneca (LON:AZN) but also heavily in speculative biotech names like Prothena and Northwest Biotherapeutics. There were also many unquoted investments in this sector.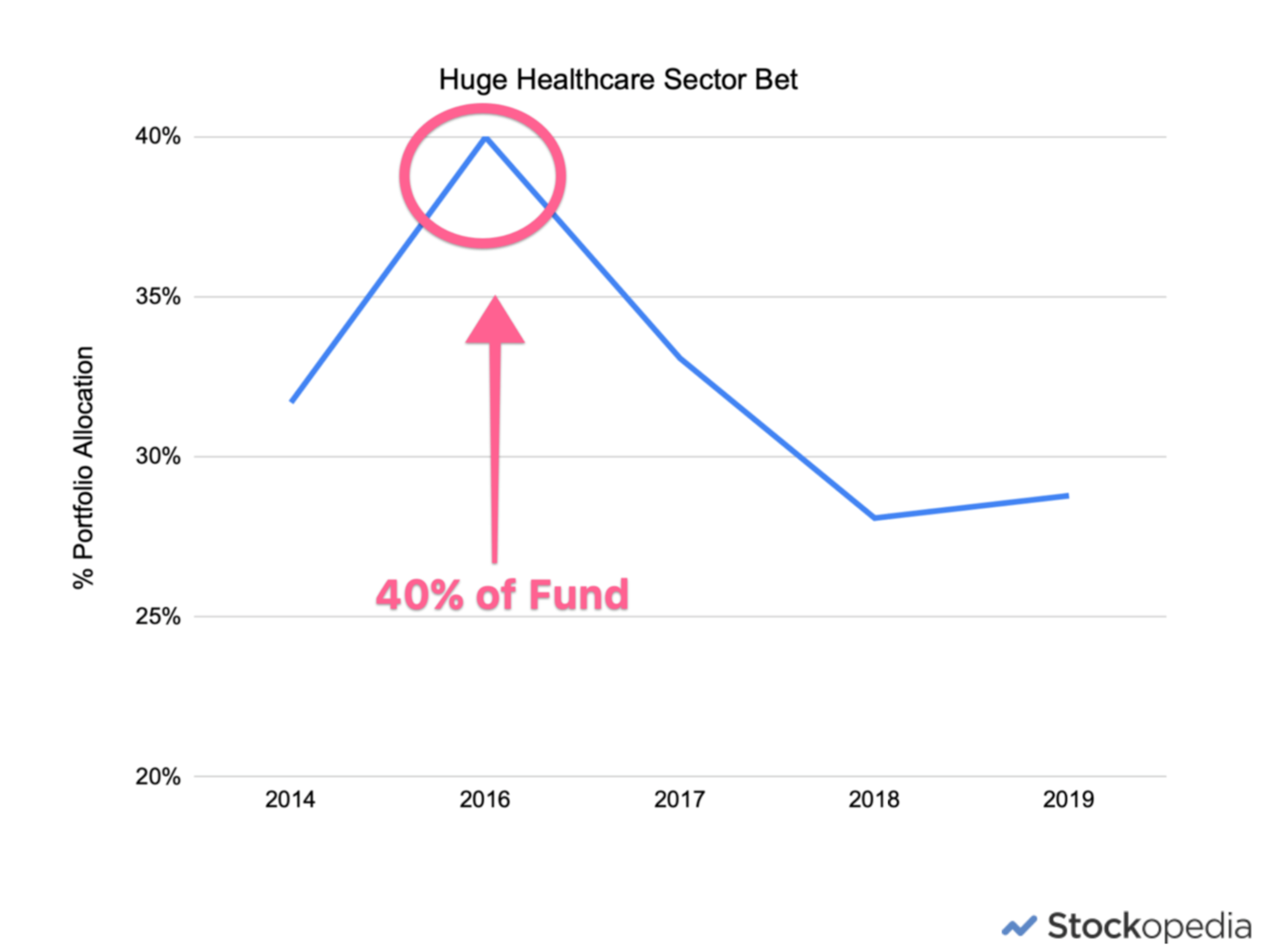 Summary
The following slide summarises the fund's exposures at the peak AUM in 2017. To be honest, these kinds of big bet exposures are the kind of thing that I'd see in an unsophisticated private investor's portfolio that maybe hasn't been through a bear market cycle yet. It's even the kind of portfolio exposure that you'd expect to find summarised in a Barber & Odean research paper. To find this in the most successful fund launch of a generation is just astonishing, and shows that lack of risk controls that the Woodford team had set up.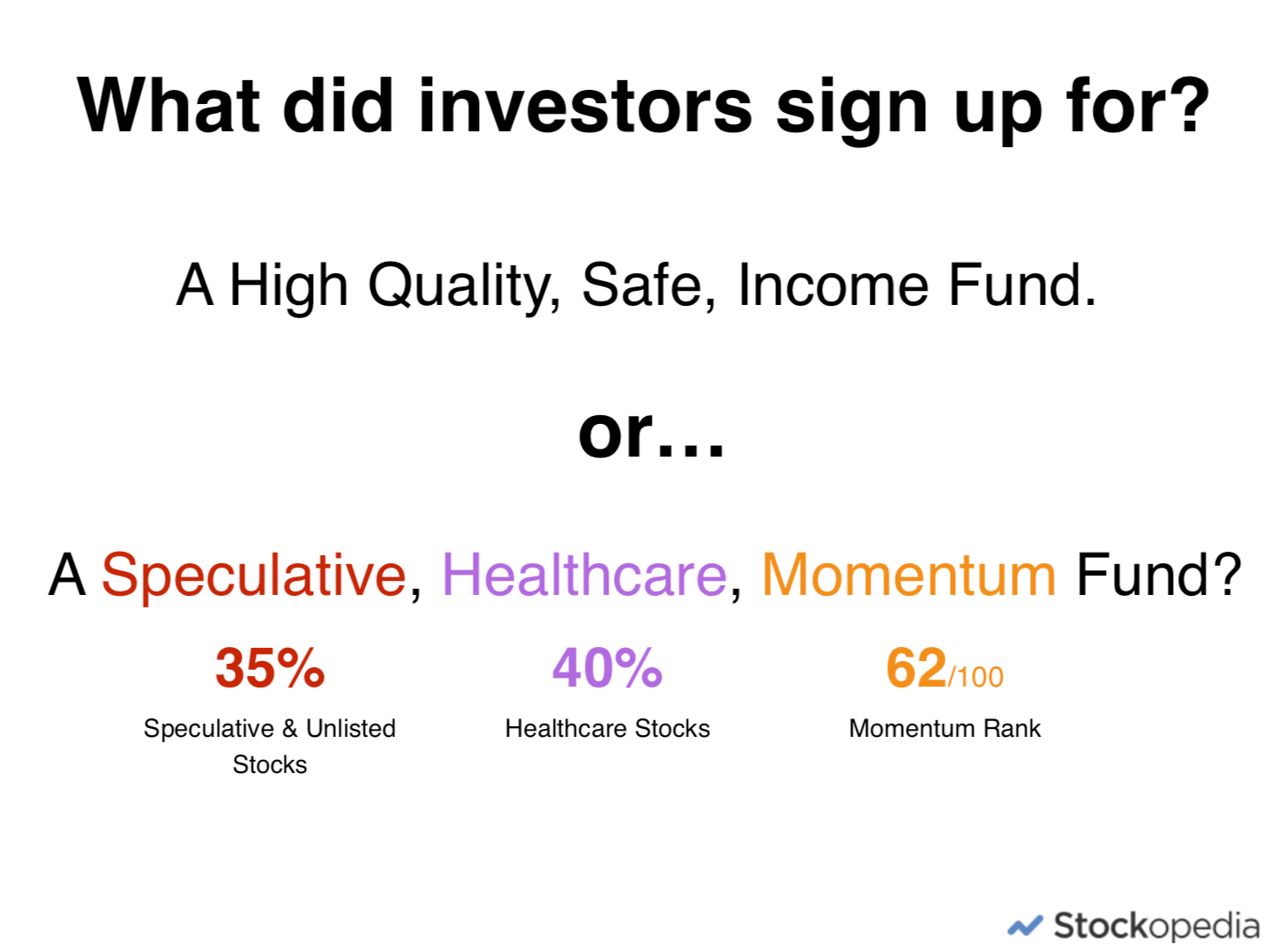 Honestly, I'm disappointed that we didn't look at the fund earlier. I think we could have helped save a lot of people a lot of money. We're known as a share analysis platform, but having made a huge effort on this study, I'm now very keen that we integrate fund data and extend our StockRank analysis to them. It's very expensive to acquire the raw fund data, so I'm not setting timelines but I'm hopeful that we can bridge the gap.
Very interested to hear your comments.