For many investors, the perennial appeal of fast growing stocks is their ability to deliver outsize capital returns. Forget value, forget dividend income… growth in its purest form is all about fast-paced earnings expansion lighting a fire under share prices. It's about going big or going home. It's the classic territory of popular traders like Mark Minervini and William O'Neil - and it's a strategy that's made them famous.

But there is another way. Growth investing doesn't always have to be about buying fast moving shares at any price. Over the years, it has evolved a second strand. Once upon a time growth investors paid little attention to valuation. These days, "growth at a reasonable price" (GARP) is, for some, a much more palatable way of doing things.
Balancing growth and value
One of the early advocates for buying growth stocks at reasonable prices was Peter Lynch. The former Fidelity Investments money manager used what he called the price to earnings growth rate - the PEG - to ensure he wasn't over paying for expected future growth.
The PEG works by taking last year's price-to-earnings ratio and dividing it by the consensus forecast earnings growth for the next year. A PEG of less than 1.0 means you could be buying growth on the cheap. Any more than 1.0 and it could be looking expensive
Lynch used this approach very successfully, and others followed. Today, GARP strategies are some of the best known go-to methods of finding small-cap stocks that could be tomorrow's growth stars. In most cases, the strategies are multi-faceted: they look for a range of factors that tend to be the fingerprints of successful growth investments.
One of the most popular - and a long-term successful strategy modelled by Stockopedia - is the approach used by Robbie Burns, the Naked Trader.
Robbie is best known for his book, The Naked Trader: How Anyone Can Make Money Trading Shares. In it, he outlines a strategy that uses a range of measures spanning growth, price momentum and value factors and focuses on small and mid-cap stocks. He also uses some non-financial, qualitative rules in his analysis.
Like many GARP strategies, the Naked Trader approach looks for positive sales and earnings growth over the past year - and net debt should be well under control. In terms of momentum, the price of the stock should be up against the market over the past year and it should be well away from its 52-week low.
In addition, this strategy looks for a PE ratio of less than 20 times earnings and for price to pre-tax profits to be under control as well. These valuation checks are about making sure that the market isn't already pricing-in very high expectations.
The second half of 2018 was pretty hard on the strategy, but otherwise it has performed consistently well over the past seven years. The five year return, pre costs and refreshed quarterly, stands at 67.4%.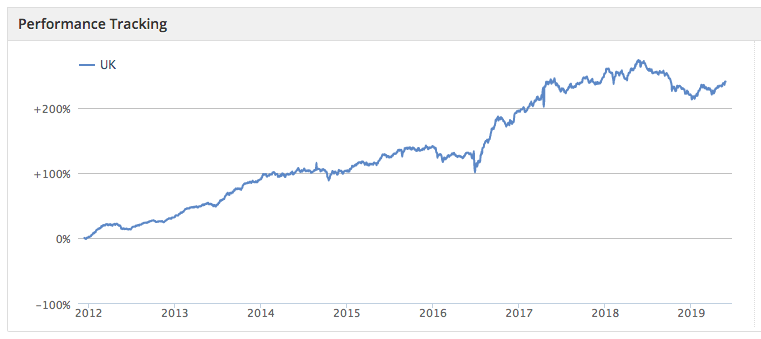 In line with the original rules back at the start, the tracked model doesn't include AIM stocks. However, I've removed the AIM exclusion with this version of the screen. Here are some of the companies currently passing the rules:

| | | | | | | |
| --- | --- | --- | --- | --- | --- | --- |
| Name | Mkt Cap £m | EPS Growth % | Sales Growth % | Price Chg 1y % | P/E Ratio | Sector |
| | 669.2 | 27.8 | 18.9 | +10.9 | 9.0 | |
| | 57.8 | 34.3 | 5.01 | +53.2 | 9.3 | |
| | 138.8 | 33.2 | 10.7 | +5.4 | 11.1 | |
| | 398.1 | 2.89 | 2.29 | +2.7 | 11.2 | |
| | 118 | 19.2 | 9.88 | +6.7 | 11.5 | |
| | 323.6 | 20.8 | 5.82 | +3.4 | 11.7 | |
| | 660 | 6.9 | 4.74 | +2.54 | 11.9 | |
| | 72.5 | 17.9 | 10.9 | +77.1 | 12.3 | |
| | 390.2 | 228 | 16.5 | +46.3 | 12.8 | |
| | 477.1 | 30.2 | 36.0 | +15.6 | 12.9 | |
This definitely isn't necessarily reflective of what Robbie either owns or would own - it simply echoes the spirit of his kind of GARP approach. There are stocks here that, as far as I can tell, he's never traded and others that he has held in the past.
All of these shares have performed well against the market over the past year, but remain on PE ratios of less than 13 times earnings. With a market cap of £670 million, GCP Student Living is the largest stock here by market cap, and also the cheapest based on its PE. That said, it's potentially an outlier given that it's a real estate investment trust. Among the others are well known small-cap names with strong growth profiles - ranging from the construction specialist T Clarke, floorcovering firm Headlam, toy company Character and hire chain Speedy Hire.
Growth at sane prices
At any time, the number of companies passing the rules for GARP strategies can be a useful gauge of the market. In upbeat conditions, when investors are moving into smaller growth plays and driving up their momentum, the numbers of stocks passing the rules tends to rise. But when momentum falters and the market goes risk-off, these strategies can struggle for ideas.
Right now, the numbers in recent months have been rising. Growth stocks tend to be where the excitement is, but stretched valuations can leave investors exposed. Taking the essence of growth and mixing in reasonable valuations could be a safer option.